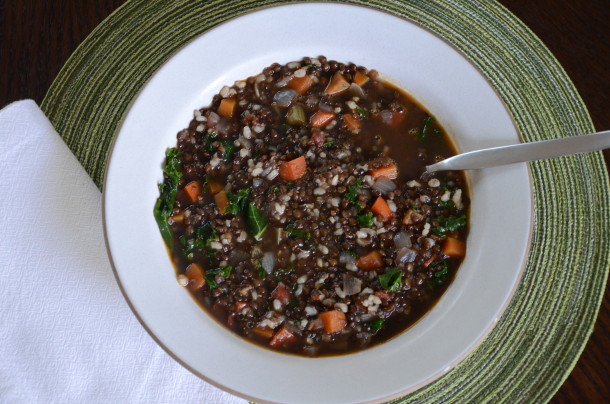 Everyone needs a lentil soup recipe in the repertoire.  This is a classic and a nourishing one at that.  I grew up on lentil soup and my mom was into creating "complete proteins" when we had a vegetarian meal.  The thought back then was that if you were eating a meatless meal, then you would need to combine certain foods to create the same complete protein profile as animal protein.   Now we know that it is not necessary to eat those complementary foods in the same dish to gain the benefits of consuming all the essential amino acids, but I still adore the combination of lentils and brown rice in my soup.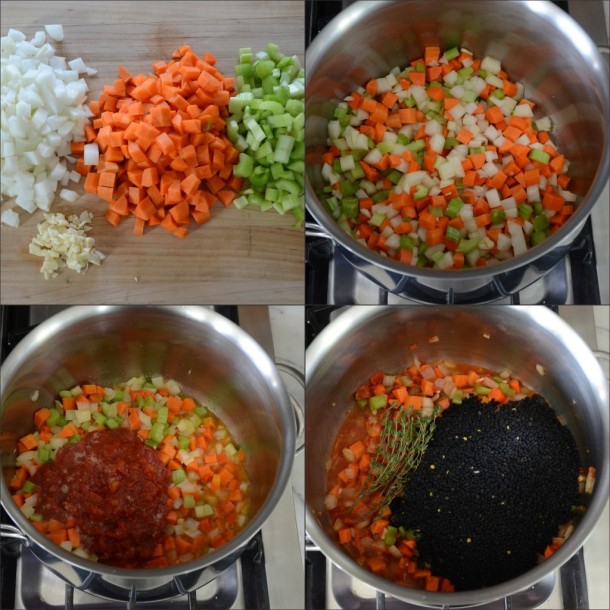 I prefer to use French lentils, which hold their shape much better than the flat brown ones, but really you can use what you've got.  I vary this soup often, sometimes adding a few chopped up green beans or a teaspoon of ground cumin for an earthy twist.  I always throw in a few handfuls of dark green leafies at the end, spinach and kale being my favorites.  And tomatoes only get to join the party if they're in season since I almost never buy canned tomatoes (ugh, aluminum.)  Try garnishing with freshly grated pecorino-romano, it adds a great zest to the soup.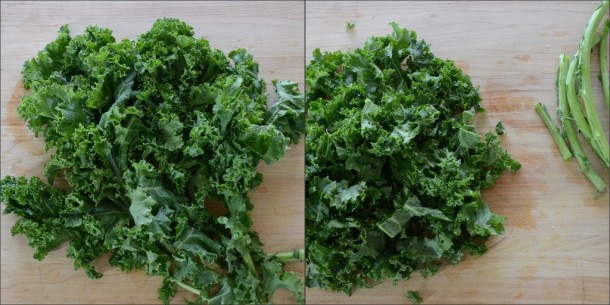 For you lunchbox-packers out there, lentil soup is fabulous the next day in a thermos.  And the kiddos get a lunch that will provide stable blood sugar levels, great protein for the brain, and long-lasting energy.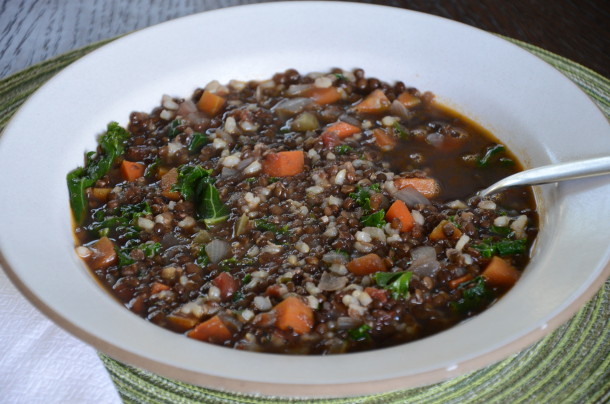 lentil and brown rice soup + Instant Pot version*
Ingredients
3 Tablespoons unrefined, cold-pressed extra-virgin olive oil or coconut oil
3 large carrots, peeled and diced
3 celery stalks, diced
1 large onion, diced
3 cloves garlic, minced
1 pound fresh tomatoes, peeled, seeded and chopped or 1 14.5-ounce can, drained ( I used ½ box Pomi)
8 cups chicken stock, vegetable stock, turkey stock, or water
2 cups French lentils, picked over and rinsed (you can use whatever lentils you can find, such as black or Puy, but note that cook times may vary)
2 sprigs fresh thyme
Sea salt and freshly ground black pepper
2 big handfuls spinach, kale or chard (ribs removed), coarsely chopped in large pieces
½ cup brown rice, cooked according to package directions or add with lentils and increase liquid by an additional 1 cup
Instructions
Heat oil in a large stock pot over medium heat. Add carrots, celery, onion and garlic and cook, stirring until tender. Stir in tomatoes and cook for a minute. Add stock, lentils, uncooked brown rice (if you're adding it here), thyme and 2 teaspoons salt.
Bring to a boil, reduce heat to a simmer and cook until lentils are tender, about 45 minutes.
Pull out the thyme sprigs and discard. Add greens and stir until wilted.
Season to taste with salt and pepper. If you didn't add raw brown rice to the pot with your lentils, add the cooked brown rice to the pot now or put a little in each bowl and ladle the soup on top.
Notes
*To make in the Instant Pot:
Press the "saute" button and wait a couple minutes for the insert to heat up. Add the oil, carrots, celery, onions and garlic and saute until tender, about 5 minutes.
Add the tomatoes and cook for a minute.
Add stock, lentils (I tested with French green and black), raw brown rice, thyme and salt. Press the "Keep Warm/Cancel" button to turn the machine off. Secure the lid on top of the insert and lock closed. Make sure the vent is closed. Press manual and make sure it's on High Pressure. I cooked it for 12 minutes and thought that was perfect. The Instant Pot will take a few minutes to come up to pressure, so it will say ON for a few minutes. Once the machine is done cooking, you can manually release the pressure or opt for natural release. Check the manual for an explanation of both.