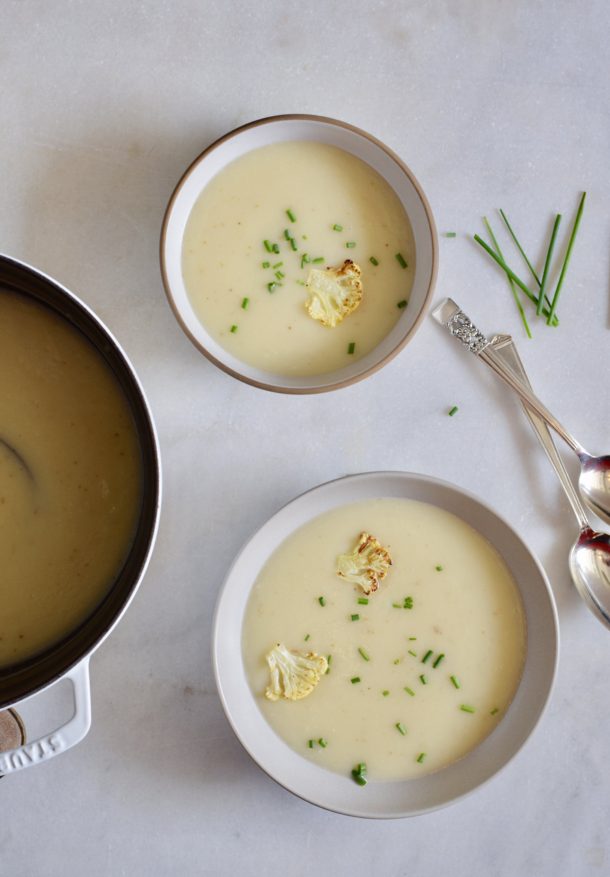 Who wouldn't love a soup that is sophisticated enough to serve at a dinner party, but simple enough to make on a weeknight?   I know I would!  It's amazing what happens when you blend cauliflower and a few ho-hum potatoes and give them a big boost from a whole head of roasted garlic. Utter creamy deliciousness, and not just by my standards.   Mr. Picky gave me a fabulous back-handed compliment when he tried this soup, "this tastes like French fries!"   To set the record straight, this soup does not taste like French fries, but I why would I argue?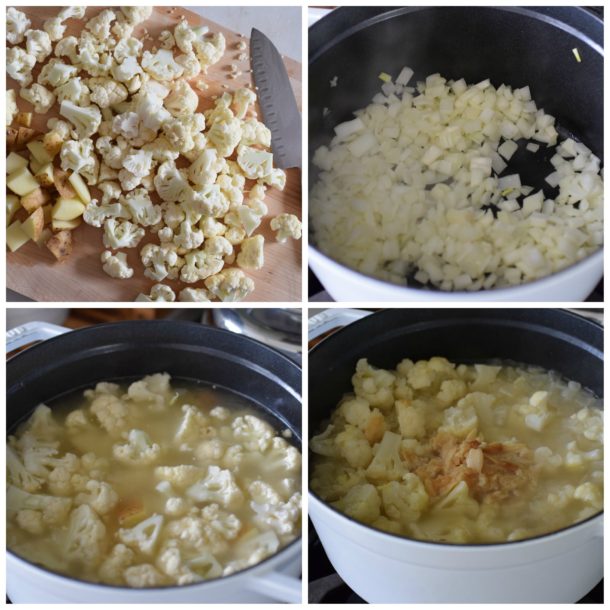 There aren't too many white foods that I am gung-ho about, but cauliflower happens to be one of them.  So it's missing some chloropyhll.  That's nothing to get worked up about when there's so much more going for it.  Since Mr. Picky really likes broccoli, we called cauliflower "white broccoli" for many years.  That isn't much of a stretch since both are members of the cruciferous family of vegetables which include cabbage, brussels sprouts, collards and bok choy, too.  These vegetables are known for their powerful anti-cancer properties and it is recommended that you regularly include them in your diet.  This soup is just one delicious way to do that.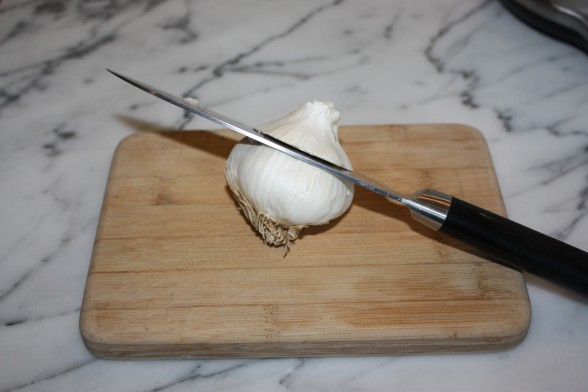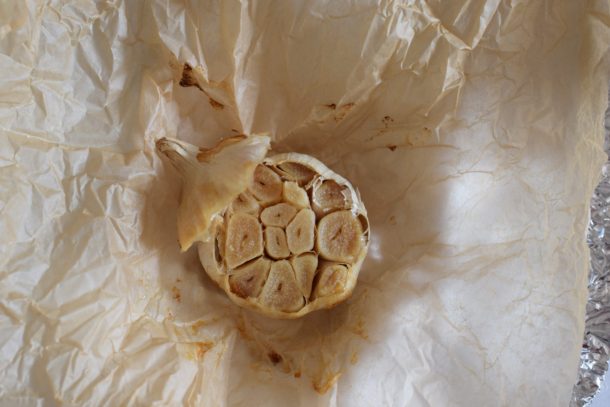 One of the reasons I love cauliflower is for its versatility.  My favorite way to eat it is tossed with coconut oil and a sprinkle of sea salt and roasted until it's sweet and golden.  I couldn't resist adding a few crispy baby florets as a garnish on this bowl of soup here, but really,  you can have so much fun with toppings.  You can go fancy with some truffle oil or shaved Parmigiano.  Or you can go in a homey direction with a grilled cheese sandwich cut into croutons.  This soup seems very elegant and earthy at the same time, which is why I think you can get away with not peeling the potatoes.  Why give up all the fiber and nutrients right under the skin just so you can have a perfectly smooth soup?  Sure when you puree the soup, you'll be left with a few small flecks of peel here and there, but I've never been one to get hung up on things like that.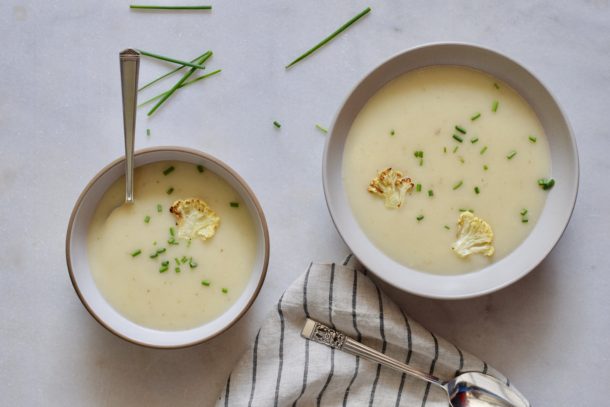 My strategy is usually to get the garlic in the oven right away and while it roasts, start prepping the vegetables.  By the time you finish simmering the cauliflower for 20 minutes, the garlic is ready to be squeezed into the pot.  To save maximum time, roast your garlic a few days in advance and keep it refrigerated.  Prep your onions and cauliflower and keep them refrigerated in airtight containers in the fridge.  The potatoes will only take a minute to chop.  You can make this a day or two ahead if you like, but it will thicken slightly as it sits.  The next day, add some cooked white beans to your child's thermos and pour the hot soup right on top for a well balanced school lunch.
Now if I can only make spinach taste like French fries …

 

 

 

View this post on Instagram

 

 
If you give this recipe a try, snap a pic and tag @pamelasalzman so I can see your beautiful creations. I also really appreciate readers taking the time to leave a rating and review! Subscribe for free to my site for the latest recipes,  updates and things I'm loving lately.  If you enjoy this recipe, I taught it last year in my online class!  Give me an hour a month, and I'll make you a better, healthier cook!
Cauliflower and Roasted Garlic Soup
Ingredients
1 large head of garlic
Olive oil for drizzling
2 Tablespoons unsalted butter
1 medium onion, chopped
⅓ cup dry white wine
1 large head cauliflower (about 2 ¼ lbs), or 2 small heads, cut into florets
1 large Yukon Gold potato, about 8 ounces, cut into 1-inch pieces
6 cups chicken or vegetable stock, preferably homemade
2 teaspoons sea salt (or more if your stock is unsalted)
Instructions
Preheat the oven to 350 degrees. Slice off the top fifth of the head of unpeeled garlic. Add a drop of olive oil. Replace the top. Wrap with parchment paper, then aluminum foil. Roast for 1 hour. Your house will smell amazing. (You can also speed this up by roasting for 45 minutes at 400 degrees, but I usually like to keep olive oil in the 350 degree range.)
In a large pot over medium heat, melt the butter. Add the onion and sauté, covered, until tender and translucent, about 6 minutes. Stir occasionally. Pour the wine over the onions and simmer uncovered until the wine has been reduced slightly, about 2-4 minutes.
Add the cauliflower, potato, stock and salt. Bring to a boil over high heat and then lower to a simmer. Cook partially covered until potatoes and cauliflower are tender, about 20 minutes. Unwrap the garlic and squeeze the soft garlic directly into the pot. Discard the papery skins. Cook for another 5 minutes.
Puree soup in the pot with an immersion blender or in batches in a blender. It is important that you taste for seasoning since all stocks have different levels of sodium. Add extra salt if you need it.
Notes
There are lots of ways you can garnish this soup whether for a dinner party or for the family: Freshly ground black pepper, truffle oil, chopped fresh chives, shavings of parmesan cheese, small florets of roasted cauliflower, garlic croutons, chopped up grilled cheese sandwich....