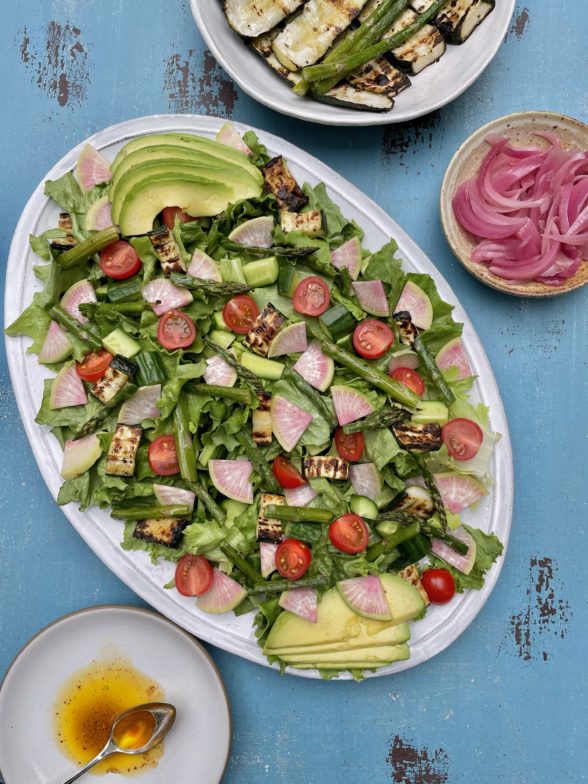 Ooooh, it's been a minute since I posted a new recipe!  I have been a little preoccupied with finishing up my latest bootcamp, Meal Planning and Meal Prep.  I absolutely love this course and if you missed out on participating, fear not.  I will repeat it in August at the latest.  In May, I will be repeating my Entertaining with Ease bootcamp and Plant Based 2.0 (the more advanced plant-based course.) If you subscribe to my website, you will hear about sign-ups first!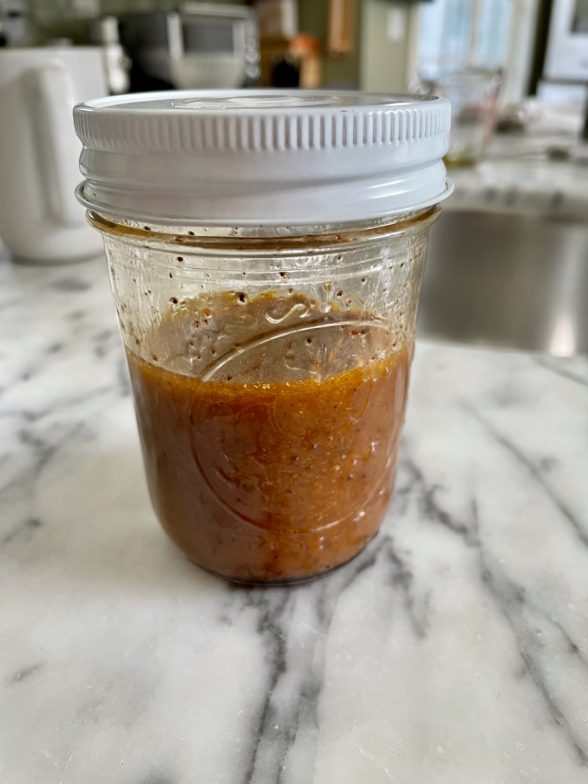 In the meantime, Cinco de Mayo is coming up and I think we need to party!  I am obsessed with Mexican and Tex-Mex flavors and I love playing around with them.  I am also obsessed with vegetables and Mexican meals in restaurants tend to be a little light on the veggies.  I always include a great salad in every Mexican class I teach and they have always been among my most popular recipes.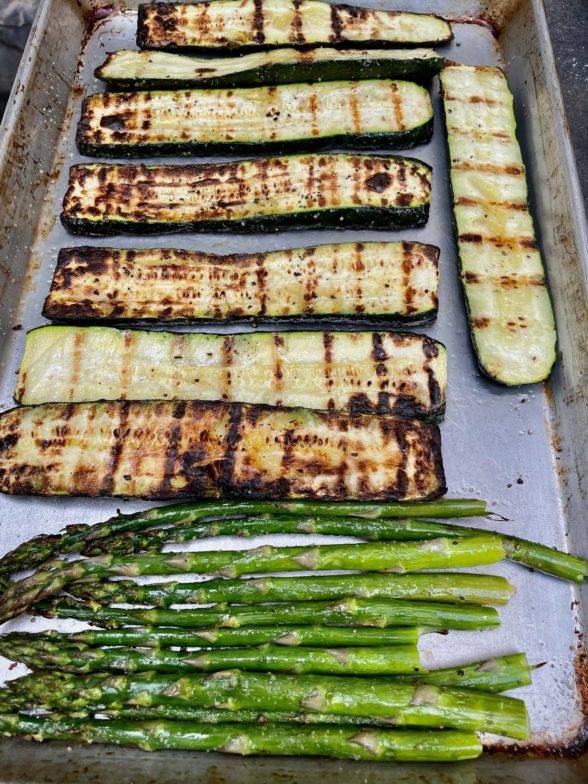 This salad can be a hundred different combinations of ingredients, so don't get fixated on those components.  You can do whatever you want and go in a more obvious direction with pinto beans and corn and avocado and tomatoes or take last night's basic leftovers and put them over greens.  It's all about the dressing!!!  Am I right???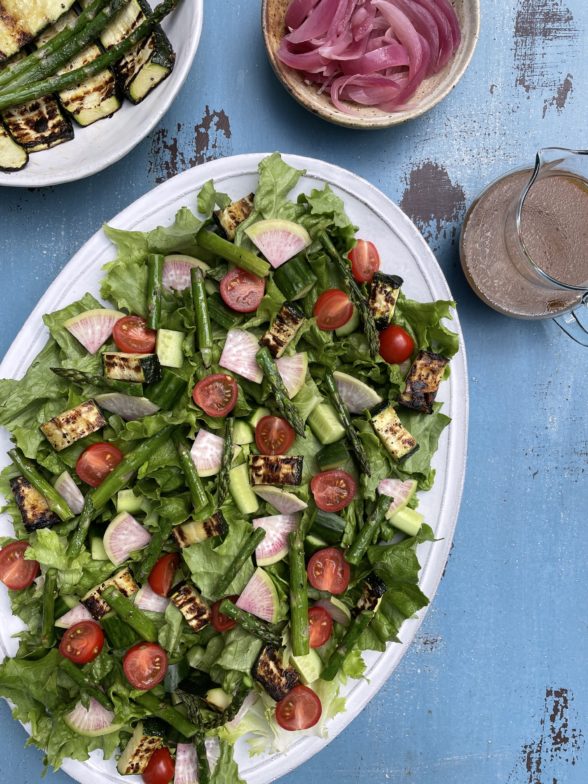 There's a crazy-delicious salad at a local chain in my area called Mendocino Farms.  It's called the Avocado and Quinoa Superfood Ensalada.  It has romaine lettuce, kale, quinoa & millet, crunchy quinoa, succotash with roasted corn, black beans & jicama, red onions, cilantro, cotija cheese, grape tomatoes, and avocado plus a chipotle vinaigrette.  I love it love it love it. But again, it's all about the dressing which is spicy, smoky, a touch sweet and has the perfect acidity. It's dreamy with creamy avocado, that's for sure. So of course, I went back to my laboratory (e.g. my kitchen) and did my best to recreate this dressing.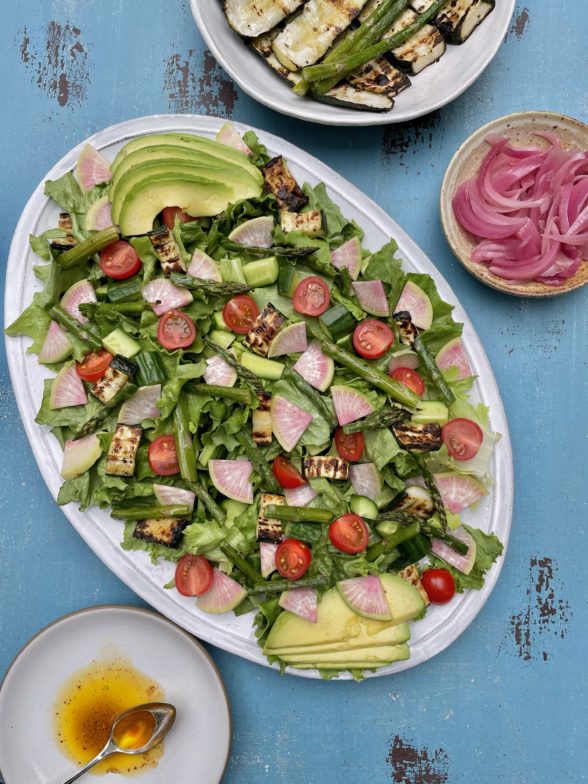 I highly recommend adding a big platter of vegetables to your next Mexican fiesta, whether it's grilled or roasted veggies with a drizzle of this vinaigrette, or any number of my salads, or even my Mexican greens.  You can also add any protein to this to make it a complete meal.  Think cooked beans, crispy tofu, cooked chicken, shrimp or salmon.  Add some crunchy tortilla strips if not would encourage little ones to try.  This dressing is a little spicy, so check out the notes in the recipe for how to keep the smokiness without the heat.  And of course, if you make it, I would love to see it!  So please tag me @pamelasalzman #pamelasalzman on Instagram!
You can shop the tools I used for this recipe by clicking on the images below:

Market Salad with Chipotle Vinaigrette
Ingredients
Vinaigrette:
2 Tablespoons red wine vinegar
2 teaspoons pure maple syrup
⅓ cup unrefined cold-pressed extra-virgin olive oil or avocado oil
¾ teaspoon chipotle powder (can swap in some smoked paprika for less heat)
½ teaspoon + ⅛ teaspoon sea salt
freshly ground black pepper to taste
1 head green leaf or Romaine lettuce, leaves chopped
4 cups of other suggested salad ingredients such as:
Cherry tomatoes
Chopped jicama
Chopped or sliced avocado (I highly recommend adding avocado)
Pickled onions (or raw if you like)
Diced cucumber
Grilled veggies like zucchini, peppers, corn or asparagus
Cooked chicken, shrimp, or salmon (steak fine, too)
Instructions
In a jar with a tight-fitting lid, combine the vinaigrette ingredients and shake until combined. Set aside.
Add salad greens to a large serving bowl and add desired prepared ingredients.
Toss with enough dressing to coat lightly. Be careful with avocado. You may want to add that after the salad is tossed.
Notes
When you're choosing your salad ingredients, consider something with a little crunch, like jicama, cucumber, pumpkin seeds or walnuts.