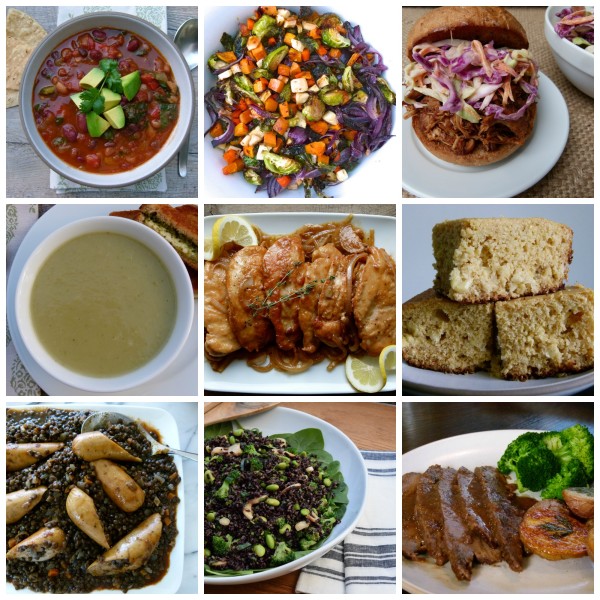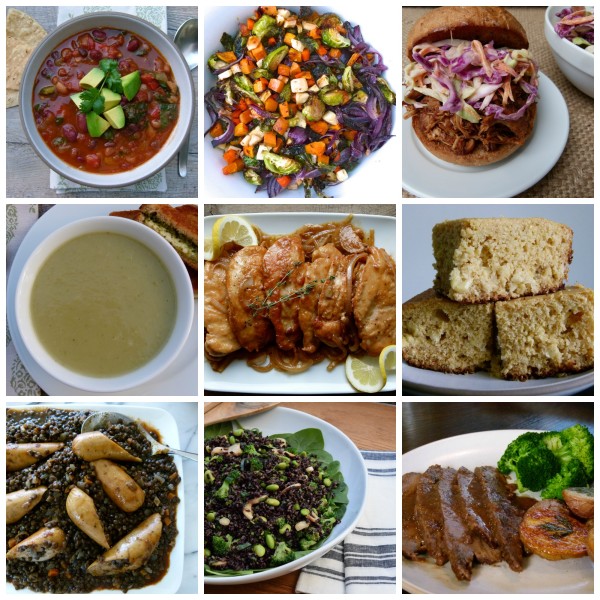 Welcome to Week 2 of the Dinner Planner!  I am so encouraged by all your comments on Instagram and Facebook this past week!  Thank you for sharing your feedback with me and others.  It seems like this new weekly post is helpful for many of you and I'm so happy bout that!
Today I want to discuss leftovers and planning for leftovers.  As I mentioned in last week's planer, everyone will have different needs, preferences, number of people for whom to cook, etc.  This dinner planner is just a guide, but ultimately you'll have to look at your calendar and decide what is best for you.  I don't usually use dinner leftovers for another night, because I try to make only enough for our dinner with minimal leftovers.  Whatever leftovers there are get packed up for school lunch the next day or my lunch if I eat at home.  Sometimes I even repurpose leftovers into breakfast, like cooked rice and vegetables can get turned into a Rice Bake, Italian Fried Rice or a Frittata, for example.  Cornbread on Monday will be offered at breakfast Tuesday with yogurt and fruit.  Of course many foods freeze well, too.  Think about freezing soups and stews, grilled or roasted chicken, grains and lentils.
There are more options and permutations on this planner than I can efficiently write about without begin overwhelming.  But just to give a few ideas, you can easily serve the Vegetable Chili over the course of two nights — one night in a bowl and one night on top of a baked potato or sweet potato.  You can serve with or without garnishes like tortilla chips, avocado, radishes and cilantro.  Cheese and sour cream are certainly options, too.  You can make a double batch of roasted squash on Tuesday and use it the next night in a salad.  All the grains can technically be cooked a few days in advance and reheated if you are really short on time at the end of the day.  Although soaking grains and legumes not only maximizes digestibility, it cuts down on cooking time, too!  If you have leftovers of the lentils and sausage, add stock to it the next day and turn it into a soup.  Throw the leftover sautéed cabbage in there, too.
When choosing vegetables for the rice bowls on Friday and the maple-mustard roasted veggies, see what you have in the refrigerator and need to use up.  If you do want to make the broccoli stalk soup on Saturday, then buy broccoli for the rice bowls.
Monday:  Vegetable chili, cornbread, (optional) green salad with Everyday Salad Dressing #2
Tuesday: Broiled filet of white fish or baked fish depending on what I can find that looks good  (here's a good basic recipe for baking a white fish — I use white wine instead of sherry), butter lettuce salad with shaved fennel and Parmesan(optional if you're DF) with Everyday Salad Dressing #1, roasted winter squash such as Delicata OR use leftover chili on baked potatoes or sweet potato for a leftovers meal
Wednesday:  Lemon-thyme chicken cutlets, sauteed kale, herbed barley (cook barley in plenty of salted water, like you would pasta, drain tender barley and toss with a little butter or olive oil and a handful of minced fresh herbs like parsley and chives)
Thursday:  Smoky braised lentils with turkey sausage, sautéed cabbage (you can use purple cabbage if you have some from last week)
Friday:  Forbidden rice bowls with roasted veggies (broccoli – save the stalks for tomorrow's soup), avocado, sesame seeds, soy-ginger dressing* (basically this is a rice and veggie bowl:  take a scoop of forbidden (aka black) rice, add roasted veggies, avocado, sesame seeds and drizzle with dressing.)
Saturday:  Broccoli stalk soup, slow cooker pulled bbq chicken sandwiches or serve pulled chicken over baked potato or sweet potato (unless you did that another night earlier in the week)
Sunday:  Onion Braised Beef Brisket, Maple-mustard roasted vegetables (when deciding on vegetables, see what you already have in the fridge)
*Here's an easy and basic soy-ginger dressing that would be good here:
3 Tablespoons unseasoned rice vinegar
2 teaspoons pure maple syrup or honey
2 ¼ teaspoons organic shoyu or gluten-free tamari (I like Ohsawa brand)
3/8 teaspoon ground ginger
3/8 teaspoon dry mustard
1 ½ Tablespoons toasted sesame oil
1 ½ Tablespoons unrefined extra-virgin olive oil
Sunday prep:
Make all salad dressings for the week
Soak and cook beans for chili if not using canned
Wash greens for salads, as well as kale
Prep winter squash for Day 2 and refrigerate
Wednesday prep:
In the morning, soak barley for the evening (optional, but makes the barley more digestible)
Prep cabbage
Cut veggies for rice bowl
Make stock for soup
Thursday:
soak lentils prior to cooking for maximum digestibility
Friday:
soak forbidden rice prior to cooking for maximum digestibility
Saturday:
Make brisket for next day
Freezer-friendly:  chili, cornbread, broccoli soup, pulled chicken, cooked grains and lentils, brisket