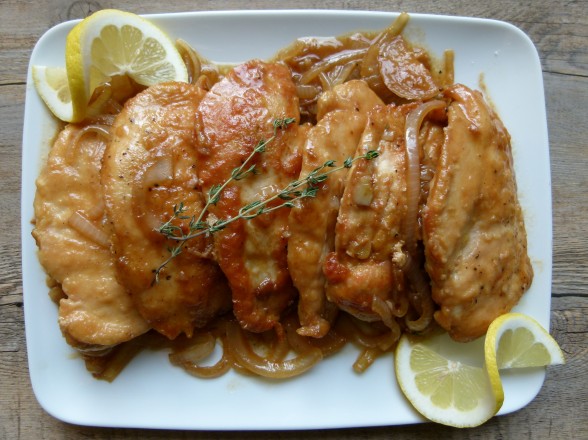 Once upon a time, I used to enjoy spending lots of time experimenting in the kitchen.  I had fabulous cookbooks in which I found interesting and challenging recipes to make for dinner.  On a weekday.  And then it was over.  My kids started playing team sports.  Do you know this new life?  Are you driving to some field at exactly the same time you should be soaking and sauteeing or poaching and shredding?  And then back an hour later to pick-up, unless of course there's a GAME.  Then you're sitting on bleachers for two hours trying to figure out how dinner will be ready the second you walk in the door with starving children.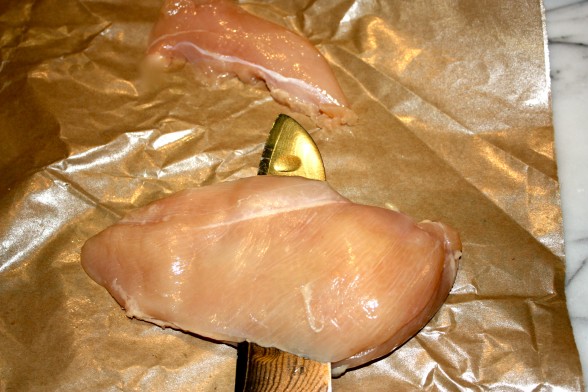 "Baked Lemon Chicken" from The Union Square Cafe Cookbook was one of my favorite chicken entrees before sports.  Bone-in chicken pieces baked with lots of sauteed onions, lemon and thyme.  It was even good enough to serve to company.  But there would be no more basting every 15 minutes for me on a Tuesday at 5:00.  So what's a girl to do?  Adjust the recipe to cutlets, of course!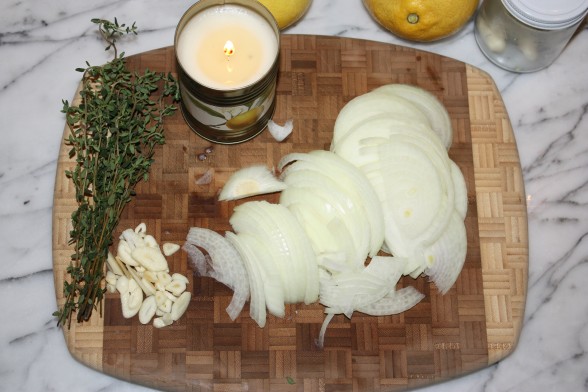 Even though I generally prefer bone-in chicken to boneless, this dish is not lacking for flavor or moistness.  The onions get soft and saucy with lemon and infused with fresh thyme and the chicken takes it all in.  The best part about this is that it's super easy and can be done in stages, if necessary.  You can flour and saute the chicken and then take the kids to practice.  Come back and saute the onions, add the thyme, lemon and stock.  Pick up the kids from practice and when you get home add the chicken to the onions and let everything cook together while you saute some spinach with garlic.  Hopefully you made a vinaigrette and washed some lettuce a few days ago, so assembling a salad will take you no time at all.  Can you say, "Home run!"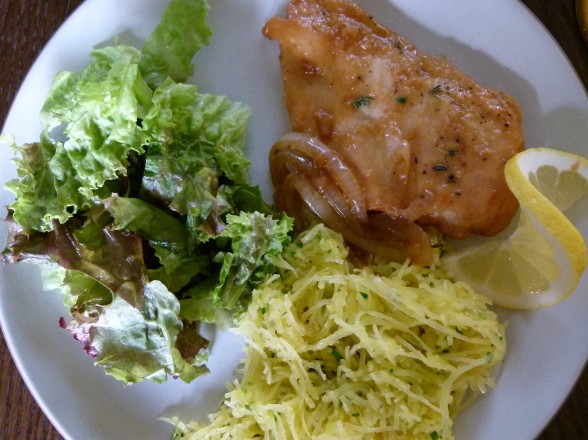 Lemon-Thyme Chicken
Ingredients
2 pounds chicken cutlets (I show a photo of how I cut a boneless, skinless breast half into cutlets, but you can ask your butcher to do this)
Sea salt and freshly ground black pepper
Flour for dredging (whole wheat pastry flour or brown rice flour (gluten-free) are the two I use)
Unrefined, cold-pressed extra-virgin olive oil
1 large onion, halved and sliced thinly (I use a candle when I am cutting onions to prevent crying -- it works!)
4 cloves garlic, sliced thinly
½ cup fresh lemon juice
1 cup chicken stock
a few sprigs of fresh thyme
Instructions
Season the chicken cutlets on both sides with sea salt and black pepper. Dredge them with flour and shake off the excess.
Warm about ¼ cup olive oil over medium heat in a large skillet. Add the chicken cutlets and sauté on both sides until golden brown. Transfer the chicken to a plate.
Add the onions and garlic to the skillet and season with sea salt and pepper. Sauté until tender, about 8 minutes. Pour the lemon juice into the pan and scrape any brown bits on the bottom. Add the chicken stock and thyme sprigs and bring to a simmer. Transfer the chicken back to the pan with any accumulated juices. Simmer until cooked through, about 5 minutes.
Remove thyme sprigs and serve immediately.