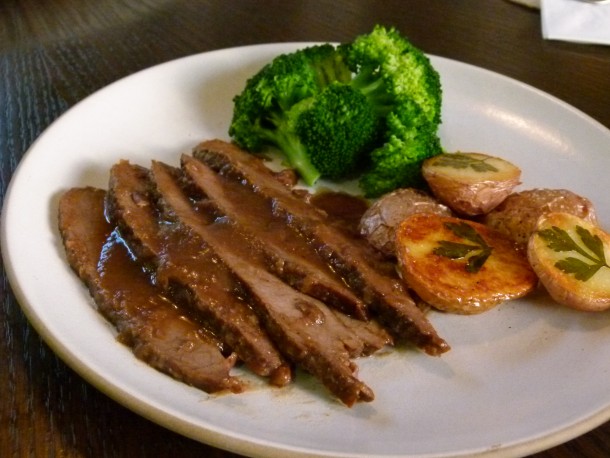 Let me come right out and say that I don't like to promote the consumption of too much beef for several reasons.  In our house we eat beef about three times per month, and when I make it I plan for about 3-4 ounces per person.   Furthermore, I only purchase GRASS-FED beef.  Call me old-fashioned, but I am a firm believer that if you are going to eat animal protein, then it should be an animal that was raised in a natural environment with a diet that is also native to that species.  With respect to cows, that means cows that graze in pastures eating GRASS.  There is plenty of research supporting the notion that grass-fed beef – compared to its confined feedlot counterpart – is lower in fat and contains cancer preventive, fat-burning properties.  Grass-fed beef also contains higher amounts of Omega-3 fats and is generally raised without the use of antibiotics and hormones.  It is almost like making a choice between eating a fit and happy animal which has eaten a health food diet, and eating a stressed out, overweight animal which was fed fast food its whole life.  If you need more convincing, please read Michael Pollan's fantastic book, The Omnivore's Dilemma.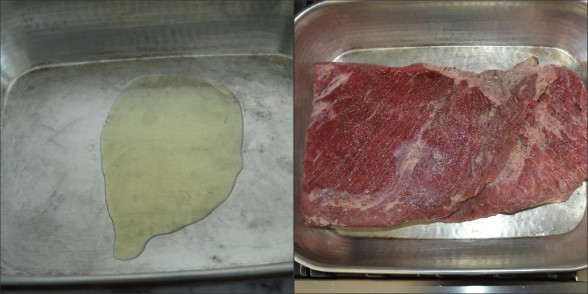 There's also the heavy environmental impact of raising cattle, which is less severe with grass-fed beef, but still a discouraging consideration.  That said …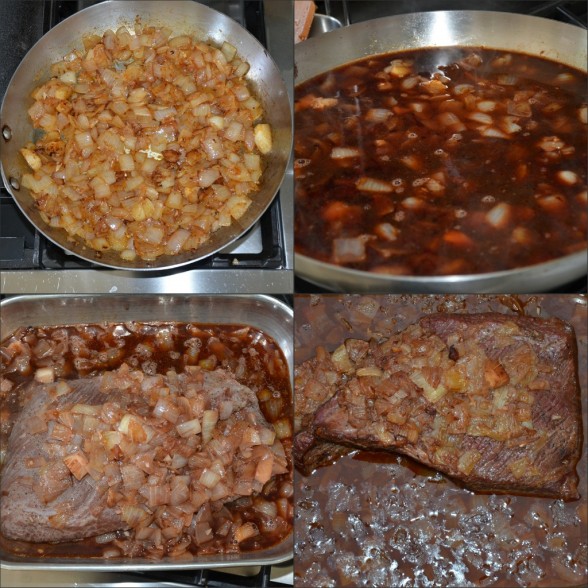 Beef is a very warming food, more appropriate for the colder months, and it becomes even more warming when cooked with onions.  Brisket is a very tough cut that needs long, slow braising to help tenderize it.  If you like your brisket so soft that you don't need a knife to cut it, this recipe will not disappoint.  The meat shreds easily and melts in your mouth.  Best of all, the house will be filled with a wonderful, warm aroma.  But do plan ahead since cooking this the day before helps to develop the mélange of flavors.  Really, the only way you can screw this up is by letting it dry out.  Lastly, be aware that brisket shrinks tremendously once it has cooked.  A 6-pound brisket fed a class of 12 women with enough for two of my kiddies to enjoy it as an after-school snack.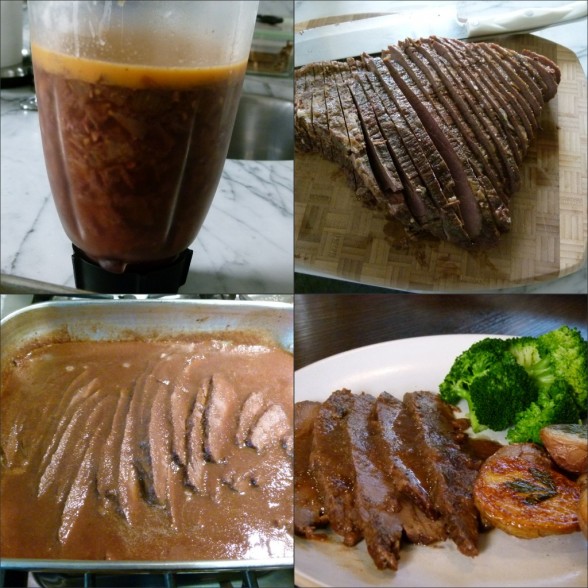 onion-braised grass-fed beef brisket recipe
Author:
Pamela, adapted from Gourmet
Ingredients
1 5-to-6-pound grass-fed beef brisket, preferably first cut
3 Tablespoons olive oil
¾ teaspoon sea salt plus more for seasoning
¾ teaspoon freshly ground black pepper plus more for seasoning
3 large yellow onions, peeled and cut into ½-inch pieces (about 5 cups or 3 pounds)
2-3 large garlic cloves, minced
1 teaspoon paprika
3 medium tomatoes, if in season, peeled, seeded and coarsely chopped (optional)
2 cups water
1 cup red wine (or use all water)
Instructions
Preheat oven to 375 degrees.
In a dutch oven or other heavy baking pan large enough to hold brisket, heat 1 tablespoon oil in oven 10 minutes. Pat brisket dry and season well with salt (I used about 4 teaspoons) and pepper on the top and bottom. Roast brisket in pan, uncovered, 30 minutes.
While brisket is roasting, in a large heavy skillet cook onions in remaining 2 tablespoons oil over moderately high heat, stirring, until softened and beginning to turn golden. Reduce heat to moderate and cook onions, stirring occasionally and reducing heat if necessary, until deep golden, about 20 minutes more. Stir in garlic, paprika, salt, and pepper and cook 1 minute. Stir in water and wine and bring to a boil. Spoon onion mixture and chopped tomatoes over brisket and bake, tightly covered, 3 ½ hours, or until brisket is tender. (Check pan every hour and if necessary, add more water.) Remove brisket from oven and let cool in onion mixture 1 hour.
Remove brisket from pan, scraping onion mixture back into pan, and chill, wrapped in foil, overnight. Spoon onion mixture into a 1-quart measure and chill, covered, overnight.
Preheat oven to 350 degrees. Discard fat from onion mixture and transfer to a blender. Add enough water to the blender to measure 3 cups total. Blend until smooth.
Slice the brisket against the grain as thick or thin as you prefer. In a large ovenproof skillet heat gravy until hot, add brisket and heat in oven 30 minutes. Or you can continue to heat on the stove, covered until heated through.