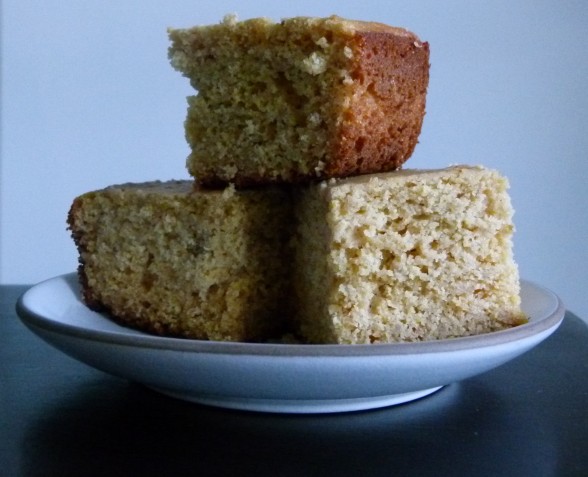 Let me just start out with a disclaimer — I am not from the South.  I am a Yankee, which means I like my cornbread with half cornmeal and half flour and a drop of sweet and that's that.  If you are a true Southerner and wouldn't dream of adding honey or sugar or maple syrup to your cornbread, I hope we can still be friends.  I didn't grow up eating it and I have no recipe that was passed down from my grandmother.  But my husband and my kids love cornbread, especially at certain times of the year and I love preparing them good food that makes them happy.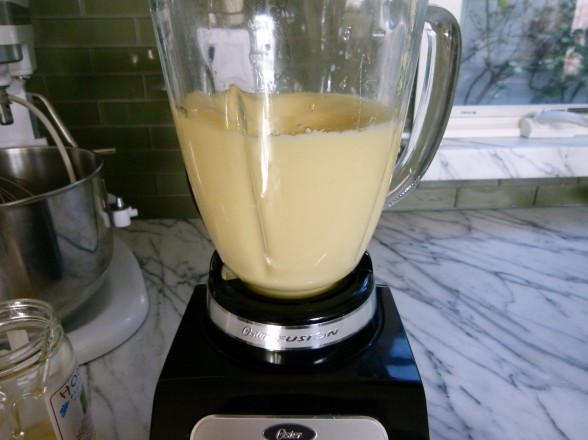 After I posted my Thanksgiving menu a few months ago, I had many inquiries about my cornbread recipe, so I figured I would share it just before the Super Bowl when you might be whipping up a big pot of chili.  Even if you're not eating something that goes well with cornbread, you will be delighted with this quick bread just by itself.  My husband loves to split a wedge of the bread, toast it and slather it with a little more butter or honey or strawberry preserves for a nice treat.  I typically like a barely sweet cornbread, which this is if you use 4 Tablespoons of honey.  You can adjust the sweetness level according to your preference, but the best part about this bread is how moist and corny it is (even after several days.)     I'm not sure anyone in my family knows that I add cooked quinoa to the batter.  And it's not because I'm the kind of person that sneaks healthful food into recipes and doesn't say anything.  I'm not clever enough for that.  But I do try to use food efficiently and one day I had a bit of quinoa left in the fridge and since quinoa and corn go really well together, I decided to add it to the corn bread batter.  You don't notice it at all, except that I think the quinoa adds a nice moistness to the bread and a great boost of protein.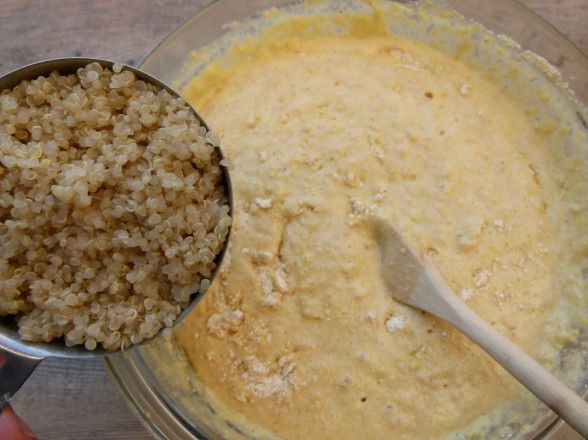 I've made this cornbread so many times with different combinations of ingredients based on whom I am feeding or what is available to me in the pantry and it has never disappointed.  Although I've learned something about how certain foods affect the end result.  Dairy, such as milk and butter, result in a slightly more golden color to the finished bread.  Coconut oil leaves a slightly sweet, subtly tropical aftertaste.  The whole spelt flour is slightly coarser than whole wheat pastry, and made the bread feel a little more "whole grain."  If you use olive oil, you can taste it if the bread is still warm, but not after it has cooled a bit, but that will also depend on the kind of olive oil you use.  Take this as a foundation recipe and have fun with it.  Drop the honey and add diced cooked bacon, finely chopped jalapenos, or shredded cheese.  Or prepare as is with some vanilla extract and blueberries or raspberries for a sweet treat.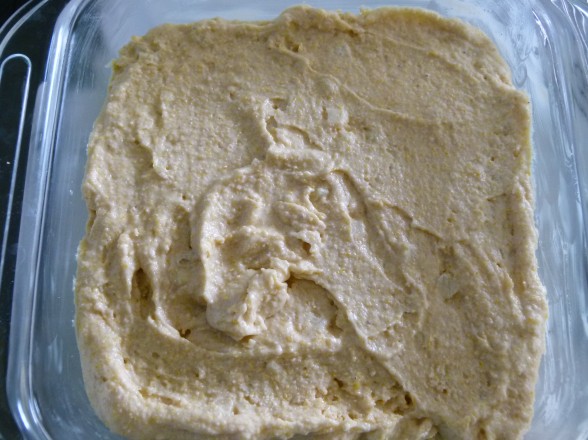 Are you entertaining for the Super Bowl?  I would love to hear what you're making.  I am making guacamole and baked chips, but I'll also serve it with jicama.  I'll make a giant pot of Vegetable Chili tomorrow and reheat on Sunday.  I am also doing a Baked Potato Bar with lots of toppings (what in the world is easier to make than a baked potato?)  I actually love a baked potato topped with chili!  A big chopped salad and cornbread for sure!  Daughter #1 told me she's in charge of desserts.  I'm nervous.  Other fun foods for the big game can be Roasted Vegetable and Black Bean Enchiladas (especially the casserole version), a Taco or Fajita bar, Cilantro-Lime Slaw or a make-your-own sandwich bar with grilled chicken.  I know my family in NY will be making some form of baked pasta, meatballs, sausage and peppers.  Know your audience, I guess!
If you have leftover guacamole and/or salsa after the game, save it for a great soup recipe on Monday.   Have fun!

Cornbread (with quinoa!)
Serves:
makes 1 8x8-inch pan or 12 muffins
Ingredients
1 cup whole wheat pastry flour or whole spelt flour or your favorite GF baking mix
1 cup yellow cornmeal, preferably stone-ground*
2 teaspoons aluminum-free baking powder
½ teaspoon aluminum-free baking soda
½ teaspoon fine grain sea salt
1 cup buttermilk**
½ cup melted unsalted butter (1 stick) or coconut oil or olive oil
2 large eggs***
4-6 Tablespoons honey or Grade A maple syrup (I use 4 Tbs.)
1 cup COOKED quinoa (optional)
1 cup fresh or frozen corn kernels (optional)
Instructions
Preheat the oven to 375 degrees. Line a 12-cup muffin pan with paper liners or grease an 8 x 8-inch baking dish (I usually dip a pastry brush in the melted butter I'm using in the recipe and grease the pan that way.)
In a large bowl, whisk together the flour, cornmeal, baking powder, baking soda and salt. In a medium bowl or a blender, combine buttermilk, melted butter, eggs and honey until well blended. Pour wet ingredients into dry ingredients and stir until just combined. Stir in the corn kernels. Using an ice cream scooper, divide the batter into the muffin pan or pour it into the prepared pan.
Bake the muffins for 15-18 minutes, or until the tops are golden and a toothpick inserted in the center of a muffin comes out clean. Or bake the cornbread in the 8 x 8 pan for 30-35 minutes. Cool for 5 minutes on a wire rack before removing muffins from the pan.
Notes
*If you like a more tender, less grainy cornbread, increase flour by ½ cup and decrease cornmeal by ½ cup.

**Or ½ cup whole unsweetened yogurt + ½ cup milk of choice. Or 1 cup dairy-free milk + 1 Tablespoon lemon juice or apple cider vinegar

***Or 2 Tablespoons ground flax meal mixed with 6 Tablespoons warm water. Allow to sit 10-15 minutes. And then allow batter to sit 5-10 minutes before baking.

****To cook quinoa: Rinse quinoa and then cook 1 cup quinoa in 1 ¾ cups boiling water covered for 15 minutes. Remove from heat and allow to sit for 10 minutes, covered. Makes about 3 cups cooked quinoa.