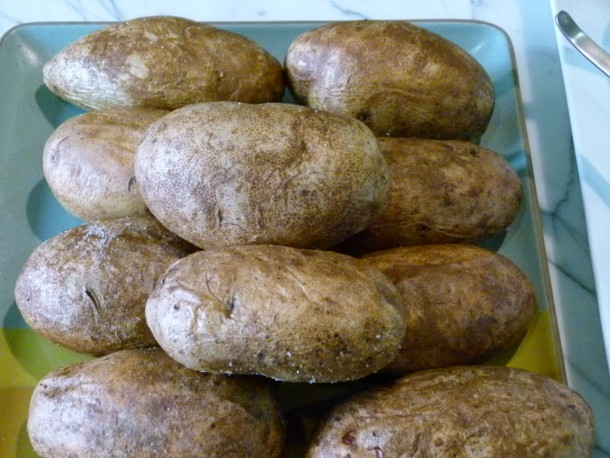 Potatoes get a bad rap because of the misconception that they are fattening.  Potatoes unto themselves are not "fattening," but they certainly become less healthful after they have been peeled, deep-fried in over-heated, refined oil or turned into chips or mashed with their weight in butter and cream (not that those don't all taste lovely.)  The classic Russet or Idaho baking potato is a perfect example of a whole food.  It came into this world as a package of vitamins (such as C), minerals (like potassium) and fiber.  When eaten that way, the potato offers its maximum health benefits.  Unfortunately, the majority of the potato's nutrients are concentrated in the skin and just below.  Therefore, when we discard the skin, we do miss out on the best part, nutritionally speaking.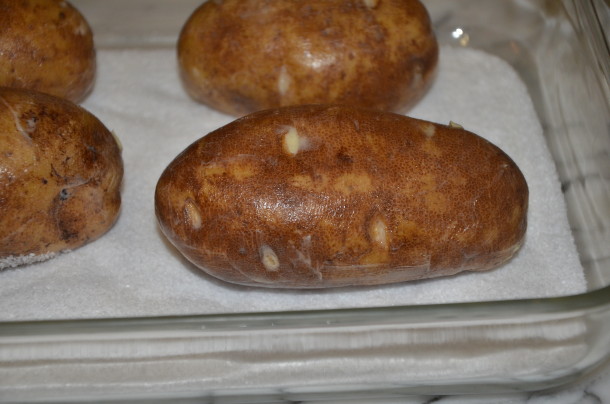 This method for baking potatoes is adapted from Nancy Silverton and Mark Peel's book, Two Chefs Cook for Family and Friends. No aluminum foil, no microwaves, just a perfectly cooked potato with a dry, fluffy interior and the best skin ever.  I learned a while back that different types of potatoes have different levels of starch and that affects how you should cook them.  High starch potatoes, aka baking potatoes, are best used for, you guessed it, baking.  They likewise make terrible potatoes for potato salad (you just have to try this once and you'll never make that mistake again.)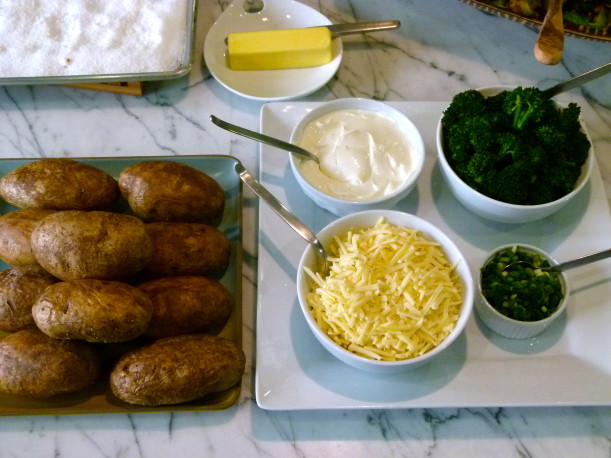 One of the reasons I love baked potatoes is because I can set up a topping bar at dinner and everyone can customize the way he or she wants.  I find that the kids eat more of something when they are given the opportunity to control it.  I enjoy my baked potato with a dollop of strained goat yogurt (my version of sour cream) and some chopped chives or scallions.  I allow my 7-year-old to put a squirt of (fruit-sweetened organic) ketchup on his and the girls tend to like butter and some steamed broccoli.  We can turn the potato into a meal if there's some vegetable chili from the night before that I can dollop on top.  Yum!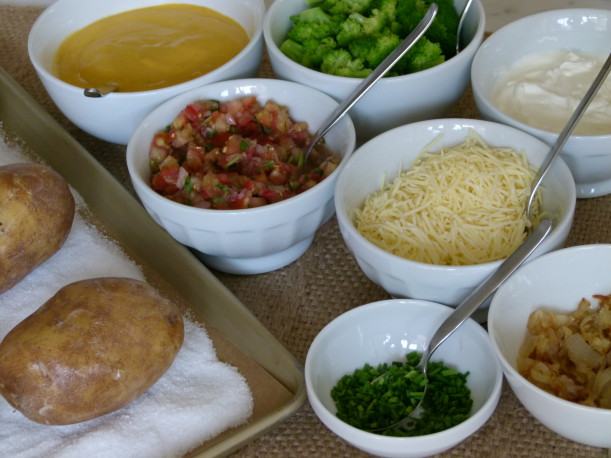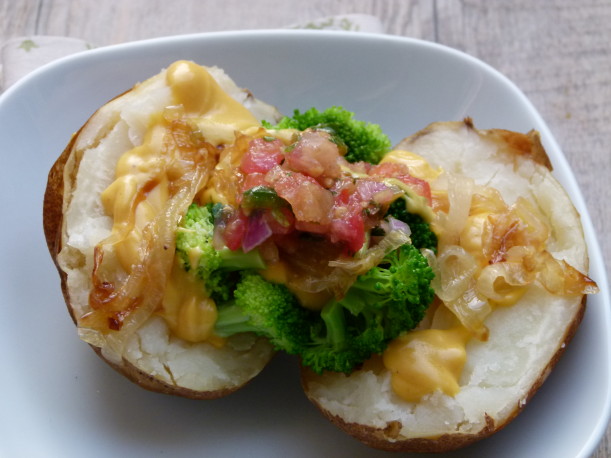 the perfect baked potato recipe
Ingredients
4 medium Russet or Idaho baking potatoes (about 6 ounces each)
4 teaspoons unsalted butter, softened
Coarse kosher salt, preferably additive-free such as Diamond Crystal
Favorite toppings: sour cream, creme fraiche or strained yogurt, chopped fresh chives or scallions, unsalted butter, steamed vegetables such as broccoli or spinach, chili
Instructions
Preheat the oven to 400 degrees.
Scrub the potatoes, dry and rub each with 1 teaspoon of butter. Pour a layer of salt on the bottom of a shallow baking dish or cookie sheet. 1½ cups is perfect for a 13 x 9 -inch dish.
Place the potatoes 2 inches apart on top of the salt and bake for 50 minutes, until tender.
When each potato is removed from the baking dish, rub off any salt clinging to the bottom of the potato. Split open lengthwise and top as desired.