I ate an excessive amount of pasta growing up.  My mom prepared it about three times per week and then we usually had it also on Sundays when we went to spend the day with my mom's family or my dad's.  Pasta was part of our heritage, not just an easy dinner and not eaten plain with butter the way I know many kids prefer it.  (Coincidentally, my father is visiting this week and on Day 2 he was already asking for a plate of spaghetti!)
Ironically I don't make pasta much for my family, and not because we don't like it.  We do!  And it's not because pasta is a processed food, because it is and I try to limit those.  But, I don't eat much pasta because I can't stop myself from overeating it!  Did you know 1 serving of pasta is 1/2 cup?  Basically, I try to keep my carbohydrates to 2 servings per meal to avoid blood sugar spikes and to attempt to maintain a healthful weight.  Unfortunately, overeating pasta for me is very, very easy.  I think I can consume 4 cups of pasta no problem.  I know I can make a dish with mostly veggies and some pasta, but I always end up eating seconds.  And thirds.
Whole grains like farro, barley and brown rice I don't overeat as easily.  A few years ago I ate a fried rice dish at Ammo in LA that was a game changer.  I always assumed fried rice to be Asian-inspired, but this one wasn't.  And it's not fried, by the way.  Just sautéed. It just had lots of seasonal market vegetables and brown rice all sautéed in olive oil.  It made me think about all the possibilities for fried rice and I have enjoyed making versions of that dish since then.  My favorite combination I came up with is this one here, which has an Itailian twist.  I am crazy for it because it makes me feel like I'm eating all the yummy flavors I would put in pasta and it feels more satisfying because the brown rice has so much more fiber than pasta.
But just like regular fried rice, this is a great way to use up bits of leftover veggies or any kind of grain, for that matter.  And it is super quick (as in minutes) to throw together.  I probably eat a version of this recipe for lunch more than anything else if I am working at home.  Now that I think about it, I am going to make this for my parents this week!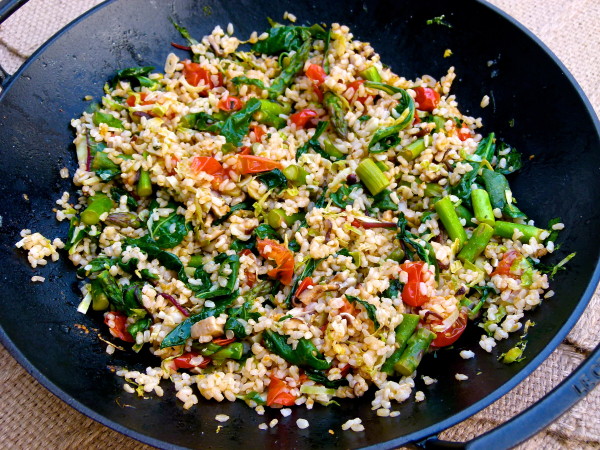 Italian Fried Rice
Ingredients
2 Tablespoons unrefined, cold pressed extra-virgin olive oil
4 garlic cloves, thinly sliced
a pinch of chili flakes (optional)
½ pint cherry tomatoes, halved
½ bunch asparagus, cut into 1-inch pieces
1 or 2 cups of shiitake mushrooms, stems removed, caps wiped clean with a damp paper towel and sliced thinly
sea salt and freshly ground black pepper to taste
a few leaves of fresh basil, thinly sliced
2-3 cups baby leafy greens like chard, kale and spinach or 6 stalks of kale, stemmed and leaves chopped or more
3-4 cups COOKED short grain brown rice
chicken stock, vegetable stock or water, if necessary
optional accompaniment ideas: grated Parmigiano-Reggiano or Pecorino cheese, poached or fried egg, toasted, chopped nuts, hot sauce
Instructions
Warm a large skillet over medium heat. Add the olive oil and when warm, add the garlic and chili flakes. Sauté until the garlic is just starting to turn golden on the edges, about 30-60 seconds.
Add the cherry tomatoes, asparagus, mushrooms and a pinch of salt and pepper and sauté until the tomatoes just start to lose their shape and the asparagus and mushrooms are tender, about 5-6 minutes. Add the fresh basil and sauté until wilted.
Add the cooked rice, the greens and another pinch of salt and pepper and sauté until the rice is warmed through and the greens are wilted. If the rice and vegetables are sticking to the pan, add a splash of water or stock. Serve immediately with or without suggested accompaniments.
Notes
Cooked quinoa, millet or lentils can be subbed for the rice.  You can also use part grain/part chickpeas. Or omit the tomatoes and basil and use different quick-cooking vegetables like thinly sliced fennel, diced zucchini, shredded carrots, blanched cauliflower florets, peas, scallions.  And use different ingredients to add in later, such as cooked beets, sliced oranges, avocado, olives and so on.  There are unlimited combinations!