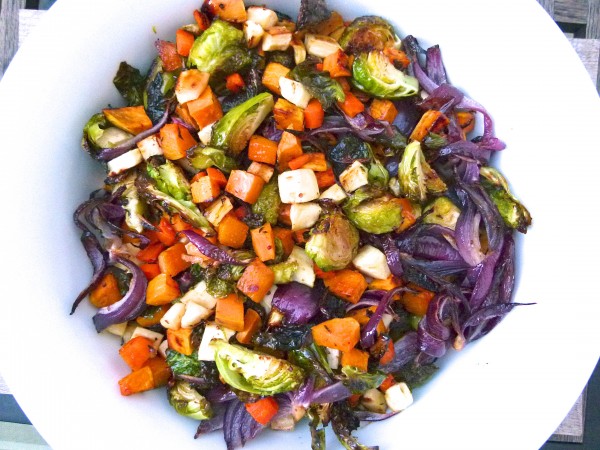 This is the first year that my Thanksgiving menu has not been finalized so close to Thanksgiving.  I am not freaking out yet, but I might need an intervention.  I come up with new recipes every year for the Thanksgiving classes I teach and then I want to include them in my personal Thanksgiving dinner.  The problem is, the last few years I have just added to the menu without taking anything off and I think I am now at maximum menu capacity.  Also, there's no balance to a meal with four Brussels sprout dishes, now is there?  I keep asking my husband, "can we just take stuffing off the menu?"  And he looks at me like I'm crazy.  Then he asks me, "why don't you take the sweet potato casserole off the menu?"  Then I look at him like he's really crazy.  I think I'm just going to take my Thanksgiving CEO job a little more seriously and make the tough choices.  Some dishes just aren't going to make the cut this year (unless I get a few more ovens and a few more hours in the day) and I am prepared to deal with the backlash from my people.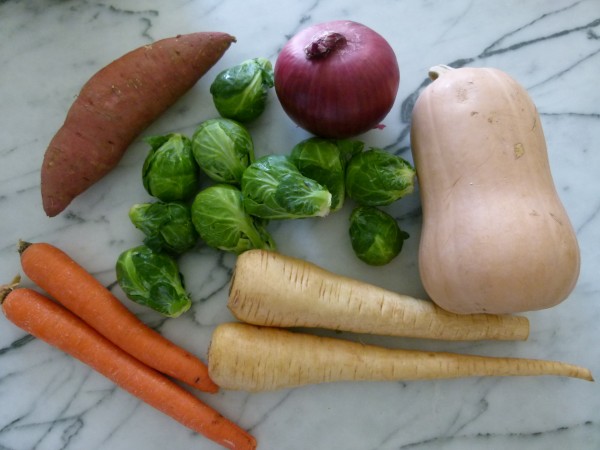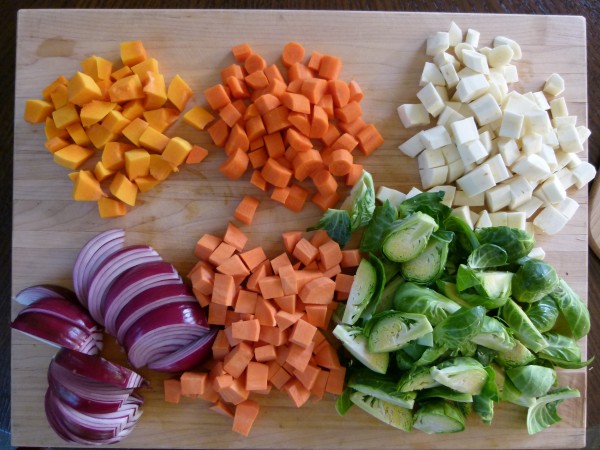 If you are still looking for a winner side dish or two to add to your Thanksgiving menu, then look no further than these delicious vegetables.  I think what every Thanksgiving table needs is a little more color, i.e. vegetables and a little more texture, i.e. something other than soft, mushy food.  I love this recipe because it's more interesting than just roasting vegetables with olive oil or coconut oil.  A little sweetness from the maple syrup, some acidity from the white wine and a touch of tang from the mustard — how good does that sound?  No marshmallows, no canned cream of something, no swimming pool of heavy cream.  Just beautiful vegetables tasting like they should.  You can choose whatever vegetables in whatever quantities you like and they are all super nutritious so you won't go wrong there.  But….I'll tell you what you shouldn't omit.  Love, love, love the parsnips, and the red onion and the Brussels sprouts.  If you're trying to keep it simple, do those three (or sub halved shallots for the onion) and pick either butternut squash or carrots or sweet potatoes to join the party.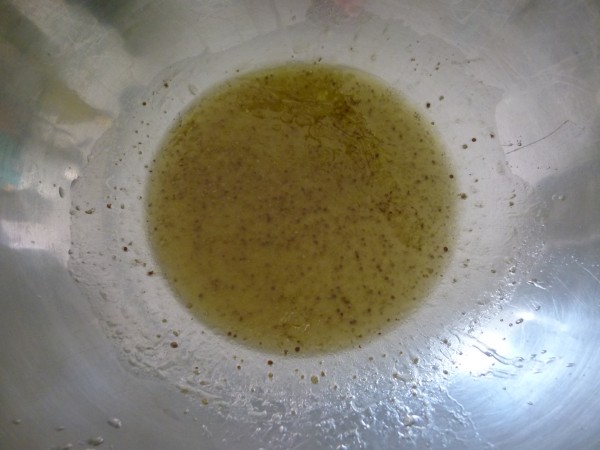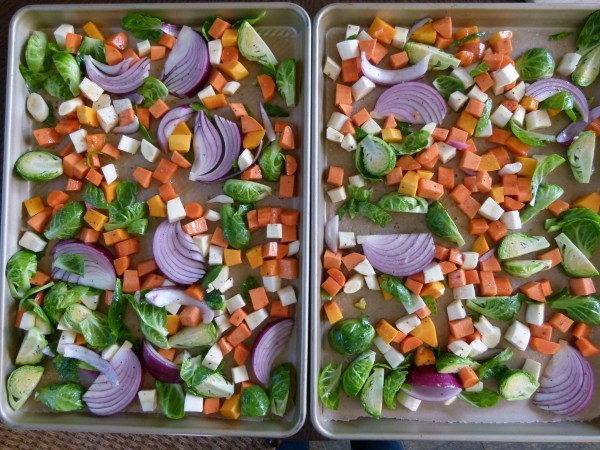 A little advice though — one year I made 6 sheet pans of these in one oven — two pans side-by-side, three racks — and they didn't caramelize as beautifully as I would have liked.  Too much vegetable closeness.  And they take a little time in the oven, so you need to plan for your turkey to rest for about 40 minutes and then allow 10-15 minutes for carving and that timing should be about right.  But if you are reheating stuffing, sweet potato casserole and other stuff, you'll need to roast these veggies before the turkey goes in and then just do a quick reheat before serving.  That will work just fine.  And if there's no way you have room to add these to this year's Thanksgiving menu, there's always Christmas dinner, which is less than four weeks after Thanksgiving.  Ok, now I'm freaking out!

Shop the tools I used for this recipe by clicking on the images below:

Maple-Mustard Roasted Vegetables
Ingredients
¼ cup unrefined, cold-pressed, extra-virgin olive oil or unrefined coconut oil
2 Tablespoons 100% pure maple syrup
1 teaspoon whole grain mustard
2 Tablespoons dry white wine
2 teaspoons fresh thyme leaves, chopped
½ pound butternut squash, peeled and chopped into ½-inch pieces
2 carrots, chopped into ½-inch pieces
1 red onion, peeled and cut into sixths or eighths (keep root attached)
2 parsnips, peeled and chopped into ½-inch pieces
1 medium sweet potato (e.g. Garnet or Jewel), peeled and chopped into ½-inch pieces
10 medium Brussels sprouts, halved
Sea salt and freshly ground black pepper
Instructions
Preheat oven to 400 degrees. Line 2 baking sheets with parchment paper. (I've noticed that darker sheet pans, even lined with parchment paper, caramelize vegetables better/more quickly than light-colored pans.)
In a large bowl, whisk together the oil, syrup, mustard, wine and thyme. Make sure the maples syrup is well incorporated. Add all the vegetables and toss to coat.
Spread evenly between the two pans in one layer and sprinkle well with salt and pepper (about ¾ teaspoon salt or more.)
Roast vegetables until tender and slightly caramelized, about 50 minutes, tossing after 30 minutes. You may need to rotate the pans if they are not side-by-side in the oven or if your oven has hot spots.
Notes
These are just examples of vegetables that work nicely together and with these flavors.  Feel free to concentrate on fewer vegetables, and use more of them.