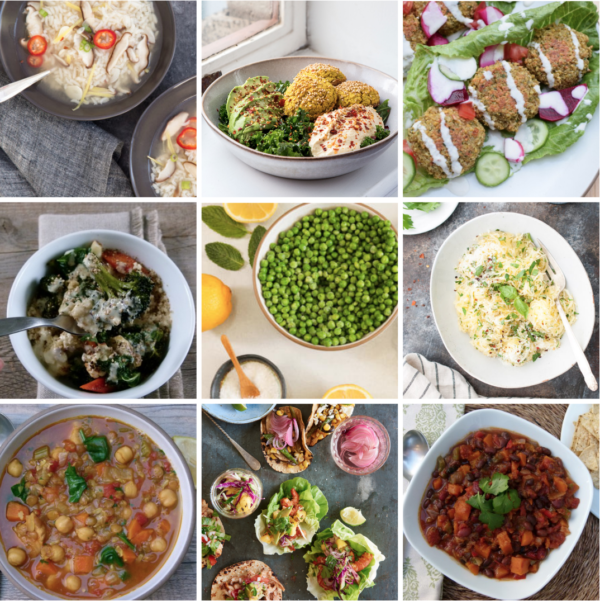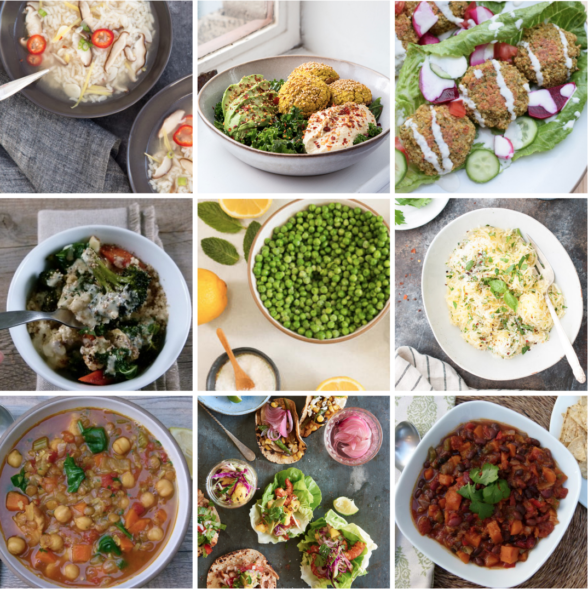 As many of you know, my husband adopted a plant-based diet a year ago.  He was the biggest carnivore, cheese and ice cream eater who I never thought in a MILLION years would give up animal products.  He happened to watch a documentary about people going plant-based and weaning off their medications, reducing inflammation, and reversing certain chronic diseases and decided he had nothing to lose (except weight, inflammation, and cholesterol) by going plant-based for a month.  To be clear, vegan and the new term, whole food-plant-based (sometimes referred to as WFPB), are different.  Vegan just means the food or product (shoes or clothing) contains no animal products – no beef, pork, poultry, fish, etc.; no dairy; no eggs; no honey.  A vegan diet could be potato chips, processed soy hot dogs, Oreos, Coca-Cola, you get the idea.  Whole food-plant-based means minimizing or eliminating animal-based products, including meat, dairy, and eggs. But unlike the vegan diet, processed foods, including refined oil, white flour, and refined sugar are minimized or avoided. The diet focuses on unprocessed or minimally processed fruit and vegetables, whole grains, legumes, nuts, and seeds.
I have updated my students and social media followers on his progress and I am happy to say he is still committed to this way of eating.  He has significantly reduced his inflammation, aches and pains, lowered his cholesterol by 150 points, and lost 20 pounds.  Plus, he seems lighter on his feet and generally happier.  I am personally not vegan since I do eat a little fish, and the occasional egg or dairy.  And I am not trying to convert anyone to this way of eating.  BUT, I do not think factory-farmed animals are healthful for us or worth eating, and I can make an argument that speaks to factory-farmed animals having a negative impact on the environment as well.  I also do not think non-organic dairy is good for our bodies.  I am going to do an Instagram Live on Monday, October 15th at 5:00 pm PST/8:00 pm EST to discuss the pros and cons of a plant-based diet and how to change recipes which include animal products to be plant-based. You should absolutely join the discussion and bring your questions or just listen while I chat and answer what other people bring up.  
This week I am proposing a plant-based dinner planner if you're interested in trying a few non-animal protein meals on your family.  Hit me with any questions below and I will happily answer as soon as I can!
Monday: Immune-Boosting Soup using mushroom stock, green peas and tofu. For more greens add in some fresh organic kale or spinach.  If my husband and son are very hungry, I'll make some veggie fried cauliflower rice (all veggies.)  I use the veggie fried rice recipe as a template to follow.
Tuesday:  Baked Beetroot Falafels from Deliciously Ella on top of your favorite fresh steamed greens. Can serve with organic avocado slices, quinoa and pickled onions in a lettuce wrap or lavash. Top with this Lemon Tahini Dressing. If beetroot falafel sound scary, try my baked falafel here.  That's my son's #1 favorite recipe!
Wednesday:  Pea Pesto or Kale Pesto with gluten-free pasta, spaghetti squash or sweet potato noodles + roasted broccoli.  I am going to try the cauliflower gnocchi from Trader Joe's!  To make vegan pesto, omit the salt and cheese and swap in a dark miso.  
Thursday:  Harira, swapping in extra chickpeas for the chicken.
Friday: Portobello and Poblano Tacos w/ Charred Corn from my book, cilantro-lime slaw.  I'm going to use organic, frozen, fire-roasted corn.  
Saturday Brunch/Lunch: Leftover portobello on top of your favorite organic grains w/ roasted zucchini and lentils or your favorite cooked beans. Top with warmed leftover Pea Pesto or your favorite tomato sauce. Add a fresh squeeze of lemon.
Sunday: Slow Cooker Chili with Sweet Potatoes and top with a dollop of almond milk-based yogurt.  I like Kite Hill.
Here's what you can do ahead if you need to:
Sunday
Make mushroom stock
Make beetroot falafels
Make all dressings, marinades, sauces
Wash and prep all veggies
Make pesto
Wednesday:
Make harira
Prep veggies for tacos
Cook saturday's grains
Here's a link to my previous dinner planners.
I have LOVED seeing all your creations of my recipes on Instagram.  If you make any of my recipes, please tag me @pamelasalzman #pamelasalzman so I can check them out!
Click here to learn more about my online cooking classes!
If you like my recipes, you'll LOVE my cookbook!