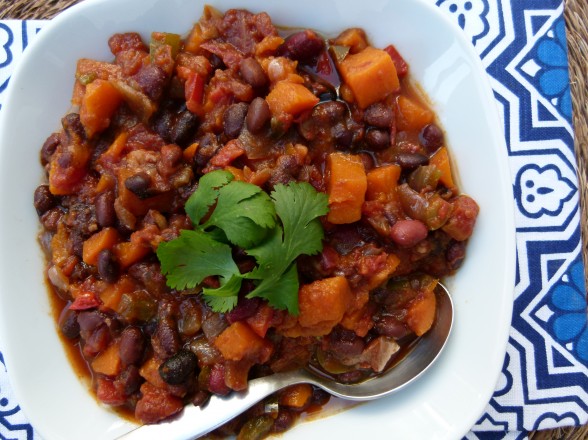 As I type this, my slow cooker has been on for 36 hours straight.  Is that allowed?  I am officially obsessed and I completely understand why you all have been too while I was under a little rock.  Wow!  I made this awesome sweet potato chili the other night, then washed out the insert and put in some beef bones to make beef stock while I slept.  Then the next morning strained the beef stock and made a grass-fed beef brisket with veggies that I turned into a delicious sauce for pasta.  I'm on fire!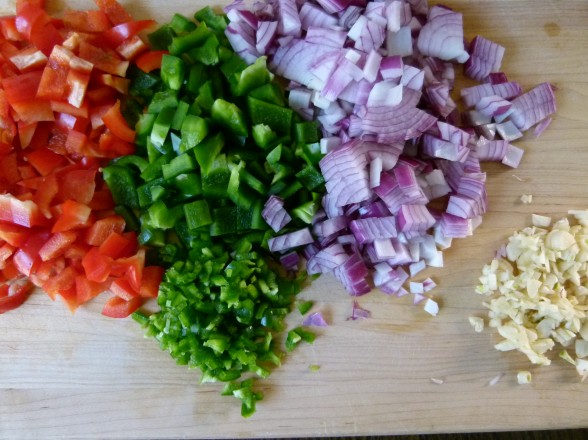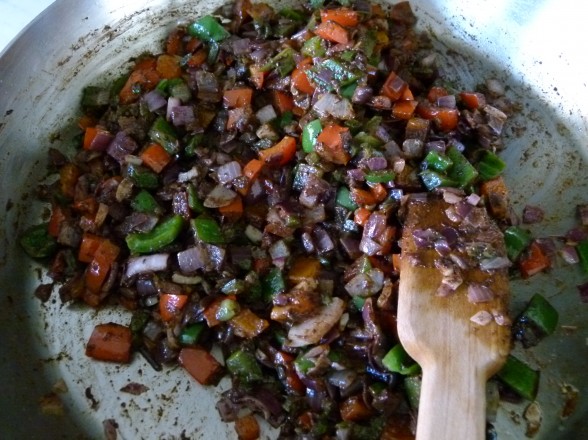 Are you gearing up for Super Bowl Sunday?  I love football, so I am always excited for the big day.  What I'd really like to know though, is why does everyone make chili for the Super Bowl?  Or a lot of Tex-Mex food?  I take that back.  My family in NY will be eating sausage and peppers and a baked pasta of some sort.  Maybe it's just Southern California, but everyone I know is ripening their avocados for guacamole to go on top of their tacos or nachos or what have you.   Just curious since I am one of these people too and I'm not quite sure how I got to be.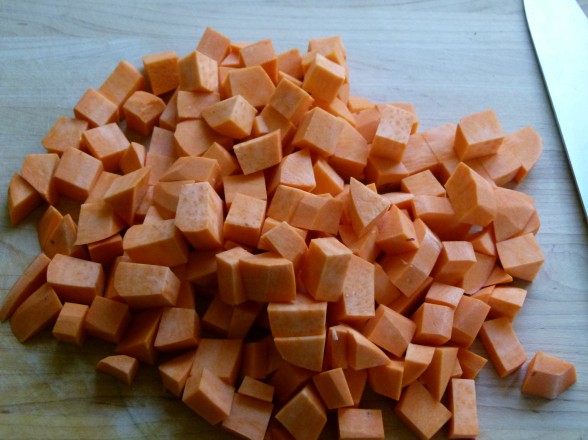 I do try and mix it up a little every year, but somehow chili makes it onto the menu in some way.  I have been alternating between Vegetable Chili (my favorite) and Deer Valley Turkey and Black Bean Chili, which I serve alongside a baked potato bar, corn bread and Mexican Chopped Salad which I have a feeling doesn't resemble anything you'd get in Mexico but sure is the perfect salad to go along with everything else Tex-Mex-y.  I'm in a bit of a conundrum this year with only two days to go until Super Bowl Sunday because I have no menu yet!  There are too many things I would love to make, including this fabulous chili as well as Slow Cooker Chicken Tacos or even this terrific-looking vegetarian tortilla soup recipe I spotted on Foodily.  Alas, I have a mere one slow cooker.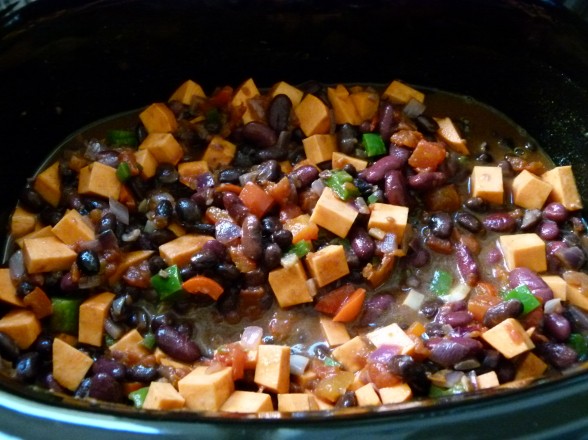 Fear not, good people.  I will share with you how to make this recipe on the stove in case you either do not have a slow cooker (yet) or you only have one slow cooker and you are planning on making my slow cooker chicken tacos.  I like to have a good balance of different food groups even on Super Bowl Sunday so that it's not just chips and animal protein all day long.  Personally, I think chili is an easy dish to do vegetarian.  All those beans are super high in fiber and protein so they're really filling and it's the spices that make everything taste delicious, not the meat.  This chili is really interesting because it includes a bit of sweet potato, one of my most favorite foods.  There's a touch of cinnamon and cocoa powder which you can't really taste, but pairs great with the chili powder.  I didn't add any leafy greens, but in retrospect I think a few chopped leaves of chard, spinach or kale would have been a nice addition at the end.  This Super Bowl I'm rooting for you to eat something healthful!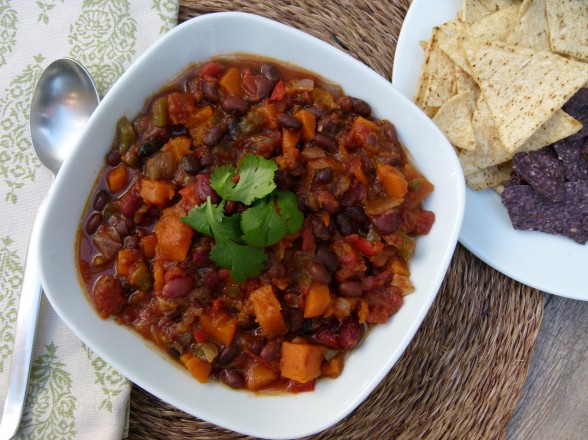 Slow Cooker Vegetarian Chili with Sweet Potatoes
Author:
Pamela, adapted from CookieandKate.com who adapted it from Real Simple, both via Foodily
Ingredients
2 Tablespoons unrefined olive oil (or skip this if you don't want to pre-saute vegetables)
1 red onion, chopped
1 green bell pepper, chopped
1 sweet red bell pepper, chopped
1 jalapeno, diced (remove seeds to make it less hot or use half or omit altogether)
4 garlic cloves, chopped
1 Tablespoon chili powder
2 teaspoons ground cumin
2 teaspoons unsweetened cocoa powder
¼ teaspoon smoked paprika (optional)
¼ teaspoon ground cinnamon
1-2 teaspoons sea salt (depending on salt in tomatoes)
freshly ground black pepper to taste
1 28-ounce container chopped or diced tomatoes with the juice (I prefer to use Pomi from a box or tomatoes in glass jars to avoid the inevitable BPA in canned tomatoes.)
1 ½ cups cooked black beans or 1 15-ounce can, drained and rinsed (click here to learn how to cook beans from scratch, otherwise Eden Organics doesn't use BPA in their cans)
1 ½ cups cooked kidney beans or 1 15-ounce can, drained and rinsed
2 medium sweet potatoes, about 1 pound total, peeled and cut into ½-inch pieces
1 cup water (use 2 cups water if cooking this on the stove)
Instructions
Omit this step if you cannot bear to pre-cook anything when using a slow cooker. I like to sauté my vegetables because I think it adds more flavor, but feel free to dump everything (omit the oil) into the slow cooker and press "start." Otherwise, heat oil in a large skillet (if not using a slow cooker, sauté in a large pot) over medium heat. Add onion, peppers and garlic and sauté until onions are tender and translucent, about 6 minutes.
Add spices, salt and pepper and stir until fragrant, about 1 minute. If your tomatoes are unsalted, use 2 teaspoons salt.
Add tomatoes and their liquid and cook for another minute or two.
Pour the onion and pepper mixture into a 4-6 quart slow cooker. Stir in beans, sweet potato and 1 cup water. (If cooking on the stove, add remaining ingredients to the pot plus 2 cups water. Bring to a boil, lower to a simmer and cook until sweet potatoes are tender and everything is nice and thick, about 1 hour.)
Cover and cook until sweet potatoes are tender and the chili has thickened, on low for 7-8 hours or on high for 4 to 5 hours.
Taste for salt and pepper. Serve with desired toppings such as tortilla chips, diced avocado, chopped cilantro, and sour cream.
Notes
I have also served this with cooked quinoa and millet, which was delicious. Also, I think adding some chopped fresh leafy greens about 10 minutes before serving would be very nice, too. Swiss chard, spinach and kale would all work well.