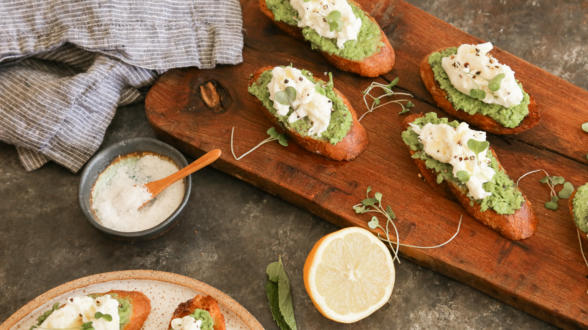 It's practically summertime and my cooking/entertaining strategy has already shifted. I'm making mental notes of easy-breezy recipes with lots of color and freshness.  Even though I feel comfortable cooking any recipe in any cookbook, I don't feel as though I have to prove anything to my family and friends.  That's not why I invite them over.  I'm all about having fun and not creating more work for myself, especially in the summer!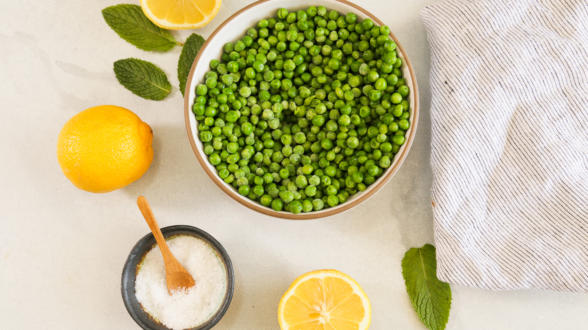 When I saw this lovely Pea Pesto and Burrata Crostini recipe in Gaby Dalkin's new cookbook, "What's Gaby Cooking: Everyday California Food," I knew this would become a part of my entertaining repertoire.  Gaby is a fellow Los Angeles food blogger known for her simple, fresh and flavorful recipes and GORGEOUS food styling and photography.  Her images always make me want to make whatever is on her instagram or her blog.  I love her style which I think epitomizes California – uncomplicated, colorful and relaxed.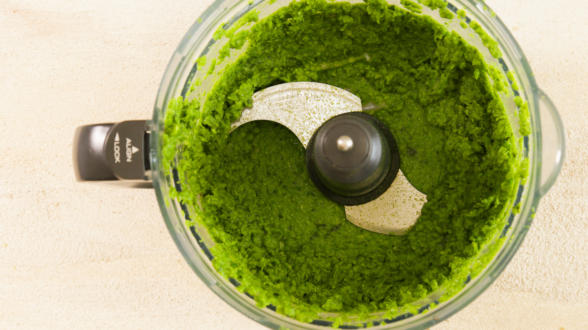 As you know, I am always down for pesto on anything and I am obsessed with grilled bread rubbed with garlic, so this recipe has my name written all over it!  What I like about Gaby's version is the pea pesto.  It's really different from a traditional basil pesto in that it's more chunky due to the base of peas (hello – defrosted frozen peas one of my staples.)  And it's great for the nut-free and dairy-free folks out there since it doesn't contain either.  It just goes to show you that you don't need cheese or nuts to make a great pesto.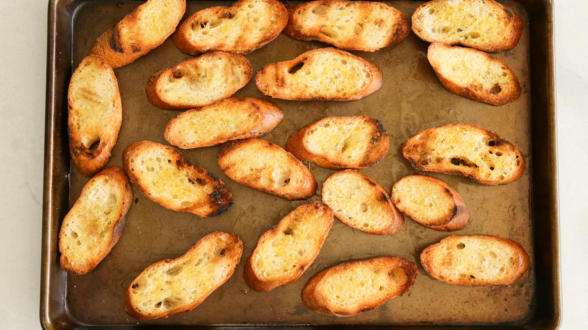 I think these crostini would be the perfect hors d'oeuvre to start any spring or summer menu.  Actually, they would be great in winter too, when there isn't much freshness around.  If you had a group of mixed eaters (ie, different dietary restrictions), I would serve the pesto in one bowl with a drizzle of olive oil and a few micro greens or edible flowers to make it look pretty, a plate of crostini and a plate of gluten-free crackers, a bowl of torn burrata and a separate bowl of soft vegan cheese.  Everyone's happy and you don't have to assemble 20 crostini!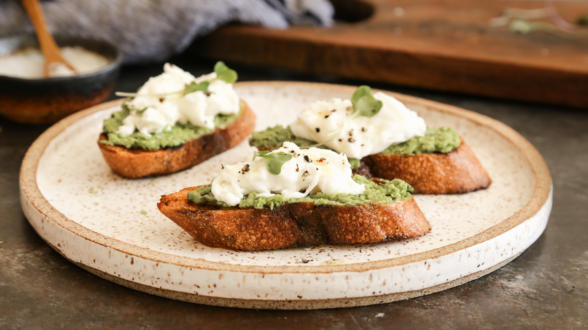 Father's Day is coming up and I know that most of my students with husbands say that their guys love meat.  But why not try something a little different?  These are still hearty and they're delicious with a cocktail or cold glass of white wine.  Or you could try tossing the pesto with boiled potatoes and green beans or (the obvious) pasta for a totally different dish.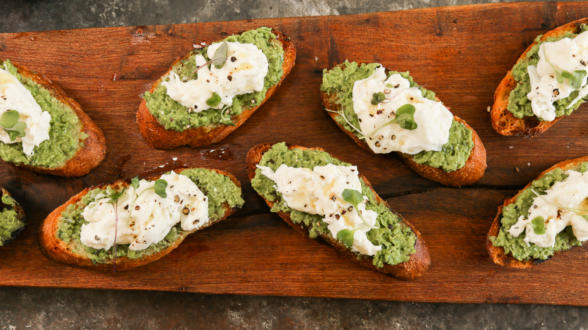 Check out Gaby's book in your local bookstore or on amazon.  Or if you're lucky, you might catch her at Williams-Sonoma on her book tour.  She's super nice, charming and has a great energy!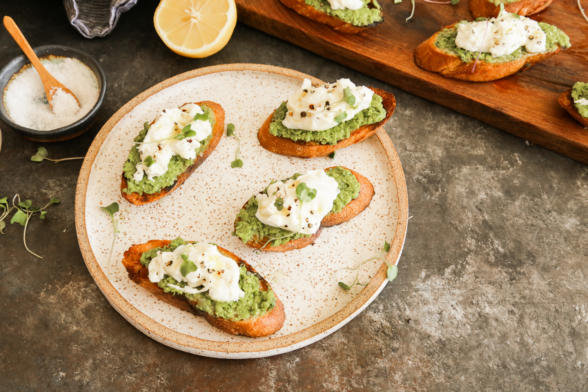 As always, I love seeing your photos when you make my recipes – whether they're from my website, my cookbook, or from my online classes (this month's recipes are amazing and won't be published on my website.)  Tag me @pamelasalzman #pamelasalzman on Instagram so I can check out your creations!
You can shop the tools I used for this recipe by clicking on the images below!

Pea Pesto and Burrata Crostini Recipe
Serves:
about 16-20 crostini
Ingredients
10 ounces frozen peas, thawed
⅓ cup fresh basil leaves
⅓ cup fresh mint leaves
1 clove garlic
juice of 1 lemon
½ teaspoon red pepper flakes
salt and pepper
1 baguette cut into ½ inch slices (use a GF bread if necessary*)
olive oil
2 cloves garlic
for assembly
6 ounces burrata cheese (feel free to use a soft vegan cheese like Kite Hill or Miyoko's Creamery)
Pea tendrils, extra mint or basil for garnish (I used micro greens)
Instructions
Make pesto: in food processor, combine peas, basil, mint, garlic, lemon juice and red pepper flakes and season with salt and pepper. Pulse for 45 seconds until the peas are broken down and chunky. Scrape down the sides of the bowl and pulse for another 10 seconds. Taste and adjust salt and pepper as needed.
Make the crostini: heat a griddle or a large skillet over medium-high heat. Generously drizzle the baguette slices with oil on both sides. (I brushed the bread with olive oil using a silicone pastry brush.) Using tongs, transfer the slices of bread to the hot griddle and toast for a few moments, until golden brown. Flip and toast the bread on the other side for a minute more . Remove from the griddle and set aside. Carefully rub the garlic over the bread.
To assemble: slather 2 TBS of the pea pesto on top of each crostini. Add a tablespoon or two of burrata and garnish with pea tendrils (I couldn't find pea tendrils, so I used micro greens from Trader Joe's) and serve immediately.
Notes
*Or use the pesto as a dip with GF crackers and sprinkle some crumbled feta on top.