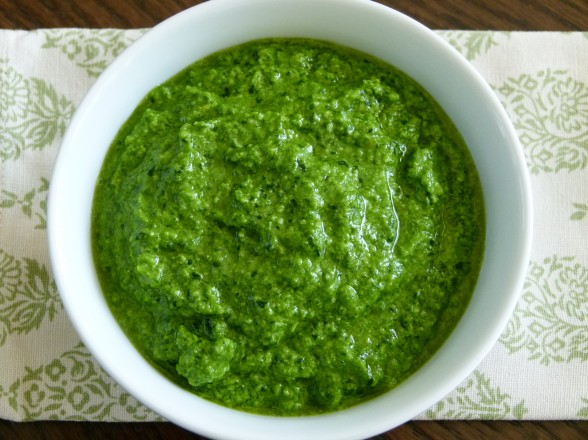 When I was a child, my family ate pesto all the time in the summer and early fall.  In fact, to me the smell of basil, garlic and cheese in the food processor is synonymous with warm, lazy days at the beach or on my parents' hammock under a big, breezy tree.  It was one of the few things my mom made without a recipe because she made it so often and could likely do it in her sleep.  Also, my father always planted way too much basil so Mom was forced to use it  up more quickly than it grew.  Traditional basil pesto is the only pesto that I ever knew until I started over-planting my favorite herb, parsley, and mixing it with basil for an ever better (in my opinion) pesto.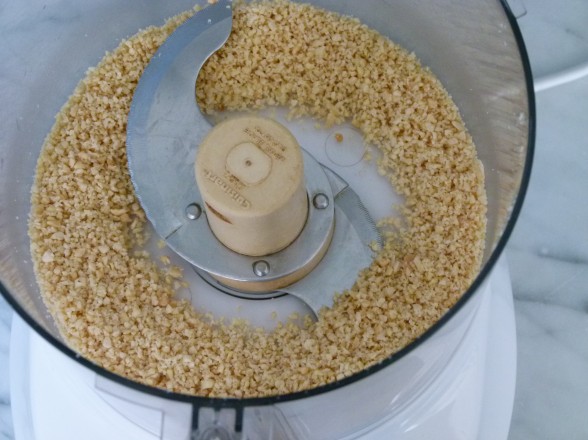 But it wasn't until a few years ago that I heard about the huge spectrum of pestos out there not made from basil but from all sorts of herbs like cilantro and mint to leafy greens such as spinach and arugula and even peas or sun dried tomatoes.  The result is a brave new world of pesto-adorned dishes beyond pasta in the summertime.  The good news is that all pestos are super simple to make and help me make my boring meals more exciting.  "Another turkey sandwich?"  No, a turkey sandwich with pesto!  Oooh, ahhh.  "Grilled fish" doesn't have the same appeal as "grilled salmon with cilantro pesto!"  Although when I introduced kale pesto to my family, they were skeptical.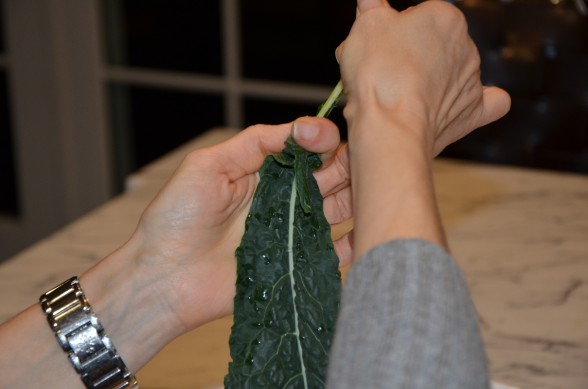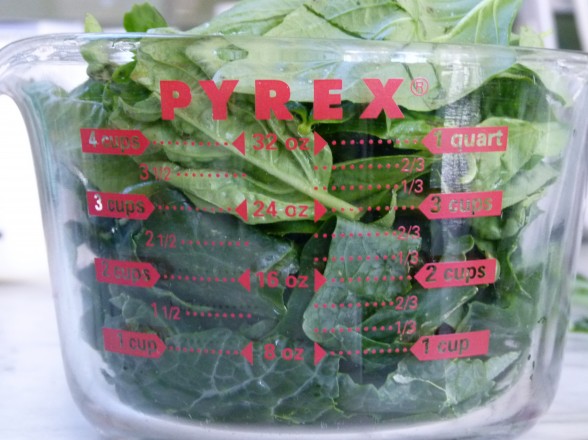 Kale, which is my absolute favorite superfood, is more nutrient-dense than most any food on the planet, so I try to incorporate it into our meals however I can.  I love how hearty and flavorful kale is, but it can be a little bitter for the kids if I don't try to work around that.  My standard pesto is made with pine nuts or pine nuts and walnuts.  Both are soft nuts that get ground very easily, but can be also be a tad bitter.  So I subbed blanched almonds to keep the pesto from getting too harsh and loved it, even though almonds don't grind up quite as finely.  The only other change I made was to add a touch of lemon juice which brightens the whole thing up and again, cuts any bitterness.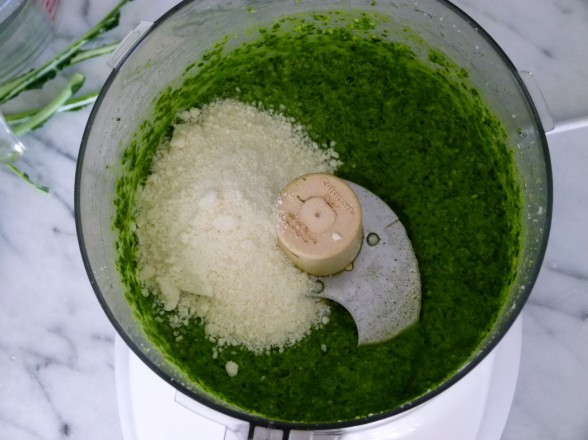 I made kale pesto in two different ways.  The first with all kale and the second with mostly kale plus basil.  All kale pesto tastes reminiscent of broccoli which makes sense since they're both in the cruciferous family.  It's so totally yummy with a hearty whole wheat or spelt pasta, stirred into soups like lentil, mushroom-barley or minestrone or slathered on a quesadilla with leftover roasted veggies and cheese.  I imagine it would be great on a baked potato with veggies or in an omelet with goat cheese and mushrooms.  Then I made another version with mostly kale and some basil and it tastes much more like the version you're used to, but more substantial and maybe with a little more bite.  So many people in my classes this month thought it was even better than an all-basil pesto.  In class we ate it poured on a grilled chicken paillard.  Sunday, I took some pasta with kale-basil pesto and chickpeas in Chinese takeout containers for a beach picnic and then used the leftovers yesterday on a grilled whole wheat pizza with ricotta, sauteed garlic spinach and fresh mozzarella.  Insane.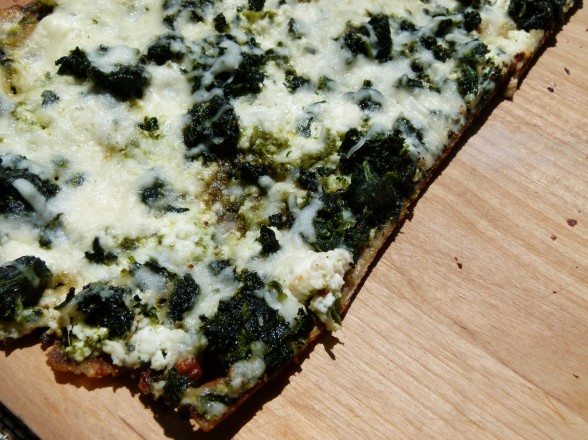 Feel free to use whatever kale you can find, but the curly green variety tends to get processed more finely in the food processor if that matters.  Although in these photos I did use the Dinosaur (Tuscan) variety because I typically have that on hand for salad and juicing.  However you try it, and I hope you do, pesto is a busy cook's good friend anytime of year.  Tell me your favorite ways to enjoy it!
Kale Pesto
Serves:
makes just under 2 cups
Ingredients
½ cup blanched almonds, walnuts, pine nuts or a combination (use sunflower seeds for a nut-free pesto)
1 large garlic clove, smashed
3 cups kale (dinosaur or curly green), stemmed and torn into large pieces (so it's easier to measure)
2 cups basil leaves (or use all kale)
½ teaspoon fine grain sea salt
Freshly ground pepper to taste
1 Tablespoon freshly squeezed lemon juice
¾ cup unrefined, cold pressed, extra-virgin olive oil
⅓ cup grated Pecorino or Parmigiano cheese
Instructions
Toast nuts, stirring frequently, in a dry skillet over medium heat until lightly golden. If you are a "nut-burner," just skip this step and put them in the food processor raw. Remove from heat and allow to cool. If you're using sunflower seeds, just use those raw.
Place nuts and garlic in the bowl of a food processor fitted with the metal blade and process until very finely chopped.
Add kale, basil, salt, pepper and lemon juice and pulse until chopped.
With the food processor running, add olive oil in a steady stream until you achieve a smooth texture. Add cheese and process until well combined.
Taste for seasoning and add additional olive oil to make a looser pesto.
Notes
*Pesto freezes really well!