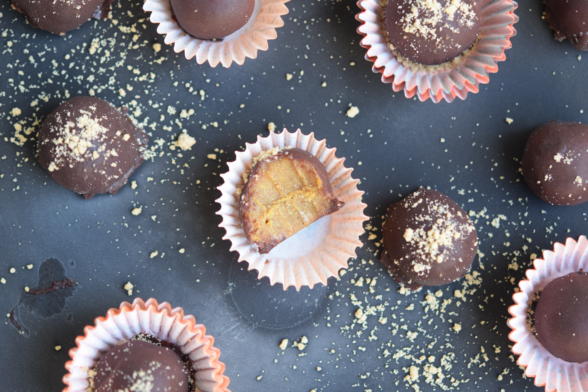 Something that gives me a strangely satisfying feeling is when I am efficient with my food.  I looooove finishing a bag of something or avoiding throwing something away because I was able to use it creatively.  I came up with this recipe last year to use up a small amount of pumpkin puree that was languishing in the fridge.  I usually use up small bits of pumpkin in smoothies, oatmeal, or pancakes or waffles.  But I am pretty obsessed with Bliss Balls (aka energy balls) and I knew I could probably make a pumpkin version.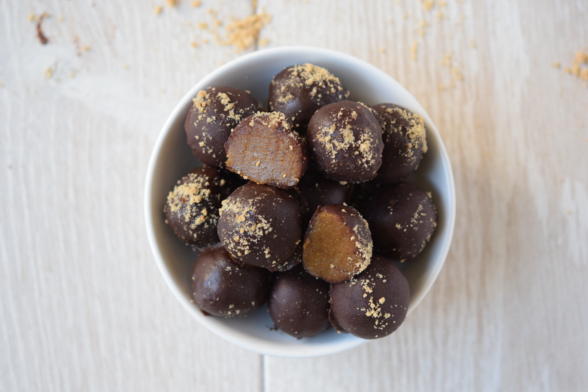 The key with using something wet like pumpkin is that you have to also use an ingredient to help absorb that moisture, e.g. coconut flour.  You could also try oat flour or arrowroot.  And the key to making something with pumpkin is adding the classic pumpkin spices.  My favorite premade pumpkin pie spice is by Oaktown Spice Shop. It has more zing than most and the spices taste really fresh.  But you can also make your own with whatever proportion of spices that you like.  In fact, I brought these as a hostess gift to a friend's house last year with a jar of homemade pumpkin pie spice.  🙂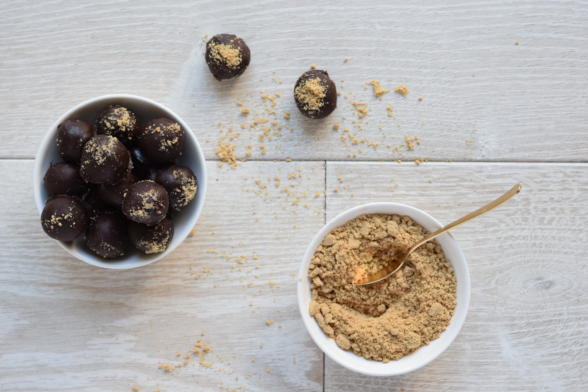 I think these are a perfect sweet treat made with all natural ingredients, good fats, and protein.  I often look for a little something sweet in the afternoon and what works for me is to have a higher quality treat rather than the temptation of my son's ice cream in the freezer.  These are very easy to make and last for weeks in the fridge or freezer.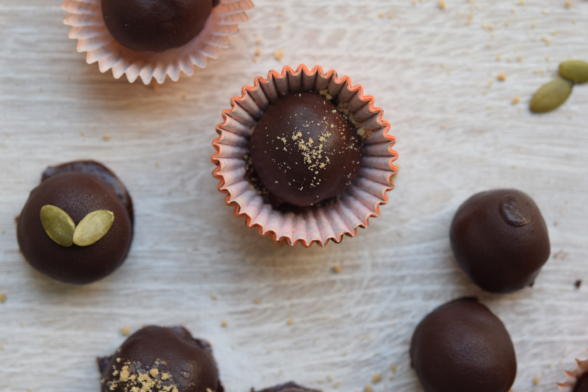 I haven't tried using any other nut butters than cashew or almond, but I am sure pecan butter would be amazing.  Feel free to cut this recipe in half if this is too many for you to keep around.  But I will say, these truffles make a great gift or dessert for a fall buffet.
On another note, for those of you who live in the beach cities in LA county, I will be doing a demonstration and Q&A at the El Segundo Public Library Authors Event on Saturday, October 20th at 2:00 pm.  It's free!  I'll be signing books after my demo.
I love seeing your creations so please tag me on Instagram @pamelasalzman #pamelasalzman!
 

 

 

View this post on Instagram

 

 
You can shop the tools I used in this recipe by clicking on the images below!

Pumpkin Cashew Truffles
Ingredients
½ cup raw cashew butter* or raw almond butter (the smoother, the better)
6 pitted dates
⅛ teaspoon pure vanilla extract
¼ cup pumpkin puree (not pumpkin pie filling)
1 Tablespoon pumpkin pie spice*
2 Tablespoons coconut butter (also labeled as "coconut manna") or unrefined virgin coconut oil
2 Tablespoons coconut flour
⅛ teaspoon sea salt
for the chocolate coating:
½ cup good quality chocolate chips, preferably dark, but whatever you prefer
½ Tablespoon unrefined virgin coconut oil or unsalted butter
graham cracker crumbs or pumpkin seeds for garnish (optional)
Instructions
Place the cashew butter, dates, vanilla, pumpkin puree and spices, coconut butter (or oil), coconut flour and salt in a food processor and blend until everything comes together in a thick paste.
Place the truffle mixture into a container and refrigerate or freeze until firmer.
Line a small baking sheet or plate with parchment or wax paper.
Scoop small amounts of the truffle mixture and roll into little balls. I like to use a melon baller for this.
Place back into the refrigerator or freezer while you make the chocolate coating.
In a double boiler, melt the chocolate chips and coconut oil together and whisk to combine.
Remove the truffles from the fridge. One at a time, place a truffle ball on the tines of a fork over the bowl of melted chocolate and spoon chocolate over the ball until completely coated. Allow excess to drip back into bowl. Return to baking sheet/plate and repeat with all the balls.
Repeat for a double layer of chocolate or drizzle more on for a decorative finish. Before chocolate sets, sprinkle with graham cracker crumbs or pumpkin seeds if desired. Refrigerate until firm and store in the refrigerator.
Notes
*or make your own pumpkin spice:
2 teaspoons ground cinnamon
½ teaspoon ground ginger
¼ teaspoon ground nutmeg
¼ teaspoon ground cloves or allspice