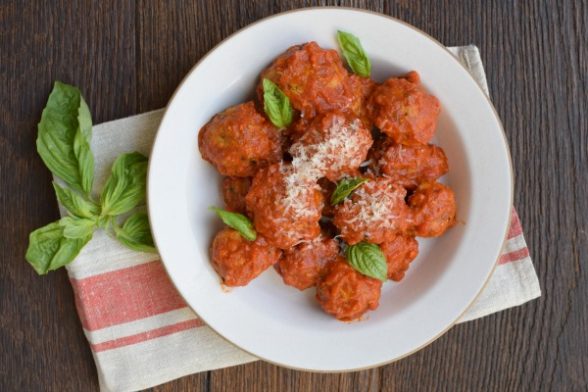 The book process is a long one and similar to online dating.  You parade yourself around vulnerably, putting your best assets forward, hoping the right companion will ask you for a date.  You might have to kiss a few frogs before you find Mr. Right and then you're an item.  DaCapo Lifelong Books and I dated a bit before we got together in August of 2015 and the rest is history!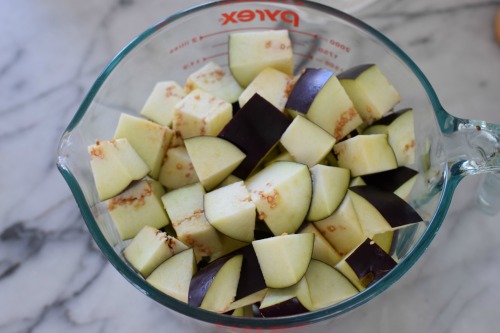 Most of the recipes in the book are from classes I have taught, which means they have gotten A LOT of feedback.  I chose ones that would stand the test of time – no silly, trendy food here. And also I chose ones that were really popular in my classes and with my students' families.  These vegetarian eggplant meatballs were one of those recipes.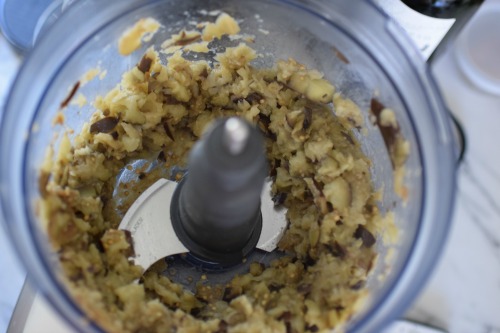 But before I teach a recipe in class, it has to pass the test, i.e. my guys need to approve.  When I served these vegetarian meatballs to my husband and Mr. Picky, my son, two certified carnivores, I was a little nervous.  But they LOVED them!  I did, too.  These have all the same flavor of a meatball without the meat.  It's not that I don't serve my family beef, but really only sparingly.  I definitely favor plant foods with our meals so we get the benefits of all those vitamins, minerals, phytonutrients and antioxidants.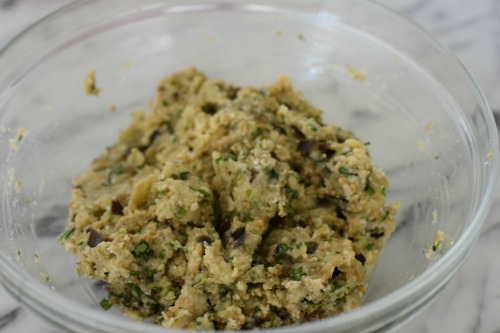 I love serving these with spaghetti squash and sauteed greens and they make a great sandwich the next day.  As with most of the recipes in my book, there are substitutions for the most common allergens.  Omit the pecorino to make them dairy-free.  Swap gluten-free bread crumbs for a gluten-free version.  One of the messages in my new book is that cooking healthy food is probably not as hard as you think.  I hope you'll give these a try and let me know how it goes!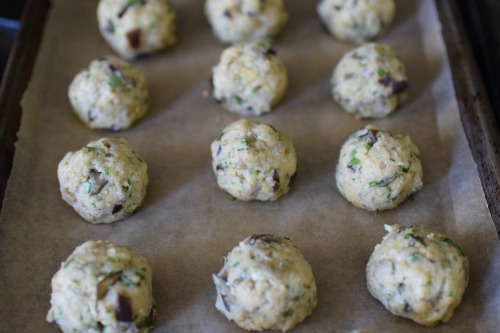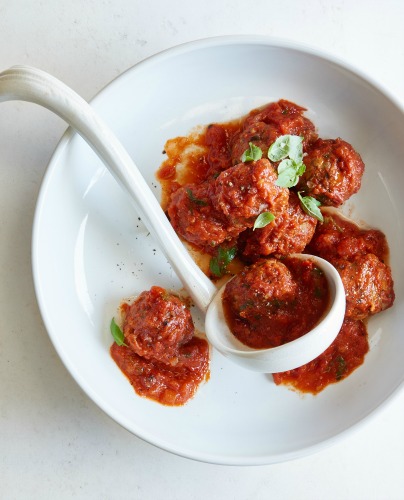 Vegan version: 
Swap the eggs for 1/4 cup flaxseed meal mixed with 6 Tablespoons of water. Add 2/3 cups of cooked kidney beans or beans of choice (mashed) into the mixture and use vegan grated parmesan.
 

 

 

View this post on Instagram

 

 
Vegetarian Eggplant Meatballs Recipe
Ingredients
2 Tablespoons unrefined, cold-pressed extra-virgin olive oil
6 cloves garlic, minced
1 ½ pounds eggplant, unpeeled, cut into 1" cubes (you should have 8 cups)
¼ cup water
1 cup grated Parmesan or pecorino cheese
½ cup fresh Italian parsley leaves and tender stems, chopped
¼ cup fresh basil, chopped
4 eggs, beaten (you can use between 2-4 eggs, but I like to use 4 for extra protein and to hold the meatballs together better)
1 ½ cups dried breadcrumbs (you can use 1 cup, but the meatballs will be much softer)
⅛ teaspoon of sea salt and a few grinds of black pepper
½ recipe of Marinara Sauce, recipe below, or about 3 cups of sauce
Instructions
Heat a large skillet over medium heat. Warm olive oil and sauté garlic until just fragrant and barely starting to lightly brown, about 30 seconds. Add eggplant and water. Reduce heat to low and cover the skillet. Allow eggplant to steam until soft, about 20 minutes. Allow to cool slightly, if you have time.
Meanwhile, preheat oven to 350 degrees. Line a baking sheet with unbleached parchment paper.
Place the eggplant mixture in the bowl of a food processor and pulse until well chopped, but not pureed. Or just do this on a cutting board with a knife.
Transfer eggplant to a large mixing bowl and add cheese, parsley, basil, eggs, breadcrumbs, salt and pepper. Stir mixture well to combine using your hands or a wooden spoon. The mixture can be refrigerated at this point, covered for up to a day. It is easier to roll into meatballs when the mixture is cooled down. (If doing so, preheat the oven 30 minutes before baking the meatballs.)
Roll mixture into 1 ½ " balls and place on prepared baking sheet. Bake for 25 minutes, or until firm on the outside and light brown underneath.
Transfer meatballs to a large saucepan with marinara sauce and simmer for 5-10 minutes.
Notes
Notes: you can add crushed red pepper with the garlic to add some heat. You can also shape these into veggie burgers. If fresh basil isn't available, you can add a few dashes of dried basil and dried oregano.


HOMEMADE TOMATO SAUCE

¼ cup unrefined, cold-pressed extra-virgin olive oil
1 large onion, finely diced
2 garlic cloves, finely chopped
4 pounds fresh, ripe tomatoes, peeled, seeded and diced or 2 28-ounce containers of crushed tomatoes
1 7-ounce jar of tomato paste (for a richer, thicker sauce)
Sea salt
A few leaves (a small handful) of fresh basil, thinly sliced*

1. In a medium saucepan, heat the olive oil over medium-low heat. Add the onions and sauté gently until softened, about 10 minutes. Add the garlic and cook another minute.
2. Add the tomatoes and tomato paste (if using) with 2 generous pinches of sea salt and bring to a simmer. Cover the sauce and simmer for about 20 minutes. Taste for seasoning.
3. Puree about half the sauce with an immersion blender or pass through a food mill. (You can also blend half the sauce in a blender or food processor.) Put the sauce back into the saucepan.
4. Add the basil and simmer for another 5 minutes. Taste and adjust seasoning.

*If fresh basil isn't available, you can add a few dashes of dried basil and dried oregano.