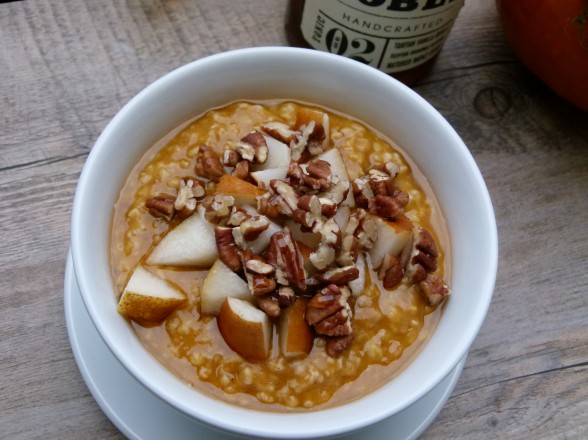 I always thought the strategy stopped once I served Thanksgiving dinner, but I actually think it's just as challenging figuring out how to work efficiently with all the leftovers.  I really detest throwing away food, so I try to give away care packages to my guests before they leave on Thanksgiving lest I end up with more stuffing than we can consume in two days.  But instead of searching the internet for creative ways to use up our turkey and vegetables, my 14-year-old daughter had the answer all along — invite a bunch of teenagers over for dinner.  Brilliant!  Ten of her friends came over the day after Thanksgiving for a "pot luck."  Each kid was supposed to bring a dish for everyone to share, but I think only one boy brought a tupperware of mashed potatoes and gravy.  Fine by me!  I don't think there was a shred of turkey left in the fridge.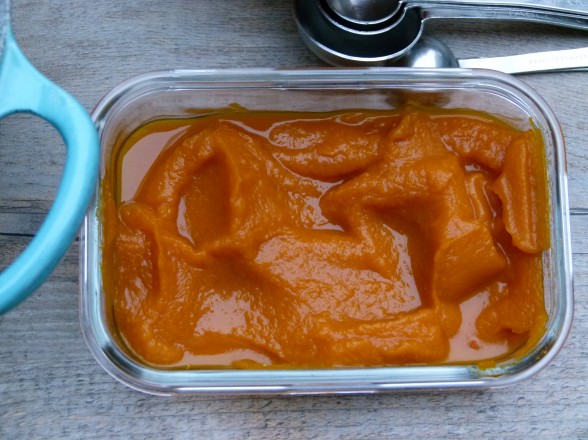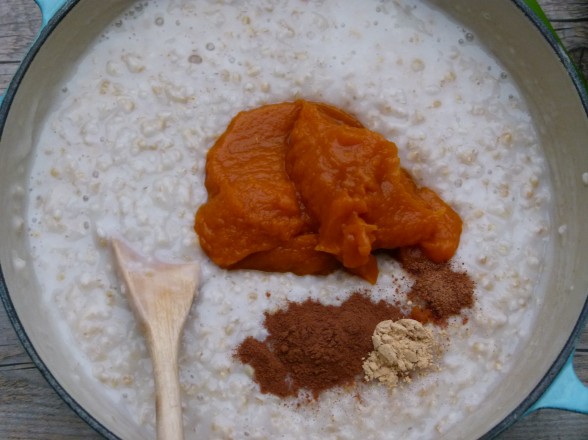 The only thing the kids didn't consume were a few raw egg whites and some pumpkin puree leftover from roasting pumpkin for a couple pies.  The egg whites could easily find their way into a frittata, but I wanted to do something different with the pumpkin.  I love making oatmeal on Monday mornings.  It's easy and starts the week off on a healthful note.  After the oats were finished, I stirred in the pumpkin puree along with the typical spices that I would use in a pie — cinnamon, ginger and nutmeg.  Everyone added his or her own twist to this new oatmeal.  My husband added granola; Mr. Picky sprinkled on cinnamon-sugar; the girls ate theirs with pomegranates and walnuts.  But I think mine was the best of all — fresh diced pear, chopped pecans and this crazy delicious new maple syrup my husband discovered called Noble.  It was heaven — warm and comforting and nourishing at the same time.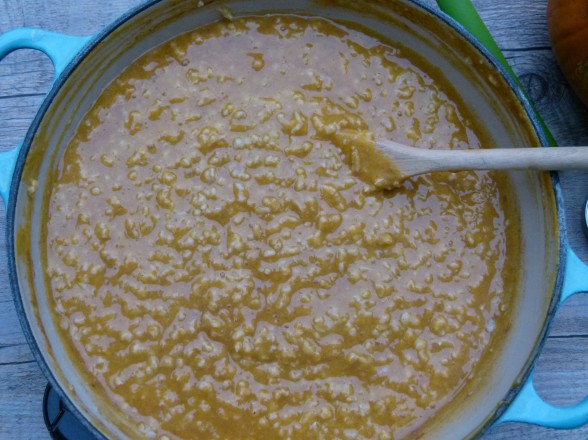 I was really winging it with the measurements for pumpkin and the spices, so you can too.  I had a heaping 1/2 cup of puree, but because pumpkin doesn't have a strong flavor, I think you can add up to a cup and not feel like you're eating a bowl of squash with some oats mixed in.  As far as the spices go, cinnamon and ginger in particular are favorites of mine and they happen to be anti-inflammatory and high in antioxidants, so I was fairly liberal.  But again, this is an easy "recipe" to adjust to suit your tastes.   Do you dare me to go roast another pumpkin so I can eat this again?  I just might….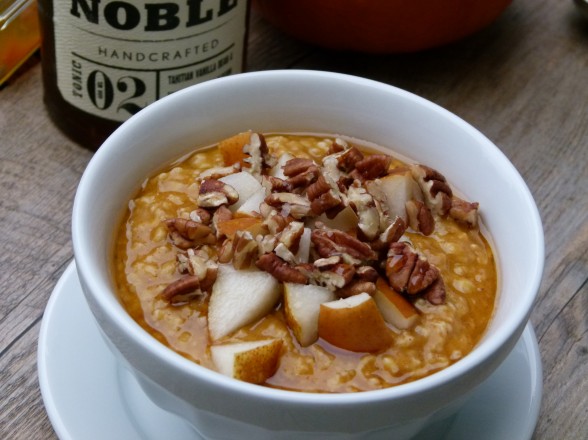 Pumpkin Oatmeal
Ingredients
4 cups water
1 cup steel cut oats (you can also make this with rolled oats -- just follow package directions for cooking)
¼ teaspoon sea salt
optional: additional drizzle of milk such as almond milk or raw milk
½ - 1 cup pumpkin puree
1 teaspoon ground cinnamon
¼ teaspoon ground ginger
⅛ teaspoon ground nutmeg
toppings can include: fresh pear or pomegranate seeds, sautéed apples, granola, maple syrup, maple sugar, pecans, sliced almonds or walnuts, bananas, mini-chocolate chips
Instructions
For overnight oats: Bring water to a boil in a medium saucepan. Add oats and salt. Cook for 1 minute. Remove from heat and cover. Let stand overnight. The next morning, reheat over medium heat, stirring in some milk (I usually use about ¼ -1/3 cup) if desired for extra creaminess.
If making in the morning, cook oats in water with salt until tender, usually about 35 minutes. Add enough milk to achieve desired creaminess.
Add pumpkin puree and spices to oatmeal and heat through. Serve with optional toppings.
Notes
To make 6 servings, increase water to 6 cups and oats to 1 ½ cups.