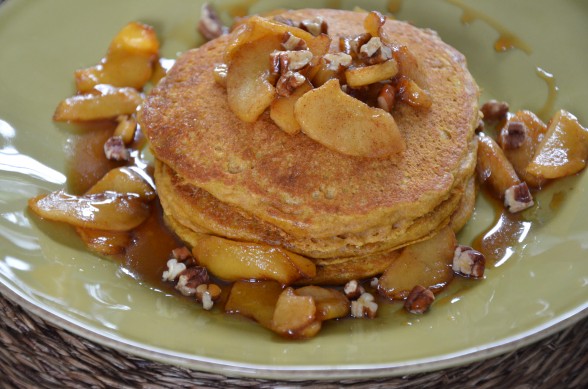 Now that my daughters are teenagers (sigh), I encourage them to invite their girlfriends to have sleepovers at our house on the weekends.  I don't always get my wish, but I do like having them home so I can keep an eye on everyone and then I don't worry so much.  Not only that, but the girls' friends give me more gossip than they do, and enquiring moms want to know!  Last weekend, my husband and Mr. Picky were away on a guy's trip and I had 6 girls keeping me company.  I used to dread sleepovers because there would always be one early bird that would wake everyone up at 5:00 am and then you had a Miss Cranky Pants to deal with the rest of the day.  Let me tell you, some sleep mechanism kicks in when the kids hit middle school and then you can't wake them before noon if your life depended on it.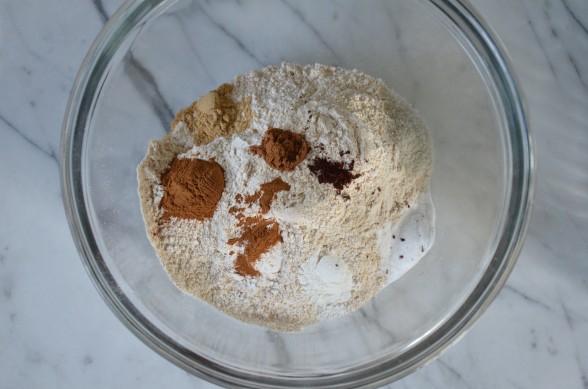 Last Sunday, I was able to get in a workout and shower before I heard the first signs of life at 10:30 am.  Still foggy and misty out, I wanted to make a cozy breakfast for everyone.  I had cooked some fresh pumpkin puree the day before with pumpkin pancakes in mind — my absolute favorite!  Before I even got started, the 13-year-olds were mumbling something about not being hungry.  I would not be discouraged.  I noticed two sad-looking Golden Delicious apples on the counter that I knew no one would ever eat.   I decided to peel and slice those and gently saute them in a little butter while I preheated the griddle and assembled the pancake batter.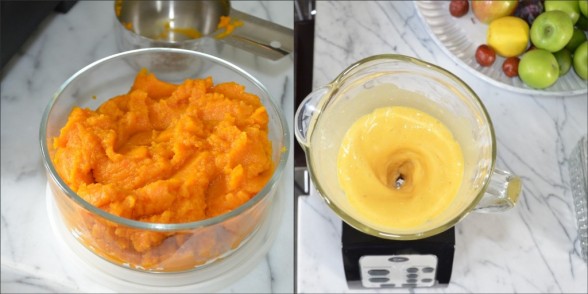 This is just a twist on the classic buttermilk pancake recipe that is a weekly staple in our house.  The pumpkin puree adds a beautiful copper color to the batter as well as a little Beta-carotene.  And then all those fantastic warming spices add the flavor that says Fall!  If you have pumpkin pie spice, I'm sure that would work fine here, too.  Just like my standard pancake recipe, you can make this batter the night before.  I have taught my girls how to cook their own pancakes, so very often I will leave the batter on the counter for them to cook with their friends at whatever time they saunter downstairs and I'm free to get my day going.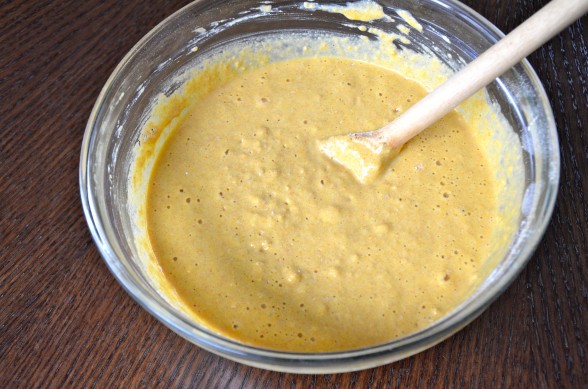 I normally just serve these pancakes with a little maple syrup or with this incredible apple cider syrup we picked up at a roadside farm in the Hamptons this summer.  The girls like to add chopped pecans to the pancakes when they're cooking on the griddle, but the sauteed apples were a special treat and ridiculously simple to make.  When they were tender I drizzled on them the tiniest amount of syrup and a dash of cinnamon.  Crazy good!  I made a plate to photograph and then said to the girls, "Look how pretty this is."  Their eyes bugged out and someone said, "Yum!  Like that actually looks good."  Actually??  Like, whatever.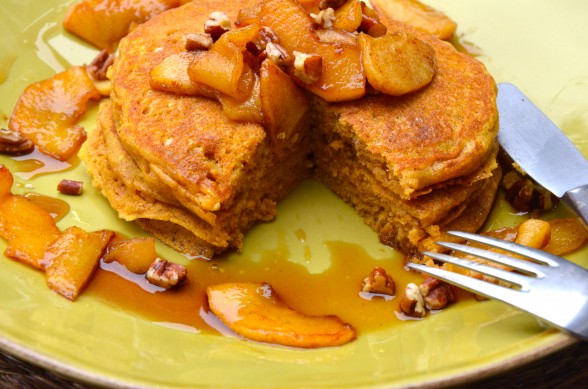 Pumpkin Pancakes with Sauteed Apples
Ingredients
1 ½ cups whole wheat pastry flour*
1 ½ teaspoons aluminum-free baking powder
1 teaspoon aluminum-free baking soda
1 teaspoon fine sea salt
1 teaspoon ground cinnamon
½ teaspoon ground ginger
¼ teaspoon ground nutmeg
pinch of ground cloves
1 ½ cups buttermilk**
2 large eggs
½ cup fresh or canned pumpkin puree (NOT pumpkin pie filling)
1 Tablespoon pure maple syrup
3 Tablespoons unsalted butter, melted
Coconut oil for brushing the griddle
Sauteed apples as accompaniment, optional:
2-3 apples, peeled, cored and sliced
2 Tablespoons unsalted butter or coconut oil
1 teaspoon maple syrup
a dash of cinnamon
Instructions
Preheat a griddle to 400 degrees or medium heat. (On some stovetops, 350 or 375 degrees is fine.)
If you are making the sautéed apples, heat a large skillet over medium heat. Melt the butter and add the apples. Lower the heat slightly and gently sauté until tender, about 10 minutes. Drizzle with 1 teaspoon maple syrup and a dash of cinnamon and toss to combine. Remove from heat.
Combine the flour, baking powder, baking soda, salt and spices in a large mixing bowl.
In a blender or medium mixing bowl, combine the buttermilk, eggs, pumpkin puree, maple syrup and melted butter until well blended.
Pour the wet mixture into the dry ingredients and stir until just combined.
Brush the griddle with coconut oil and spoon about ¼ cup of batter onto the griddle. Add chopped pecans or walnuts to the surface, if desired. When bubbles start to form on the surface of the pancake and the edges turn slightly dry, flip it over and cook until done. Serve warm with sautéed apples or maple syrup.
Notes
To make the pancakes gluten-free, substitute 1 ½ cups of Bob's Red Mill All-Purpose Gluten-Free Baking Mix + 1 ¼ teaspoons of xanthan gum or substitute ¾ cup brown rice or GF oat flour and ¾ cup buckwheat flour.

**You can also substitute half yogurt and half regular milk for the buttermilk. Or, use 1 ½ cups milk, omit the baking soda, and use 2 teaspoons baking powder instead.