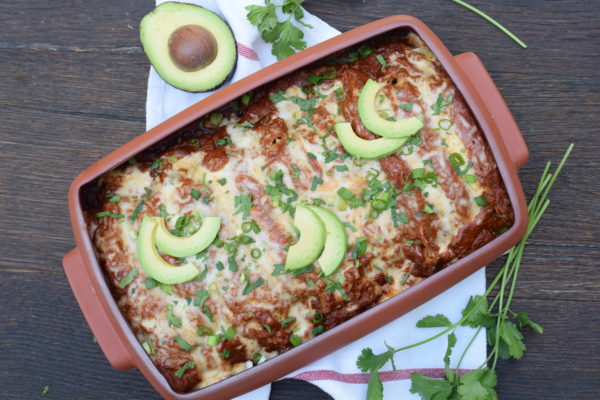 This recipe is "the whole enchilada," so to speak.  I'm giving you a method for poaching the chicken, making the enchilada sauce from scratch, and assembling the actual enchiladas.  The only thing we're not covering today is how to make corn tortillas, and I am sure homemade corn tortillas are the only thing that would make these enchiladas better.  If you buy cooked chicken and canned enchilada sauce, you don't really need a recipe to make enchiladas.  Not judging of course, because we've all been there and shortcuts have their time and place.  But if you can plan ahead, these are amazing.  My entire family loves these and let me tell you, they're a tough crowd.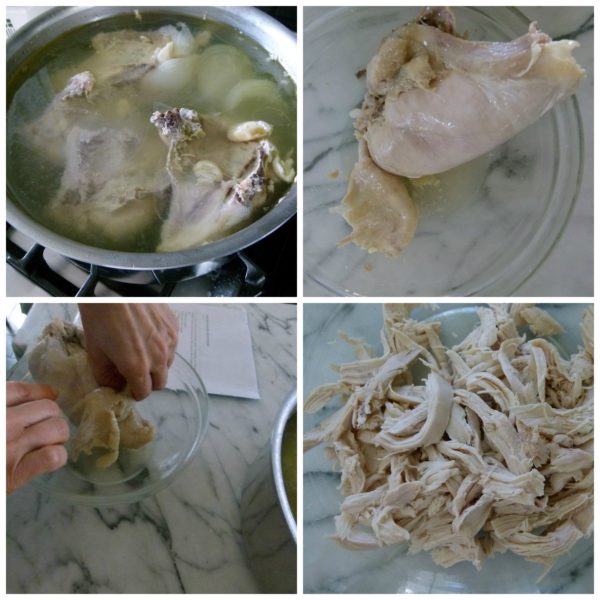 I grew up on Long Island and didn't even taste Mexican food until I moved to Los Angeles after college.  My kids have grown up in LA and they are Mexican food experts, sometimes having lengthy discussions about which local taco joint has the best this or that.  So when I make something Mexican that gets the thumbs-up, I am relieved and proud at the same time.  Ironically, these are not my personal favorite enchiladas.  I am more of a green (tomatillo) sauce person, so I am obsessed with the enchiladas verdes here.  But my family digs these.  I've been making enchiladas rojas for years and my son (Mr. Picky) used to call these "chicken tacos with Mexican tomato sauce."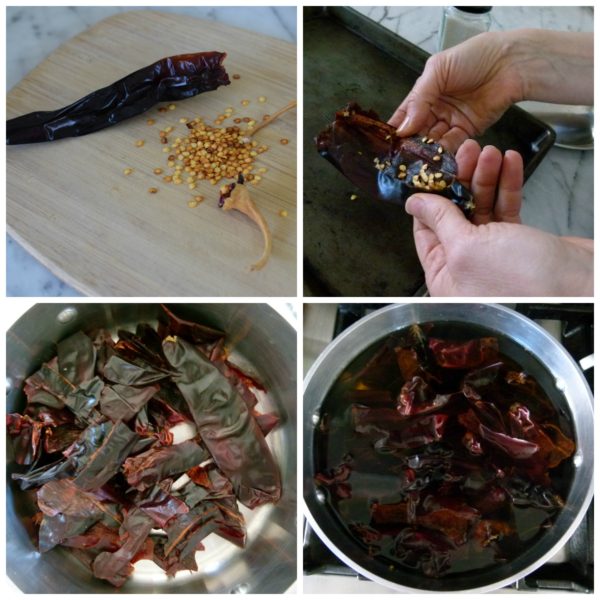 I did tons of research on how to make authentic enchilada sauce.  In fact, I had someone from Mexico teach me the different variations she knows.  What I learned is a recurring theme in cooking which is that there's no one way to make anything.  If I ask 12 people from Mexico to make enchiladas, there will be 12 different versions.  That said, many people are rather particular about what makes an "authentic" enchilada sauce.  But at the end of the day, I don't really care about that.  The enchilada police aren't going to write me up because I included a little bit of tomato in my sauce.  As always, feel free to adjust this to your liking.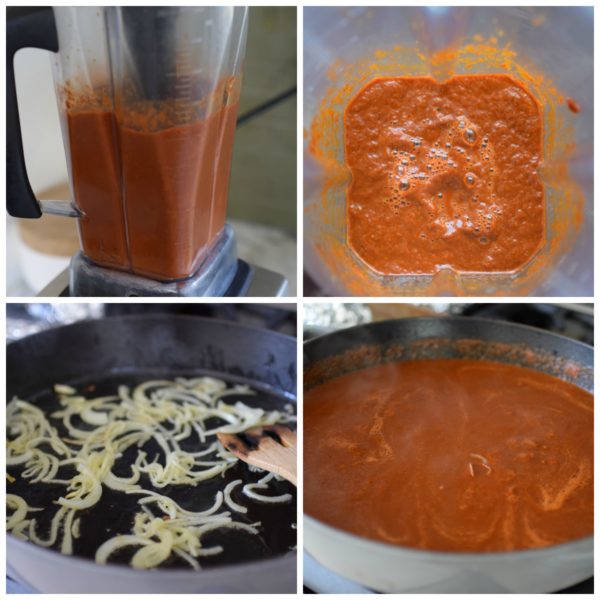 But many agree that the base of a true enchilada sauce are rehydrated dried chiles, such as Ancho and Guajillo, and no tomato products at all.  My family likes the flavor of the sauce better with a little bit of tomato, but otherwise I do have to agree that the sauce is so much more flavorful, richer, and more authentic when a good amount of dried chiles is used.  My Whole Foods has a huge section of bulk dried chiles in the produce section.  But you can also find dried chiles online on Vitacost.com, Amazon.com or any number of sites.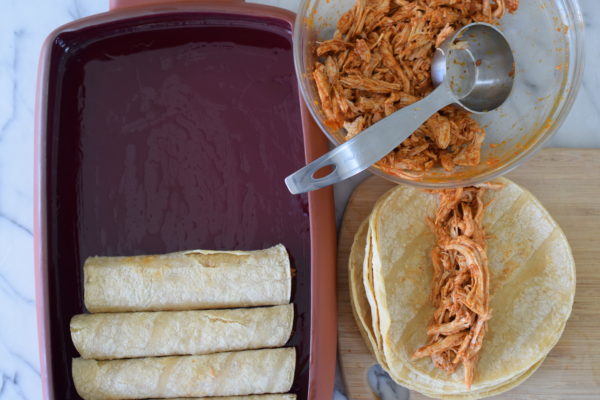 The assembly is where I must deviate from tradition, though.  I am not going to slide my corn tortillas through overheated oil (not healthy and super messy) and then again through enchilada sauce (even messier.)  My method was designed by someone, i.e. me, who doesn't love slipping on oil on the kitchen floor or cleaning up any more than she needs to at the end of the day!  I add a little sauce to the chicken and cover the stuffed and rolled tortillas with sauce and that test the job done.  I also like subbing out some of the chicken for beans, creating chicken and bean enchiladas.  Or you can take the veggie and black bean recipe I posted here and substitute this red sauce for that green sauce.  One of my favorite things to do is rattle off ways a recipe can be tweaked.  Suffice it to say, I can do that all day long with enchiladas!  They are so versatile and lend themselves to lots of different fillings.  You can even choose flour tortillas instead of corn.  Lastly, my son doesn't like cheese and I can't eat it these days, so it's easy to leave it off some of the enchiladas.  I always serve them with plenty of avocado, so I don't miss the cheese.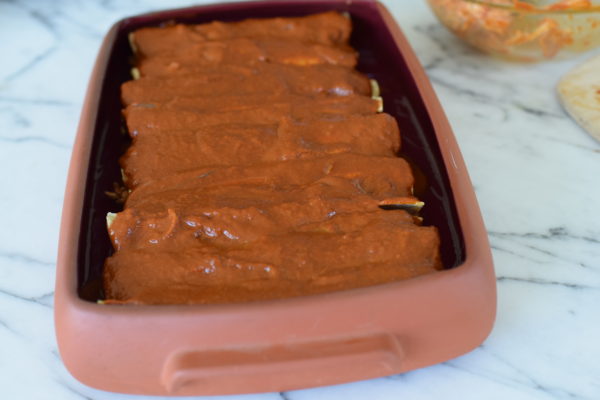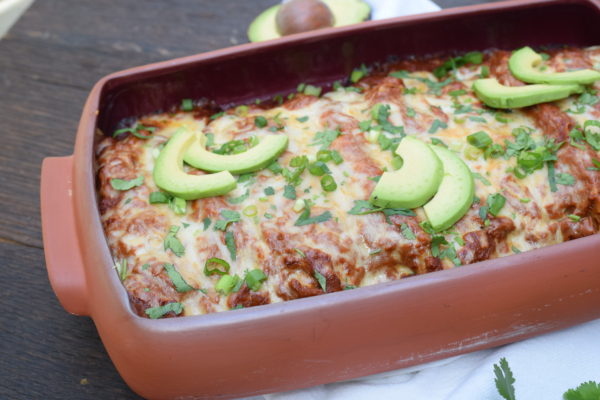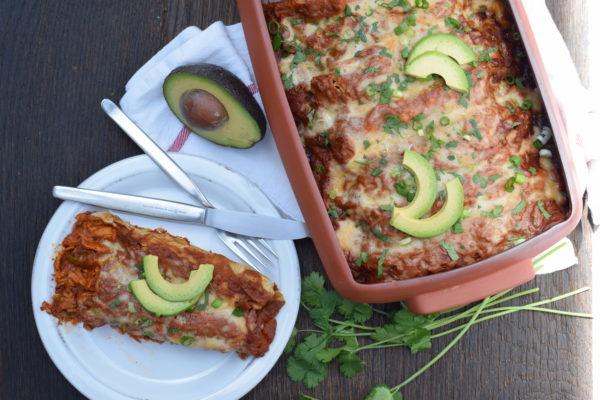 This is my last Mexican-inspired recipe before Cinco de Mayo.  Here are some other fantastic ideas for a great fiesta, or a week's-worth of fiestas!
Roasted vegetable and black bean enchiladas
Avocado, mango and jicama salad
Grilled pineapple and avocado salad with Mojito dressing (technically more Cuban, but…)
Creamy cabbage and avocado slaw
Homemade guacamole and baked tortilla chips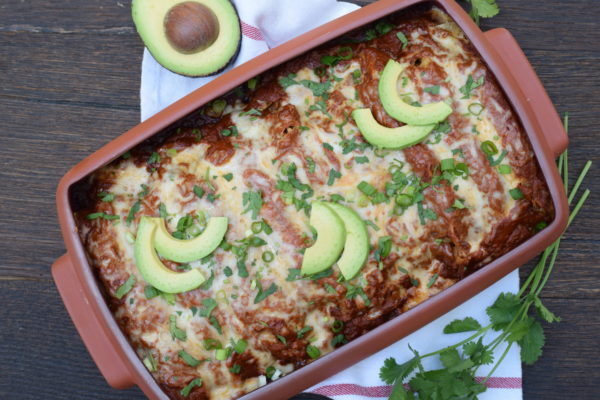 Chicken Enchiladas Rojas with Homemade Enchilada Sauce
Ingredients
2 large bone-in, skin-on chicken breasts, about 1 ¾ pounds+ or 4 cups cooked, shredded chicken meat (or you can use the recipe for Slow Cooker Chicken Tacos on my site)
½ small onion, peeled
4 large garlic cloves, smashed
1 Tablespoon additive-free kosher salt (like Diamond Crystal)
Sauce:
12 dried Guajillo chiles*, washed, stems and seeds removed, chiles torn into 2-inch pieces
½ small onion, divided
2 cloves garlic
4 Roma tomatoes or en equivalent amount of jarred tomatoes
1 teaspoon sea salt plus more to taste, especially if your stock is unsalted
1 Tablespoon olive oil, plus a little for greasing pan
1 cup chickenor vegetable stock, preferably homemade
chili powder to taste, if necessary
12 corn tortillas (or you can use flour if you prefer)
grated cheese, if desired, such as Monterey Jack and cheddar or queso fresco
optional toppings: sliced avocado, cilantro, sliced scallions
Instructions
To poach chicken: Place the chicken in a saucepan with the onion, garlic and salt and add water to cover. Bring to a boil over high heat, reduce heat to low, cover and simmer until the chicken is cooked through, about 25 minutes. Allow chicken to cool in the poaching liquid. Remove the chicken from the saucepan. Remove skin and bones and shred the meat.
Preheat oven to 350 degrees.
Place the dried chiles in a saucepan and cover with water. Bring to a boil, lower to a simmer and cook for about 10 minutes, or until very soft. Drain. (Do NOT use this soaking liquid -- it's very bitter.)
Place the soaked chiles in a blender with half of the onion, garlic, tomatoes and 1 teaspoon sea salt. Process until smooth.
Thinly slice the remaining onion. Heat a skillet over medium heat and warm the olive oil. Add the onion and sauté for a few minutes, or until just tender. Add the chile mixture and stock to the pan and simmer 15 minutes or until flavors deepen. Taste for seasoning and add chili powder and/or sea salt to taste if necessary. Because my stock is unsalted, I always add an extra ¼-1/2 teaspoon salt. Blend with a hand blender, if desired. This mellows out the sauce a little, but you don't have to do it.
In the meantime, warm the tortillas on a griddle or skillet on both sides until softened. Keep warm in a cotton kitchen towel.
Lightly grease the bottom and sides of a 13 x 9-inch or 12 x 8-inch baking dish with olive oil. Spoon about ½ cup of the sauce over the shredded chicken and toss. You can also mix in some shredded cheese with the chicken if you want.
Place about ⅓ cup of chicken down the middle of a tortilla and roll tightly. Place seam-side down in the baking dish. Repeat with each tortilla. Cover all the rolled tortillas with remaining sauce. Sprinkle with grated cheese, if desired. Cover and bake until heated through and cheese is melted, about 15-20 minutes. If you want the cheese to brown, put back in oven uncovered for another 5 minutes. Serve immediately with chopped cilantro, diced tomatoes, sliced green onions and sour cream or cashew cream.
Notes
*I've never tried this, but if you can't find Guajillo chiles, I am thinking you can try using 3 Tablespoons of chili powder instead.