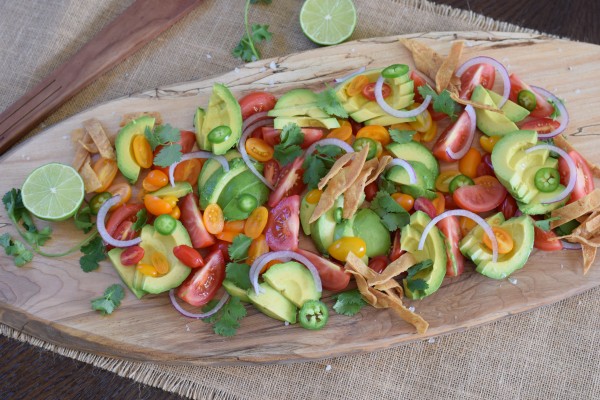 I just dropped off my oldest at college this past weekend.  Up until this point, nothing has made me feel as old as saying to someone, "I have a child in college."  And it doesn't help when people respond with, "Wow!"  Rub it in.  Thank heavens for Mr. Picky who is in elementary school and still asks me to cuddle him at night.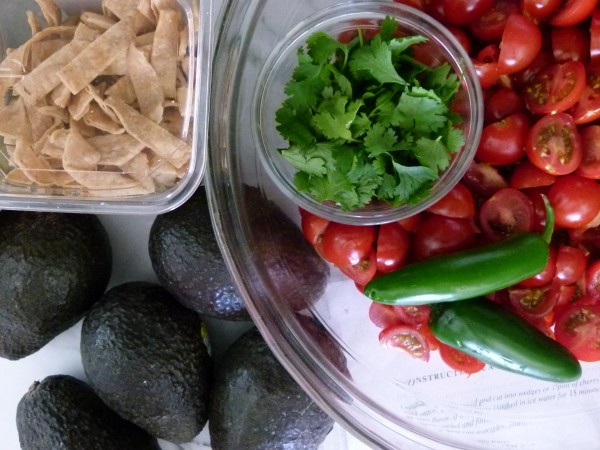 My daughter goes to school in Dallas.  So when I visit, I make sure to b-line for some good Tex-Mex food.  You all know my weakness is guacamole and chips.  Guacamole = healthy food.  Chips, not so much.  In LA you can find places to give you jicama with your guacamole.  In Texas, not so much.  So I try not to overdo it when I'm there, but I'm not always successful.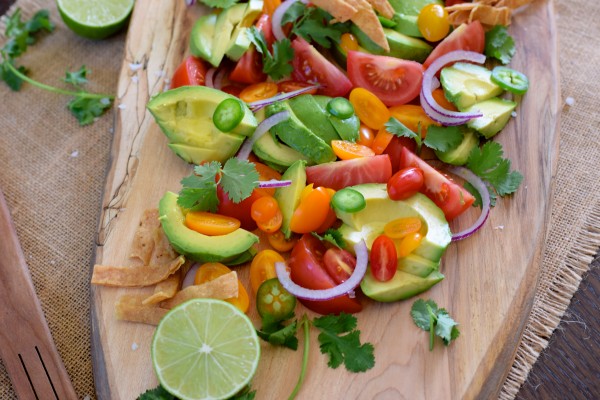 Although I grew up in New York, California cooking has stolen my heart.  Lightness, freshness, color.  It's addictive.  And the best avocados!  Come visit me and we'll have fun just prancing around the farmers markets.  We can make this salad, which is like fancy-pants guacamole.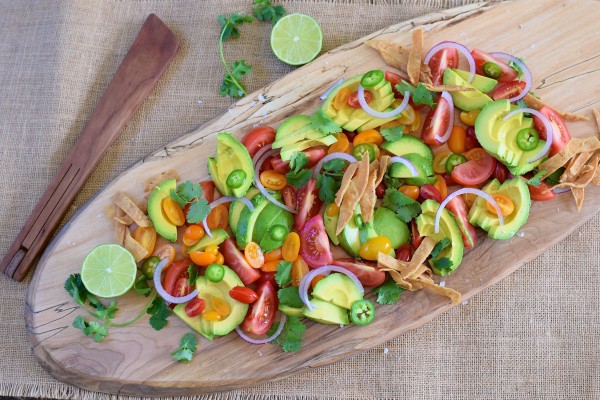 I taught this salad last year or the year before and it is one of my favorites.  First of all, it takes minutes to pull together.  Second, it includes two of my favorite foods, tomatoes and avocados, which I will remind you are both insanely delicious right now.  Use whatever tomatoes look great and have fun mixing colors and shapes and sizes.  Lastly, it's basically guacamole that I can eat with a fork or on top of a piece of fish or grilled chicken and I don't feel the need to have 25 tortilla chips along with it.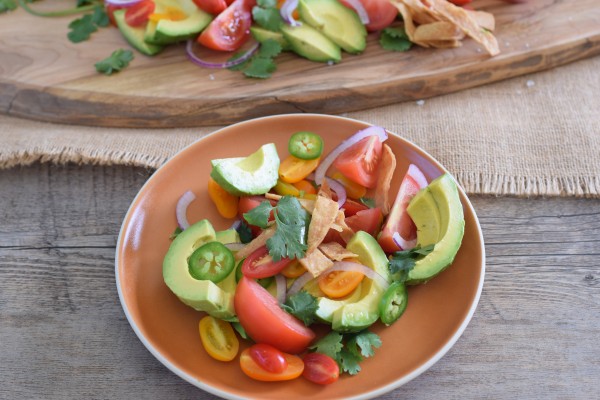 It also happens to look very pretty on a buffet.  But tomatoes are leaving us soon, friends.  Enjoy it ALL while you can, because you're going to blink your eyes and they'll be gone.

Deconstructed Guacamole Salad Recipe
Ingredients
4 medium tomatoes, cored and cut into wedges or 1 ½ pints of cherry tomatoes, halved
½ small red onion, sliced very thinly (soaked in ice water for 15 minutes to tone down the onion flavor, if desired)
½ jalapeño, seeded and finely chopped (optional)
3 medium or large ripe avocados, pitted, skin removed and sliced crosswise into ½-inch slices
a handful of whole cilantro leaves
2 Tablespoons freshly squeezed lime juice
¾ teaspoon of sea salt
a few grinds of freshly ground black pepper
a few drops of hot sauce
3 Tablespoons unrefined, cold pressed extra-virgin olive oil
optional: serve with broken corn tortilla chips on top or around the side of the salad
Instructions
Place the tomatoes, red onion and jalapeño on a platter. Arrange the avocado slices on top. Scatter the cilantro leaves all over.
Whisk together the lime juice, salt, hot sauce and oil together and drizzle all over salad. It's best not to toss this salad, otherwise the avocados will get messy. Taste for seasoning and add additional salt if necessary. A sprinkle of flaky sea salt is nice.
Serve with tortilla chips on the perimeter of the platter or crushed on top, if desired.
Notes
The amounts for the ingredients are merely guidelines. Feel free to adjust quantities to suit your taste.