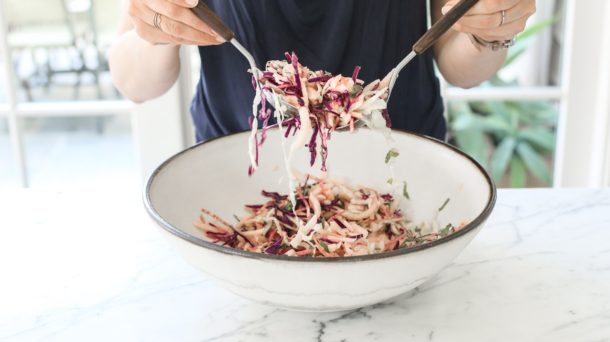 Oh, how I love a good slaw.  I have taught so many of them over the years, from classic coleslaw to ones with Asian flavors, ones with fruit, spicy slaws, creamy slaws, you name it.  I especially love slaw with a Mexican meal which is often lacking in good non-starchy vegetable side dishes.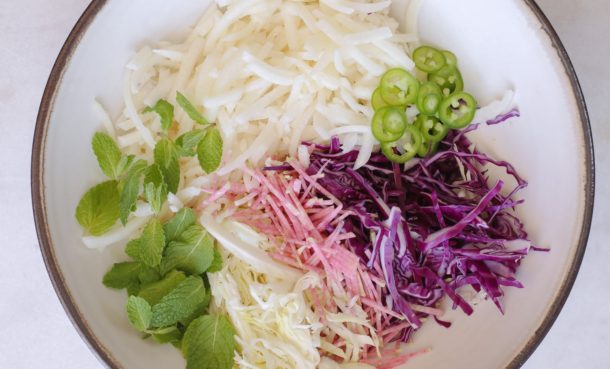 In my world, April is all Mexican classes all month long because Cinco de Mayo is May 5!  April is almost over and I'm not even tired of my current menu.  I LOVE Mexican food!  One of the recipes I have been teaching is Chipotle Cauliflower Tacos.  They have been a huge hit.  Although I am serving them very simply with pico de gallo and avocado, I have been telling all my classes that this here jicama slaw would be perfection on a cauliflower taco.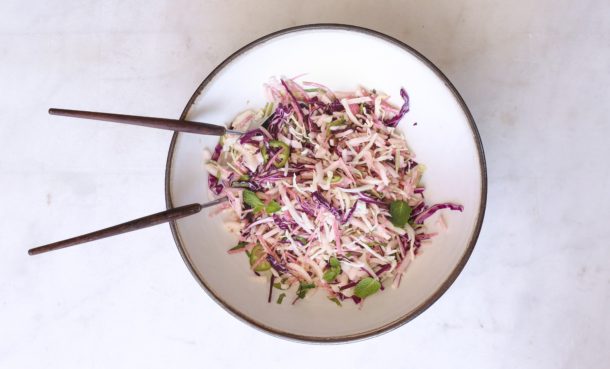 This jicama slaw would be also be divine on fish tacos as well.  I love contrasts in flavors and texture in my taco — acidity, creamy spicy, juicy.  Have you had jicama?  Jicama is a large bulbous root with Mexican origins.  It is similar in texture to a turnip, but tastes like a less sweet apple, with crisp, white, solid flesh. But jicama skin is thick, tough, and not actually considered an organic toxin called rotenone, as are the vines and leaves.  So you must peel it!
Chopped, cubed, sliced into fine sticks, raw or cooked, jicama is versatile and great in stir-fries, salads, slaw, soup, and with other veggies and fruits like oranges, apples, carrots, and onions, as well as meats and seafood. A favorite Mexican treat is jicama slices sprinkled with chili powder, salt, and lime juice.  I like thin slices with my guacamole instead of chips.
Here's an interesting nutrition fact:  the fiber in jicama is infused with oligofructose inulin, which has no calories and doesn't metabolize in the body. Inulin, a fructan, supports bone health by promoting the absorption of calcium from other foods. Inulin has a prebiotic role in the intestine – it promotes "good" bacteria growth that maintains both a healthy colon and balanced immunity. Annnnd, jicama has a low glycemic index!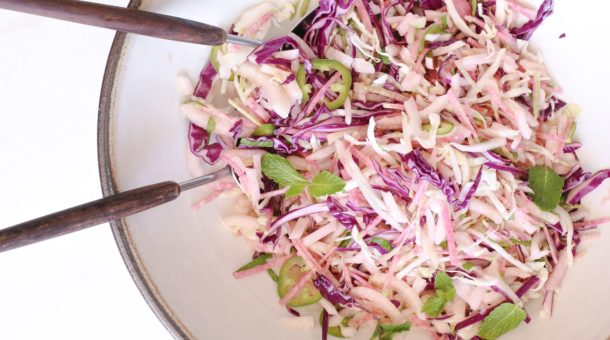 I'm going to keep it short and sweet today because I have a lot going on preparing for my book release on June 13th!  SO exciting! In the meantime, the dinner planner I am posting this weekend will have links to loads of Mexican recipes so you can start planning your big fiesta!

Jicama Slaw Recipe
Ingredients
1 ½ pounds jicama, peeled
3 cups thinly sliced cabbage (green, red, Savoy, Napa)
1 cup julienned radish
½ jalapeño, thinly sliced into rounds (use the bottom of the jalapeño and not the stem end which contains all the seeds)
¼ cup small mint leaves (or large leaves sliced)
2 Tablespoons fresh squeezed orange juice
4 Tablespoons fresh squeezed lime juice
2 Tablespoons unrefined cold pressed olive oil
2 teaspoons raw honey or maple syrup (optional)
½ teaspoon salt
Instructions
In a food processor fitted with the julienne disc, if you have it, shred the peeled jicama. Otherwise, use the the shredding disc. You should have about 4 cups. Transfer the jicama to a serving bowl with the cabbage, radish, jalapeño and mint.
In a medium bowl, whisk together orange juice, lime juice, olive oil, honey and salt.
Pour enough dressing over the jicama and vegetables to coat lightly. Taste for seasoning. Serve immediately or refrigerate for several hours.