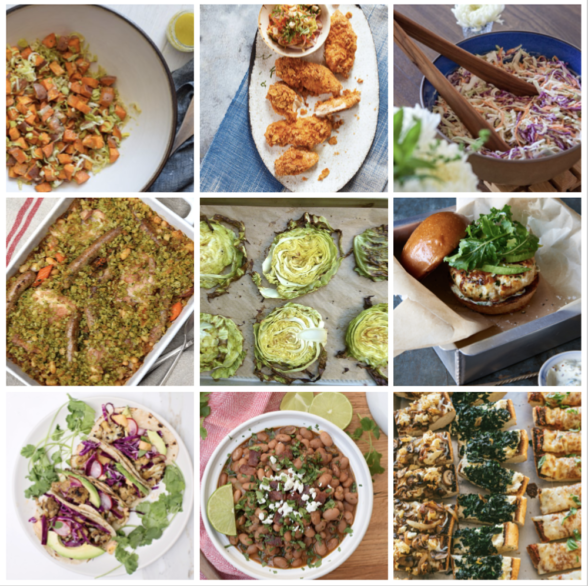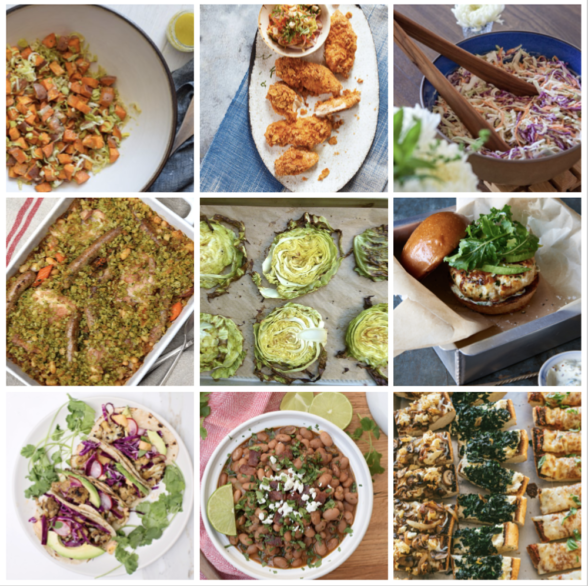 I had a long but great week!  Something that I will share with you and only you since you are reading this is that I just filmed a few on-demand classes for the Food Network Kitchen App!!  I mean, talk about a dream come true!  Teaching healthy recipes is my bread and butter, so to speak.  It's where my heart and soul is and what I am best at.  So it was a total joy to be able to teach a few of my recipes from my first cookbook with the pros from the Food Network. I will let you know when they go live on the app!
The Super Bowl is coming next Sunday, so don't forget to buy your avocados early!  I like to buy them rock hard and allow them to ripen on my countertop.  Once they are perfect, stick them in the fridge until you're ready to use them.  Here's your dinner planner for the week:
Meatless Monday: Roasted sweet potato with leeks and garlic dressing + add some cooked white beans or lentils for protein, sautéed spinach or chard
Tuesday: Cornflake "fried" chicken, favorite roasted vegetables, coleslaw
Wednesday: Weeknight cassoulet, roasted cabbage
Thursday: Wild halibut burgers (p. 195) from my cookbook, parsnip fries, green salad with everyday salad dressing #1
Friday: Chipotle cauliflower tacos (My husband likes these with some sautéed chickpeas mixed with the cauliflower) with jicama slaw or pineapple slaw from my cookbook, drunken beans
Saturday brunch: "When In Doubt, Saute It Out!"  This is my mantra.  Empty the crisper drawer and chop everything up or pulse it in the food processor.  Saute garlic and a pinch of crushed red pepper, first add in raw veg (saute until tender), then frozen veg (saute until tender), then leftovers (saute until warmed through.)  Add spices like curry or turmeric or Italian seasoning and salt and pepper to taste.  What else do you have that would taste good here?  Nuts or seeds?  Avocado or a cooked egg?  Canned tuna or salmon?  Leftover tahini sauce?  Hot sauce?  It will be delicious.
Superbowl Sunday:  French Bread Pizzas (recipe coming soon) +Here are some of my favorite options:
      

Turkey and Black Bean Chili

,

Vegetable Chili

, slow cooker sweet potato and black bean chili, 

Cornbread

,

Baked Potatoes

and topping bar,

Mexican Chopped Salad

      

Meatball

subs, homemade pizzas,

Vegetarian Antipasto Chopped Salad

,

Mini Lasagne Cupcakes

, Italian 7-layer dip

       Taco bar (

Ground Beef

 , barbacoa, slow cooker chicken, and

Fish

),

Refried beans

,

Cilantro-Lime Slaw

,

Arroz Verde
I generally make Guacamole and Baked Tortilla Chips,  plus jicama cut into thin "chips," "Vegan Queso" with chips and baked sweet potato rounds, crudités with Hummus.  
I have also done sliders/mini burgers, Mini Chicken Tostadas, Roasted Baby Potatoes with Broccoli and Cheese, spinach and artichoke dip
Here's what you can do ahead if you need to:
Sunday:
Wash vegetables and greens
Make dressings
Roast garlic head and make dressing
Chop sweet potatoes
Make marinade and cornflake mixture for chicken
Make breadcrumb topping for cassoulet
Make cauliflower taco spice mix
Wednesday:
Assemble halibut burgers
Saturday:
Make cauliflower-cashew ricotta
I have LOVED seeing all your creations of my recipes on Instagram. If you make any of my recipes, please tag me @pamelasalzman #pamelasalzman so I can check them out!
Click here to learn more about my online cooking classes! If you like my recipes, you'll LOVE my cookbook!  If you have 1 minute, would you mind leaving a review on amazon?  I would be so grateful, thank you!