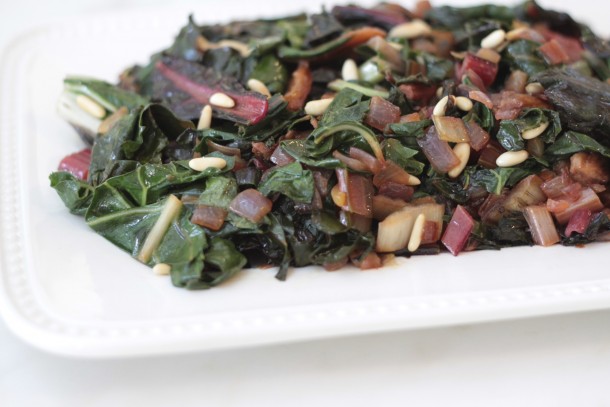 Swiss Chard is one of the most nutritious greens you can find year-round.  It is related to beets – in fact, beet greens taste very similar to Swiss chard.  Do eat your dark green leafy vegetables regularly as they are among the most nutrient-dense foods you can choose.  Traditional Chinese Medicine considers green to be the master color, and I think it is the color that should dominate our diet.  Like other green leafies, Swiss chard is full of Calcium, Magnesium, Iron, Folate, Vitamin C and Carotenoids, with few calories – a nutritional bargain!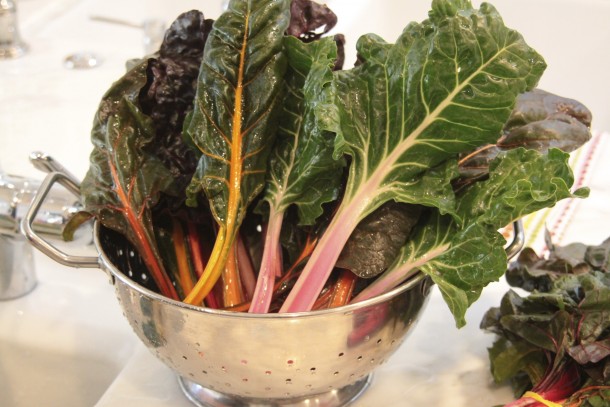 My maternal grandmother was Sicilian and she used to make this dish with raisins.   One night, this was on the dinner menu and I went to the pantry to reach for raisins and we were out.  Gasp.  But we had dried apricots.  So I soaked a handful of apricots to plump them up a bit and presto, I liked the dish better!  If your kids are not fond of greens yet, try this recipe with their favorite dried fruit.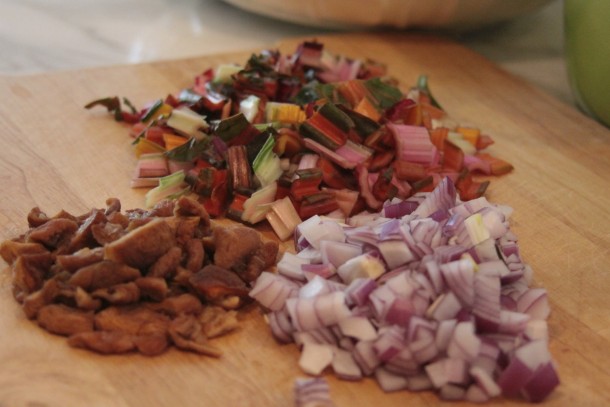 Heck, let them put a few chocolate chips on the chard if it will get them to eat their greens.  One step at a time … soon chard might be a staple in your kitchen, too.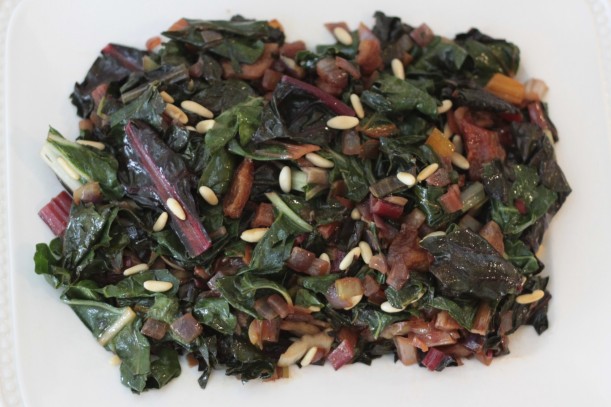 sauteed swiss chard with dried apricots and pine nuts recipe
Ingredients
⅓ cup unsulphured dried apricots (about 10)
2 bunches Swiss chard, (about 2 pounds), washed but not dried
1 medium red onion, diced
3 Tablespoons unrefined, cold-pressed extra-virgin olive oil
Fine sea salt and freshly ground black pepper
¼ cup pine nuts, toasted
Optional: best quality balsamic vinegar for drizzling
Instructions
Place the dried apricots in a bowl with hot water to cover. Soak 10 minutes and drain. Chop coarsely or slice into slivers.
Separate the Swiss chard stems from the leaves. Dice the stems and keep separate. Coarsely chop the leaves.
Heat the oil over medium heat in a large skillet. Add the onion and cook for 1 minute. Add the chard stems and cook, stirring occasionally, until slightly tender, about 3 minutes. Add the chopped chard leaves and apricots. Lightly season with sea salt and pepper and sauté until the leaves are tender, about 5 minutes.
Sprinkle with pine nuts and serve immediately or at room temperature. You can also drizzle a few drops of balsamic vinegar, if desired.