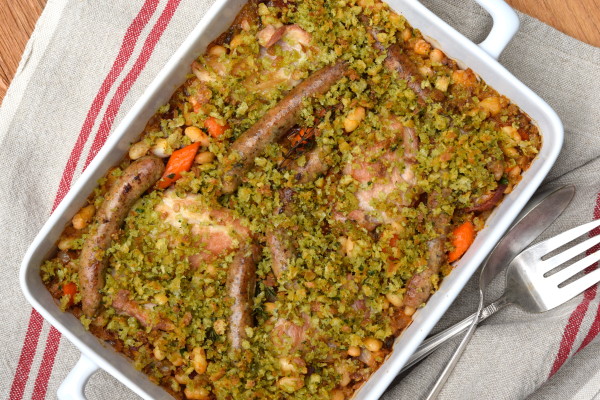 Did you notice a French theme happening on the blog?  As soon as I remembered the French onion soup recipe I taught a few years ago, it also occurred to me that I had never posted this chicken and white beans recipe which I developed for a teaching trip in Southwest France many years ago.  Cassoulet is an incredible, hearty French dish (actually it refers to the recipe as well as the vessel it's cooked in) with duck confit and sausages and chicken and white beans all stewy and luscious together.  It also requires tons of time, like at least a full day +.  And I'm not saying it's not worth it, but it's not realistic for me or most of the universe to spend that much time on dinner.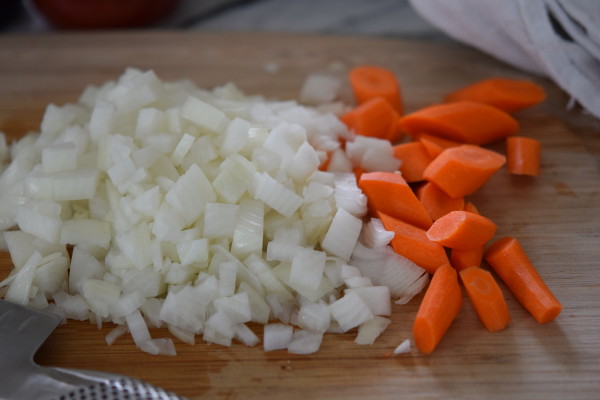 So I came up with a version that can be made quickety quick on a weeknight and although it doesn't have the richness and depth of a traditional cassoulet (which coincidentally was posted in the New York Times this week by Sam Sifton — check it out here), this one is also lighter and more in line with how I like to eat, i.e. not feeling super weighed down like I need a 3-hour nap after I eating, which is what I did after I ate real cassoulet in France.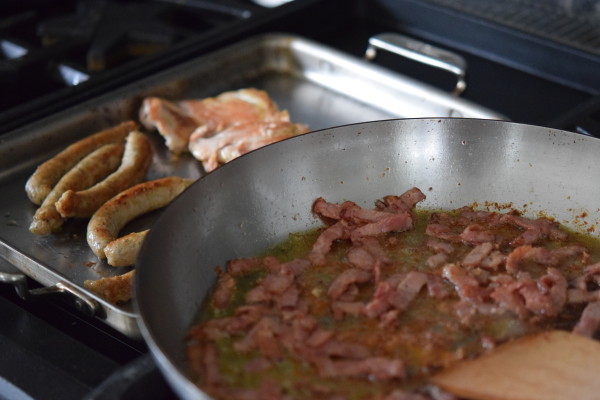 I don't know what to call this recipe since I know purists out there will turn their noses up at the use of the word "cassoulet."  But I will tell you this — my whole family loves it, even the picky one.  And why wouldn't he?  He likes chicken, sausages, turkey bacon and beans, even when they're touching each other.  And for me, I'm not a big meat eater, so I might take a smidge of chicken and scoop up more beans and veggies for my plate.  Everybody's happy!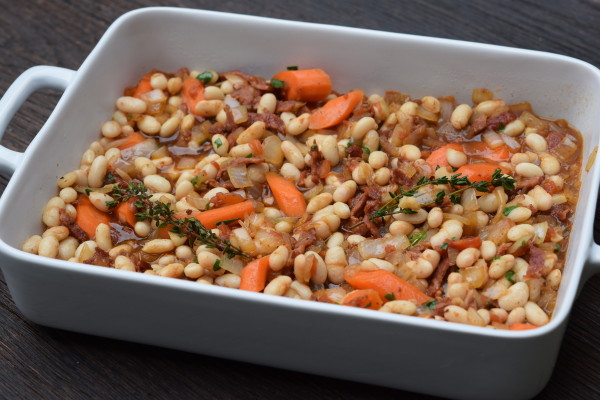 To make this as healthy as possible, choose organic, free-range chicken and freshly made organic sausages without preservatives or nitrates.  For the sausages, I just buy whatever is in the fresh meat case at Whole Foods that is organic and made with poultry since my family doesn't eat pork.  I do not buy prepackaged sausages since most of them are loaded with the aforementioned undesirables.  Feel free to use pork sausage and nitrate-free pork bacon if that's what you like.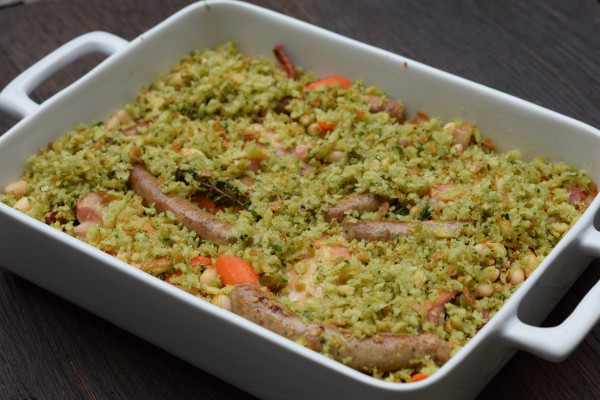 Legumes are one of my favorite food groups and the kids love them, too.  So rich in protein, fiber and low in fat, they are also incredibly inexpensive, especially if you make them yourself.  But there's no shame in using cooked beans out of a box or a can.  Lately I am favoring Trader Joe's organic beans in cans with no plastic liner – no BPA, no BPA sneaky substitutes either.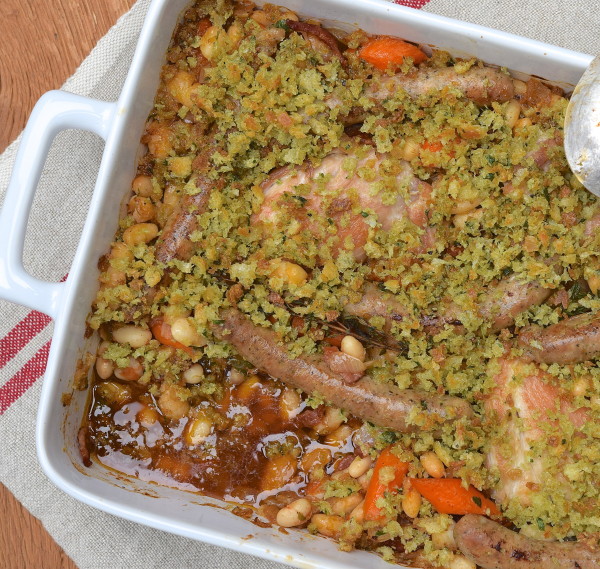 Eliminate the bread crumbs if you want, they're not essential.  Add more broth if you want it more stewy.  And if you have leftovers the next day, add lots of stock, turn it into a soup and call it "Cassoulet-style Chicken and Beans Soup."  Bon appetit!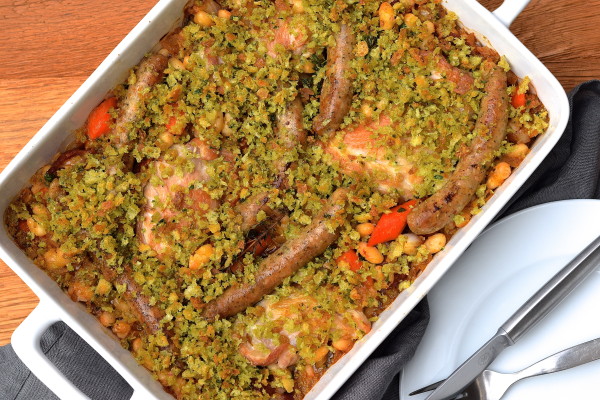 Cassoulet-Style Chicken and White Beans
Ingredients
1 Tablespoon unrefined, cold pressed, extra virgin olive oil + 1 Tablespoon and more for drizzling
8 bone-in, skin-on chicken thighs or 6 sausages, like mild Italian
1 whole clove garlic + 4 cloves, chopped
2 slices bread torn into pieces
1 Tablespoon flat-leaf parsley, packed + 1 Tablespoon, packed, roughly chopped
2 sprigs of fresh thyme
4 ounces bacon, cut into batons (I use Applegate Farms organic turkey bacon)
1 onion, diced
2 carrots, peeled and sliced on the diagonal into 1-inch pieces
1 14.5-ounce jar diced tomatoes, drained or 1 pound fresh, peeled, seeded and diced
⅓ cup dry white wine, such as Chardonnay or Sauvignon Blanc
⅔ cup vegetable or chicken broth
Sea salt and freshly ground black pepper
3 cups cooked cannellini beans, or 2 15-ounce cans, drained and rinsed
Instructions
Preheat the oven to 425 degrees.
Warm 2 tablespoons oil a large sauté pan over medium heat. Add the chicken skin-side down or the sausages. Brown the pieces thoroughly on both sides.
Make the breadcrumb topping: Place the whole clove of garlic into the bowl of a food processor with the bread and 1 tablespoon of whole parsley. Process until crumbs are formed. Add 1 tablespoon olive oil and salt and pepper to taste. Pulse to combine. Set aside.
When the chicken/sausages are almost ready, add the bacon to the pan and sauté until the bacon is golden brown. Take the chicken/sausages out of the pan and set aside.
Lower the heat to low and add the onion and carrots. Season with salt and pepper and sauté for 2 minutes. Add the chopped garlic and sauté for another 2 minutes. Add the drained tomatoes and wine and scrape the bottom of the pan to deglaze. Add the vegetable broth, 1 Tablespoon of parsley, the thyme sprigs, as well as the beans. Cook for 1 minute, until broth is bubbling.
Transfer the bean mixture to an 11 x 9-inch or similar baking dish. Arrange the chicken/sausages on top, then top with the breadcrumb mixture. Drizzle lightly with olive oil, and bake in the center of the oven for 25-30 minutes, until the sides of the pan are bubbling and golden and the breadcrumbs are toasted and golden brown. If you want to make sure the chicken is cooked through, insert a thermometer into the meatiest part of the thigh and make sure it registers 165 degrees.