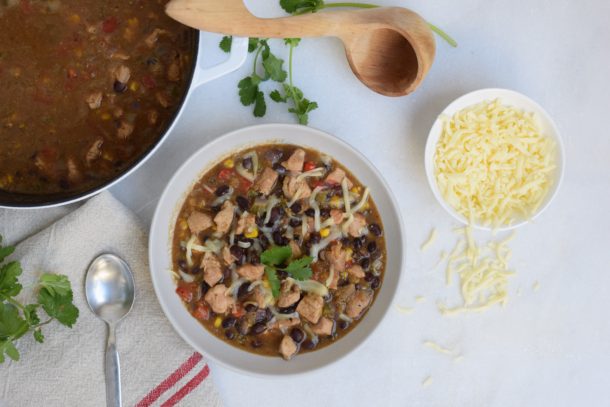 Are we having fun yet?!  Good, good.  I have been running around the house yesterday and today like a busy bee, very excited that the big day is almost here.  I'm taking a quick breather from the Thanksgiving marathon just to touch base and check-in with you all.  Hope everything is going according to plan and that you're enjoying the process.  What I am not doing today, however, is sharing a Thanksgiving recipe on the day before Thanksgiving because I know you are all planners and that ship has sailed!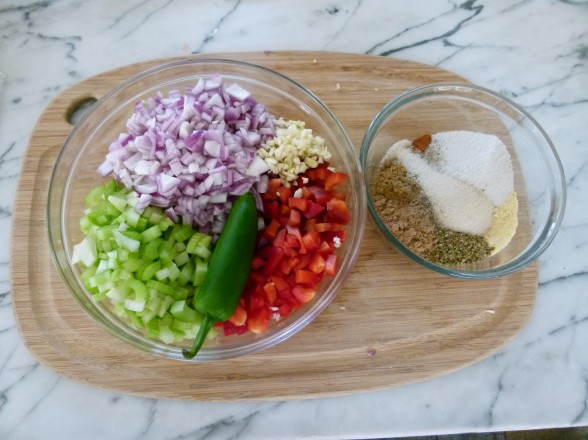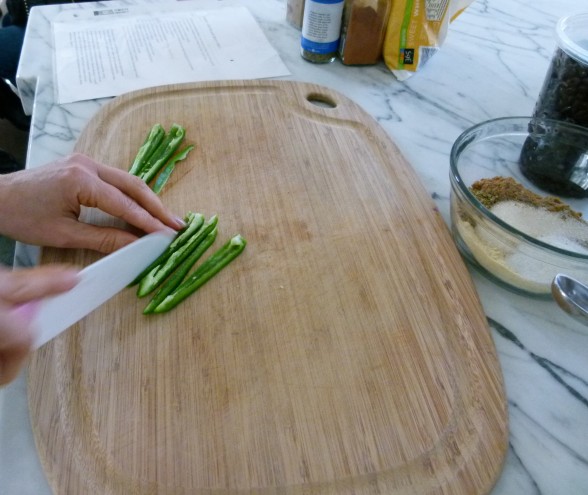 Instead, I thought I would give all you super organized and efficient people a great way to use up any leftover turkey you might have on Friday.  I always make turkey stock and a simple turkey vegetable soup the day after.  I have also given in to chicken pot pie or shepherd's pie with turkey.  But I also think it's nice to make something on Friday that tastes NOTHING like the dinner you just spent a month thinking about!  It's actually one of my strategies for getting everyone excited to eat leftovers even the day after Thanksgiving.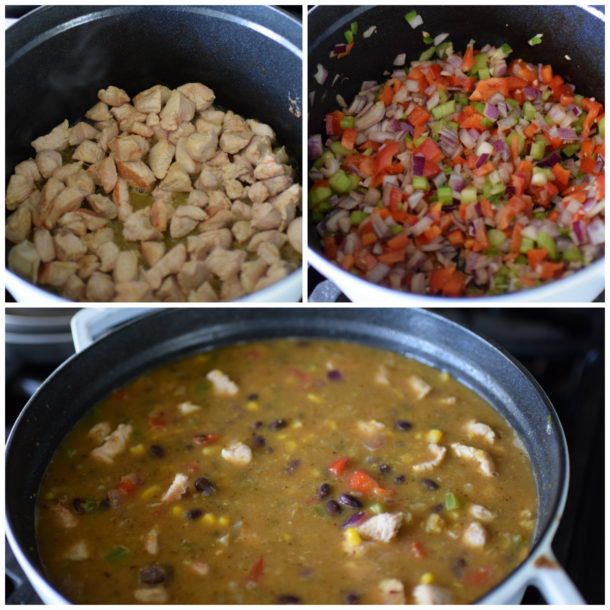 This recipe is inspired by the fabulous chili at the Deer Valley ski resort in Utah.  I first skied Deer Valley in 1994 when my husband and I were engaged.  He and his family have been going to the resort since it first opened over 30 years ago.  It is a really special place and we are fortunate to be able to go there a couple times each year with the kids.  Although I enjoy skiing and Deer Valley is absolutely stunning, I'm not super gung-ho about getting out there early and making the most of my day on the slopes.  I'm really in it for the food.  My favorite part about skiing is building up a good appetite and rewarding myself with a nice hearty lunch.  I actually start thinking about this turkey chili when I sit down on the chair lift for the first run of the day!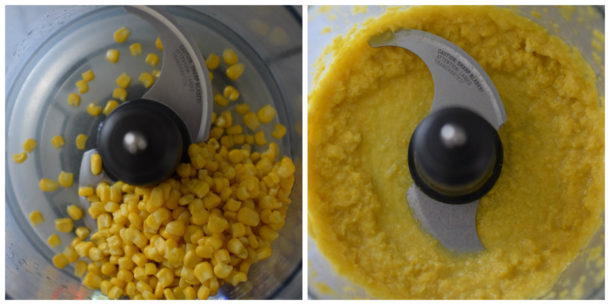 Turkey chili is one of the few items that the resort serves every single day.  I happen to notice the the lunchrooms also serve a roast turkey plate every single day.  Hmmm, could it be the kitchen needed to find a way to use up yesterday's roast turkey?  Hmmm….  Anyway, we all love this chili because it's lighter than a beef chili and a totally different take on the typical red, tomato-based ones that are so common.  This one is lighter and tastes fresher, perhaps because of all the delicious vegetables.   Regardless, all the signature shops on the mountain and many of the local grocery stores sell the special seasoning packet and the dried black beans in addition to the recipe so you can make it at home.  For $7 or $8 plus the cost of the turkey, vegetables and stock, you can make this pot of deliciousness at home.   Hmmm….$8 for 1/2 pound of dried beans and a few dried spices.  It wasn't long before I decided I need to figure out what the heck was in that seasoning packet!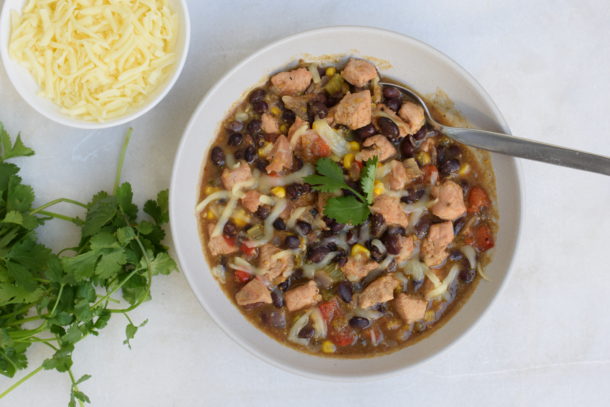 I can't say this turkey chili is exactly like Deer Valley's, but it's close enough and I'm not sure my kids have noticed.  For sure I use half the amount of butter than the recipe calls for and I omitted the leeks, which I think don't make or break this chili.  I also don't use canned creamed corn, because ugh — canned and creamed and sugar don't go with corn — so instead I just make a little corn puree.  The only ingredient you may not have lying around is masa, which is ground dried corn that's been treated with lime.  It's what corn tortillas and tamales are made from.  I have to say, it does thicken up the chili and give it a fabulous Southwestern corn flavor.  It's also not an expensive ingredient, so I say definitely go for it.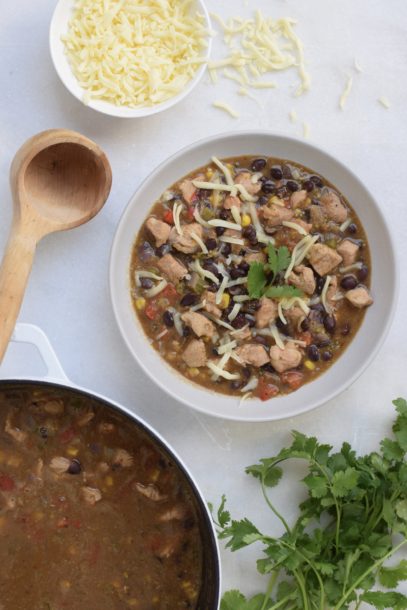 Alrighty, dear readers, that's all the time I have today. I am elbow-deep in sweet potatoes and butternut squash and my kids are starting to bicker about who gets to pick the music we listen to while we work.  Ahhh, sounds like Thanksgiving!  Hoping you all have a lovely holiday.  xoxo
Deer Valley-Style Turkey and Black Bean Chili
Ingredients
4 Tablespoons unsalted butter (you can use oil, but it won't be as good) -- vegans can use organic Earth Balance
2 pounds boneless, skinless turkey breast, cut into 1-inch cubes or cooked turkey, cubed -- vegetarians and vegans can add 5 cups of additional vegetables and beans
1 red onion, chopped
1 cup chopped celery, about 3 stalks
1 sweet red bell pepper, chopped
1 jalapeno, seeded (or leave seeds for extra heat) and finely diced (optional)
2 cloves garlic, finely diced
¼ cup masa harina (more if you like a thick chili)
2 ½ Tablespoons ground cumin
2 Tablespoons ground coriander
2 teaspoons dried oregano
1 teaspoon cayenne (cut back if you don't like spicy)
2 Tablespoons maple sugar or natural cane sugar
2 teaspoons sea salt (double if you're using unsalted stock)
freshly ground black pepper to taste
4 ½ cups of chicken or turkey stock, divided* -- vegans can use vegetable stock
2 ¼ cups frozen sweet corn, thawed (about 12 ounces)
5 cups or 3 15-ounce ounce cans cooked black beans (drained and rinsed)
Instructions
Melt butter in a large pot. If using raw turkey, add half the turkey and sauté until lightly browned. Remove with a slotted spoon to a bowl. Repeat with the remaining turkey. If using cooked turkey, do not saute in butter, but add in step 3.
Add the onion, pepper, celery, jalapeno, and garlic to the pot and sauté until tender, about 10 minutes.
Add the masa harina, spices, sugar, salt and pepper to the pot and cook, stirring frequently for 5 minutes. Return turkey and any accumulated juices back to the pot.
Add 4 cups stock, 1 cup corn and the beans to the pot. Take the remaining 1 ¼ cup of corn and puree with the remaining ½ cup stock in a food processor (a mini processor works too.) Add the pureed corn to the pot. Mix well and bring to boil over medium-high heat. Lower the heat to a simmer and cook, partially covered for 25 minutes. Serve with desired condiments (sour cream, cheese, minced onion, cilantro) or serve on top of a baked potato.
Notes
*If you only have stock in 32 oz. containers, no need to open a new one just for a ½ cup of stock. Puree corn in ½ cup water.