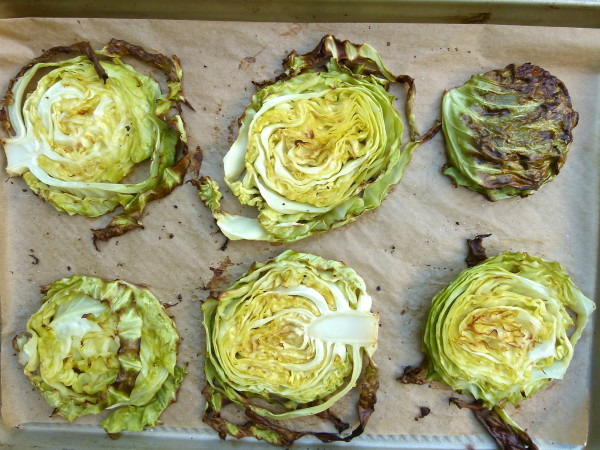 I teach five recipes in a typical cooking class and there's usually a dark horse in there — a dish that no one is expected to be wowed by, but ends up being the surprise hit of the menu.  Case in point is this recipe for roasted cabbage wedges, which everyone went crazy over and I heard multiple times, "I wasn't thinking this was going to be anything special, but I love it!"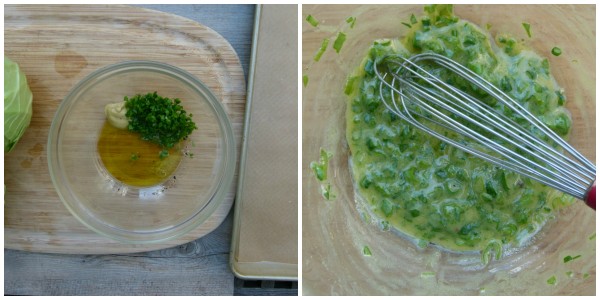 First of all, no one is ever wowed by cabbage, sadly.  I am a huge fan of the whole cabbage fam, and wrote about it in one of my recent Friday Favorites posts.  It's such a nutritious, VERSATILE, inexpensive, and delicious veg which is grown domestically all year round.  Most people think cabbage and think cole slaw, which is fine but there are many, many more delicious (and healthful) ways to enjoy cabbage.
Roasting cabbage will change your mind about this under-appreciated vegetable.  It has become my favorite, and my family's favorite, way to eat cabbage.  Even Mr. Picky, my now 11-year-old son, likes it!  That is cause for celebration here because there are very few cooked vegetables he likes.  And even more reason for me to share this recipe plus this could not be easier to make.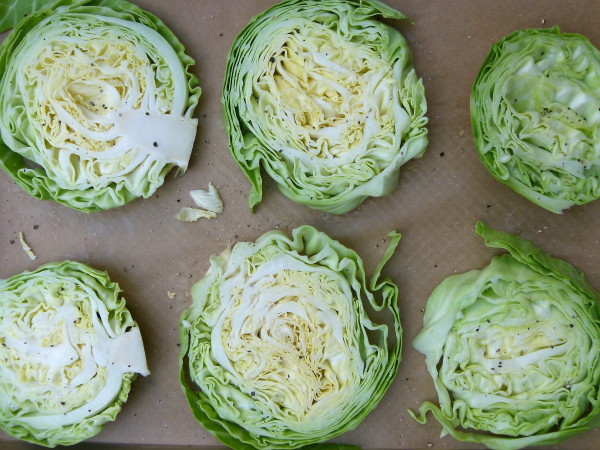 Even though I call these "wedges," I know they're more like slabs.  But the word "slab" is really unsexy and possibly a turn-off, so I had to do a little creative marketing here.  When cabbage is roasted, it becomes very mild and sweet, almost buttery.  If you're lucky, the edges will get a little crispy and kind of smoky.  For my family, I just serve the cabbage roasted as is, but I did teach this in my class with a lemony-mustard drizzle just for fun.  I've also seen images on Pinterest and elsewhere where people take the roasted cabbage and separate the layers and make it feel like noodles.  So clever!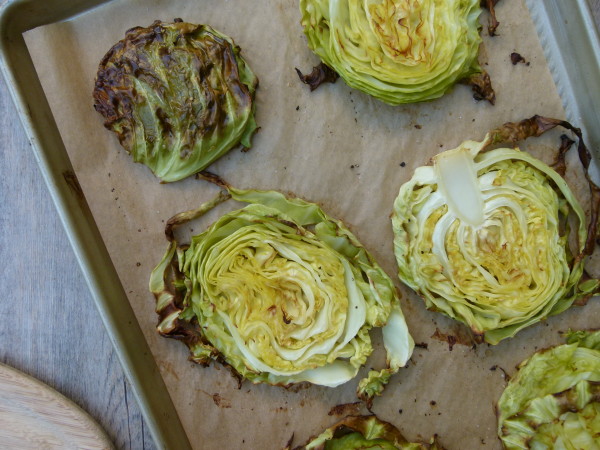 I prefer to use a saturated fat like coconut oil when I cook at higher temps (like 400 degrees) because it doesn't oxidize and create free radicals like an unsaturated fat does, like olive oil.  I don't think the cabbage tastes like coconut AT ALL, but coconut oil just makes the cabbage taste sweeter.  I am in love with coconut oil-roasted veggies like sweet potato, winter squashes, carrots, cauliflower and broccoli.  Give it a try sometime.  If you are allergic to coconut oil or you just detest it, feel free to use olive oil in an equal amount.  Roast these babies up and serve them with basically anything — poultry, fish, rice pilaf, cauliflower mashed potatoes and so on.  It's the perfect comfort food that won't weigh you down and likely to fit into your January resolutions!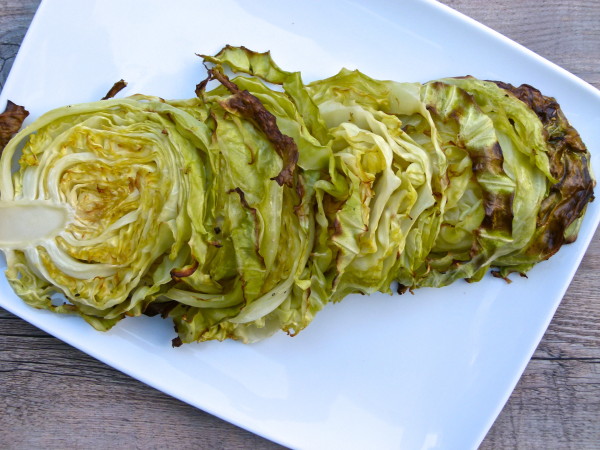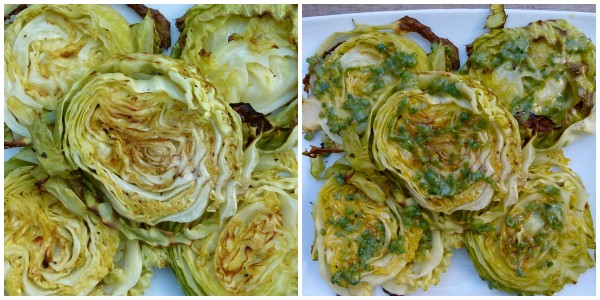 Roasted Cabbage Wedges
Ingredients
1 head of green cabbage, cut through the core into 1-inch thick rounds
2-3 Tablespoons melted unrefined virgin coconut oil (or olive oil)
sea salt and freshly ground black pepper to taste
Dressing: (cabbage is perfectly delicious without the dressing)
1 teaspoon Dijon mustard
2 teaspoons lemon juice
a pinch of sea salt and freshly ground black pepper
3 Tablespoons of finely chopped fresh chives
2 Tablespoons unrefined, cold-pressed extra-virgin olive oil
Instructions
Preheat oven to 400 degrees.  Line a rimmed baking sheet with unbleached parchment paper.
Brush the cut side of each cabbage round with oil and place in one layer on the prepared sheet.  Sprinkle with salt and pepper to taste.
Roast cabbage, about 40-45 minutes, flipping over after 20 minutes.  Cabbage should be tender and lightly golden around the edges.
Whisk dressing ingredients together in a medium bowl.  Drizzle cabbage with dressing if desired.