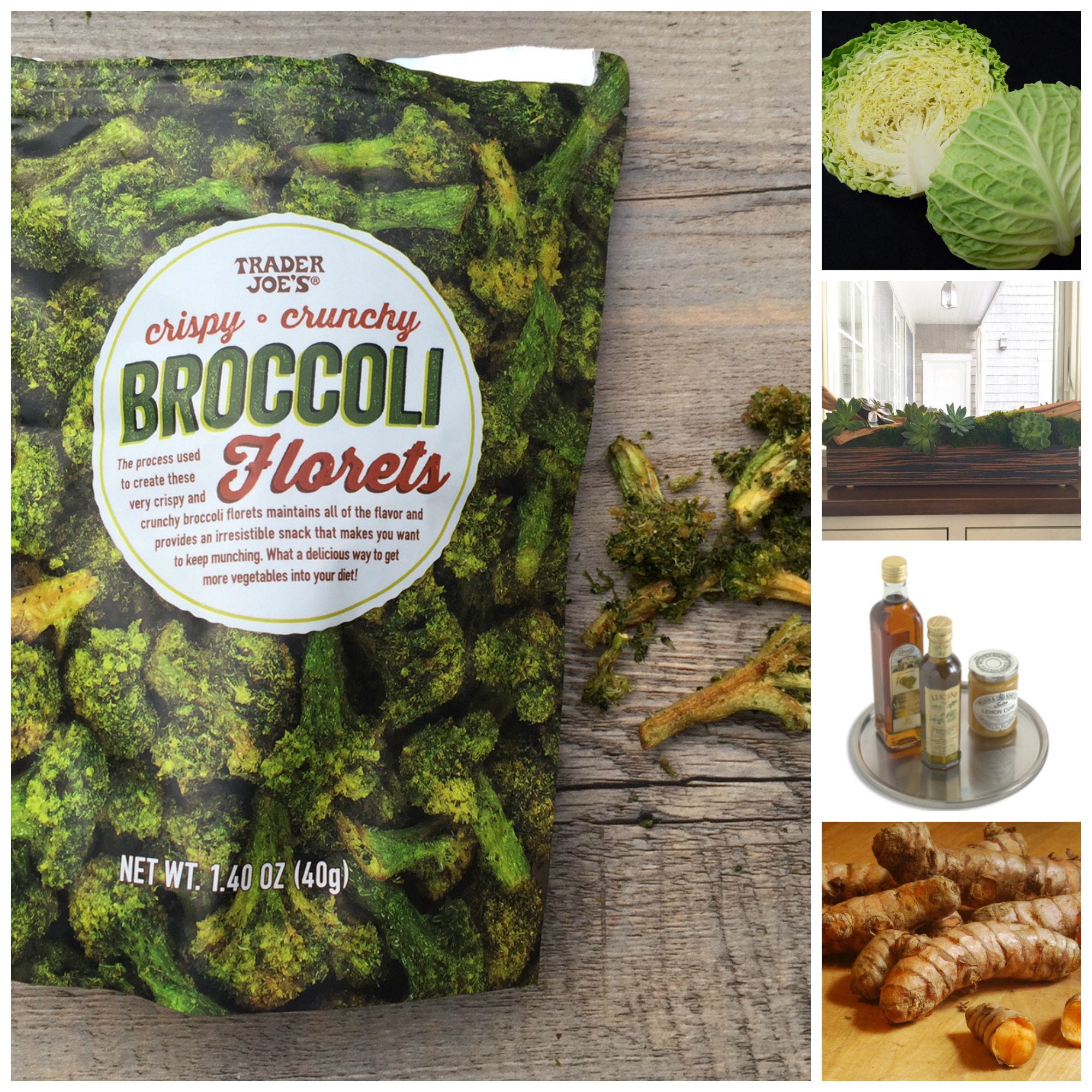 Happy new year, friends!  I hope the holidays treated you well.  Everyone I know is trying to start fresh, clear the clutter, detox, get organized, simplify!!  Today I have a few of my favorite things to share that may help you stick to those ambitious resolutions!
Crispy Crunchy Broccoli Florets from Trader Joe's
Are these new or am I the last to know about Trader Joe's addictive little crispy crunchy broccoli florets??!!  I picked them up on a whim because I was hungry and feeling too lazy to go home and make myself a snack.  And because Mr. Picky actually loves broccoli (his favorite vegetable) and, of course, chips (his favorite food.)  So I thought this would be a perfect snack for him.  Perfect for ME, too!!  I had to restrain myself from eating the entire bag in one sitting!  They remind me of freeze-dried fruit, except it's broccoli with a little saltiness.  Mmmmmm!
The good news is that these crisps are really broccoli florets (and not some processed veggie "puffs" which don't fool me) and one serving size contains 8 grams of dietary fiber and 7 grams of protein.  That's amazing!  The bad news is that there's 15 grams of fat, all of which is from palm oil.  The palm oil doesn't bother me, but 15 grams of fat is a decent amount for a snack for a sedentary person.  For active children and adults, not such a big deal.  On the other hand,  1/2 the bag is 110 calories and 7 1/2 grams of fat which would actually be a great snack.  I'm also picturing these yummies on soup (like a crouton), in salads or on a cheese plate.  I am also going to play around with trying to make these myself in my dehydrator!
Stainless Steel Turntable for the Refrigerator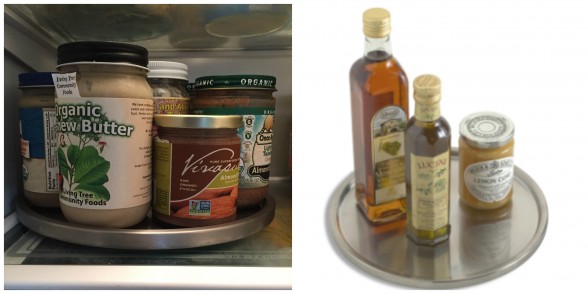 I'm a simple person, really.  The littlest things can just make me ECSTATIC.  Like this turntable I bought for my refrigerator.  I have a lot of nut butter jars in my fridge and it's sort of annoying to have to take out the first two rows just to get to the ones in the back.  And it would drive me even more crazy when someone opened up a new peanut butter only to find out there was one hidden in the fridge.  Ok, so the littlest things make me crazy, too.
Problem solved with this stainless steel turntable I picked up at The Container Store for $19.99.  Now, we just have to spin the disc and all of my nut butters parade before my eyes without any effort.  I actually open the fridge when I don't need anything just to admire my nut butter turntable.  Sigh…Smiley face….
If you aren't into so many nut butters, you can use it for jams or other condiments.  I found this other very similar one on amazon for $15.95.
Succulents

I have always been into succulents, but more so since I moved to a house with almost no yard, a lot of shade and a recent drought in California.  Succulents are not only pretty in many different styles of homes, from modern to traditional, but they last a long time if cared for properly.  Actually, the best thing about succulents is that they need very little attention or water.  Perfect if you like a little life in your house but you're kinda lazy. 😉
I think they would make a great gift to bring to someone's house instead of flowers.  The two arrangements on the left are my latest.  The one on the left is on my outdoor dining table and the one in the middle sits on a bookcase close to the kitchen.  The pumpkins with succulents were my Thanksgiving centerpieces in 2012 and 2013.  I also used succulent arrangements for the luncheon for my daughter's bat mitzvah.  Martha Stewart Living has good info here for DIY succulent arrangements.  Many florists and garden shops carry succulents.
Superfood Spotlight: Turmeric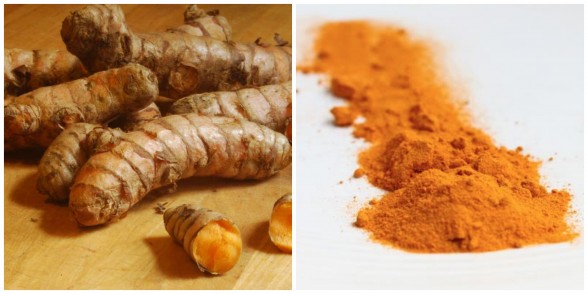 Turmeric is a culinary spice used around the world, from Indian curries to American mustard.   It is related to ginger, and actually looks similar to it, and is most often hailed for its anti-inflammatory benefits. Turmeric appears to outperform many prescription drugs in its effects against several chronic, debilitating diseases, and does so with virtually no adverse side effects. Turmeric has been found to alleviate arthritis, Alzheimer's disease and even certain cancers.  I have even gargled with turmeric dissolved in warm water to reduce an inflamed throat.
You can find fresh turmeric in many natural foods markets (see photo on left) and dried/ground in most supermarkets or online (see photo on right.)  Its taste is described as mild peppery to warm and bitter while its aroma is slightly sweet kind of like a mix of orange-zest, and ginger. Once harvested, the root is boiled, dried, and ground into a bright yellow-orange powder.  I assume fresh will have a few more health benefits, but I can't find any research on that.  Be super careful when using turmeric since it stains like crazy!
Turmeric used to be seen in recipes like curry, Harira, but it's now all the rage in teas and lattes!  I even sprinkled it on my warm porridge this week.  Check out my dozen or so turmeric recipes here.
Other recipes from around the web that look interesting:
Broccoli with Turmeric and Tomatoes from Food & Wine
Spiced Lentil Soup with Coconut Milk by Sprouted Kitchen
Hummus and Cauliflower Tartines by Food Republic
Seasonal produce: Cabbage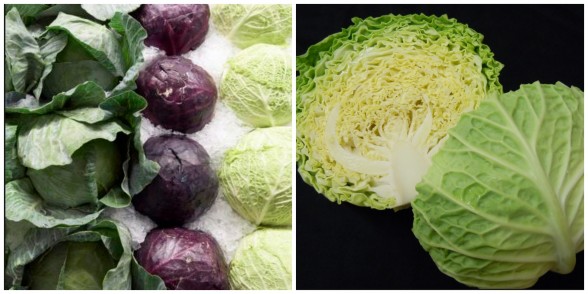 I always say that cabbage is the most underrated vegetable.  No one talks about how amazing, versatile, delicious and healthful cabbages are!  And they're super inexpensive!  They are grown all year round in California so I do use cabbages all the time whether raw, stuffed, sautéed, or roasted.  There are so many different varieties, from the standard green and purple, to Napa, Savoy, and hundreds more we don't even see in our markets!  Technically kale is a cabbage, too.  In Italian, Cavolo Nero, which is a type of kale you might have seen around, means Black Cabbage.
Cabbages are rich in antioxidants, anti-inflammatory compounds, and glucosinolates, which can be converted into isothiocyanate compounds that are cancer preventive for a variety of different cancers, including bladder cancer, breast cancer, colon cancer, and prostate cancer, as well as detoxifying.  Cabbage also has the ability to help lower cholesterol and contains compounds beneficial to keeping the stomach lining and gut healthy.
Choose cabbage that is firm with tight leaves.  Avoid buying precut cabbage, either halved or shredded, since once cabbage is cut, it begins to lose its valuable vitamin C content.  Keeping cabbage refrigerated will help preserve its vitamins.  I always store heads of cabbage in a plastic grocery bag or a Neat-os bag.
Click here for a bunch of great recipes on my site using cabbage, including a few slaws, a sauté with fennel, and soup.