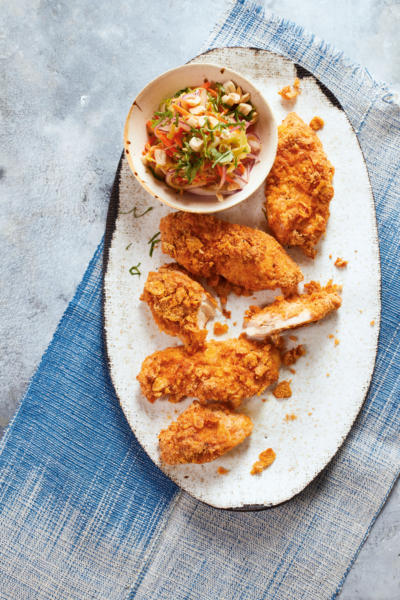 Spring must be cookbook season, because I am loaded with new ones right now!  My friend Liz Moody sent me her new book Healthier Together and it's right up my alley.  Liz is a great gal, health blogger and food writer.  The book's premise is about cooking for two, but cooking together.  I think this drives home a few important concepts: first, that it's easier to achieve your healthful eating and lifestyle if you have someone else to do that with.  Second, I can't emphasize enough the role that community plays in our overall health.  We need socialization, companionship and affection – both to give and receive.  Even though I am very capable of cooking a meal by myself, I enjoy it so much more when my husband and kids are in the kitchen with me.  And one of my favorite ways to spend my free time, besides being with my family, is cooking and eating with friends.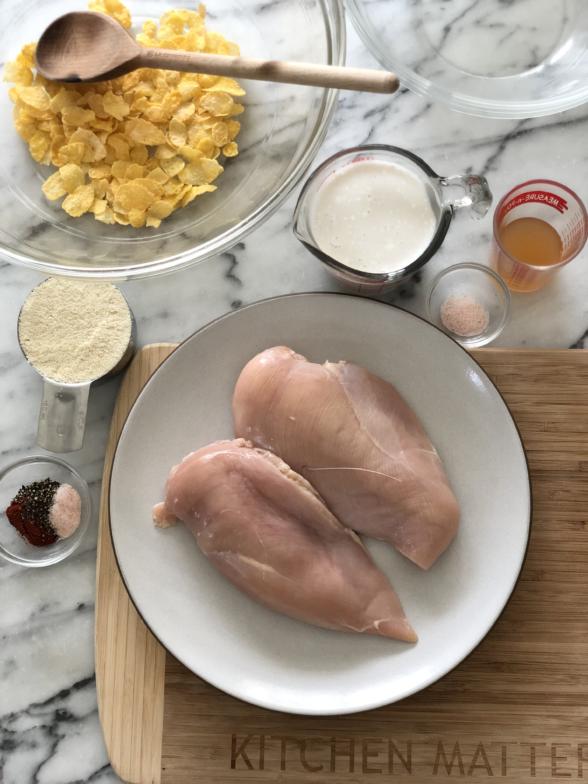 Obviously, I don't cook for two people, so whatever recipe I make from Liz's book I will at least double.  Liz doesn't have kids, but her recipes seem family-friendly to me.  I asked my son (aka Mr. Picky) to choose one recipe that I could make for dinner that he would eat.  I should have predicted that he would pick this Cornflake "Fried" Chicken.  Not surprisingly, Liz told me I was the first food blogger to publish this recipe.  Everyone else is making her Healthiest Chocolate Chip Cookies or Grain-free Coffee Cake, which I kind of wouldn't mind diving into right now.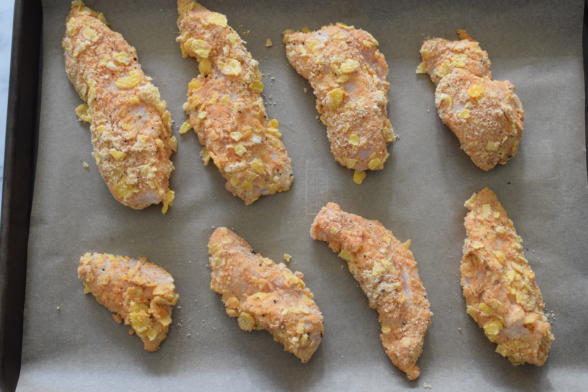 The recipe is actually 3 recipes in 1:  baked cornflake chicken tenders,  Sauerkraut Citrus Slaw, and Hot Honey.  Little known fact about me – I dislike the taste of honey so I rarely use it.  That and the fact that the hot honey takes an hour which I didn't have on this particular night prevented me from actually making it.  I did make the chicken and the slaw and both were delish. I love slaw and I ended up eating the entire bowl myself.  My son dipped his chicken into a honey mustard mixture he made up and I put a piece of chicken into a lettuce leaf with slaw and thought it was a great dinner.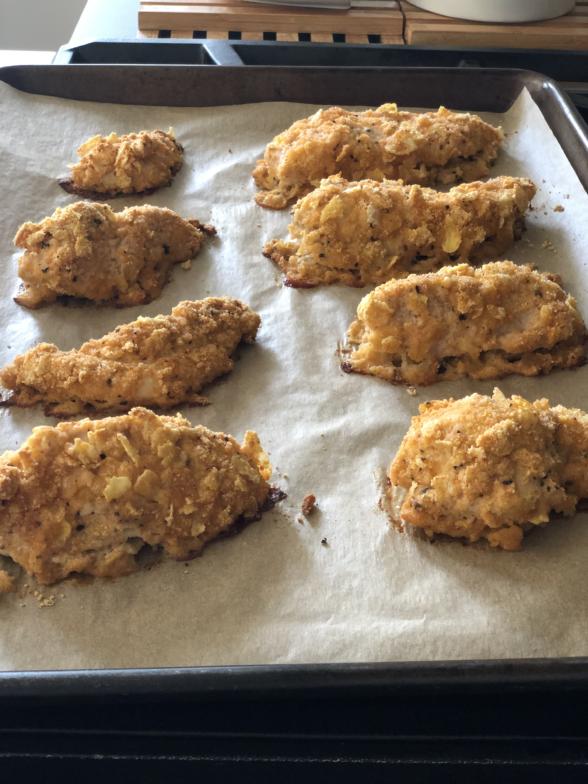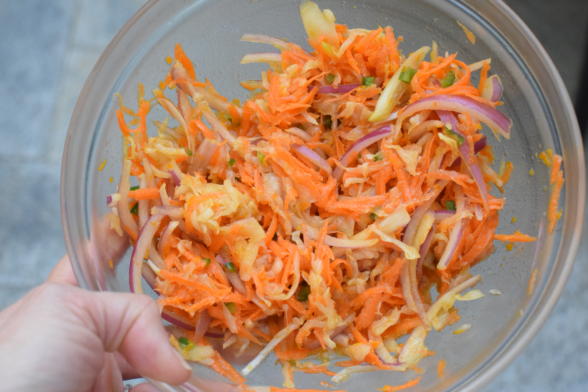 I think you could also make these into nuggets but cutting the chicken into smaller chunks.  If you're nut-free, I imagine you could dredge the chicken in a grain-based flour instead of almond flour.  Next time, I'm going to add a pinch of cayenne to the spice mixture.  I love spicy!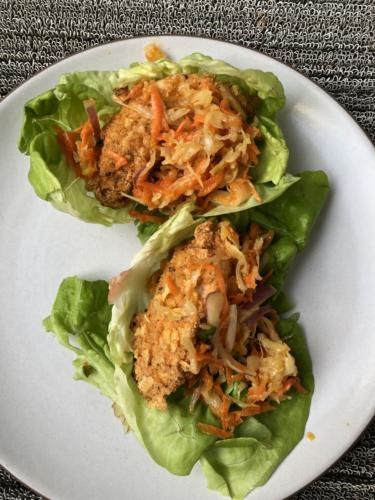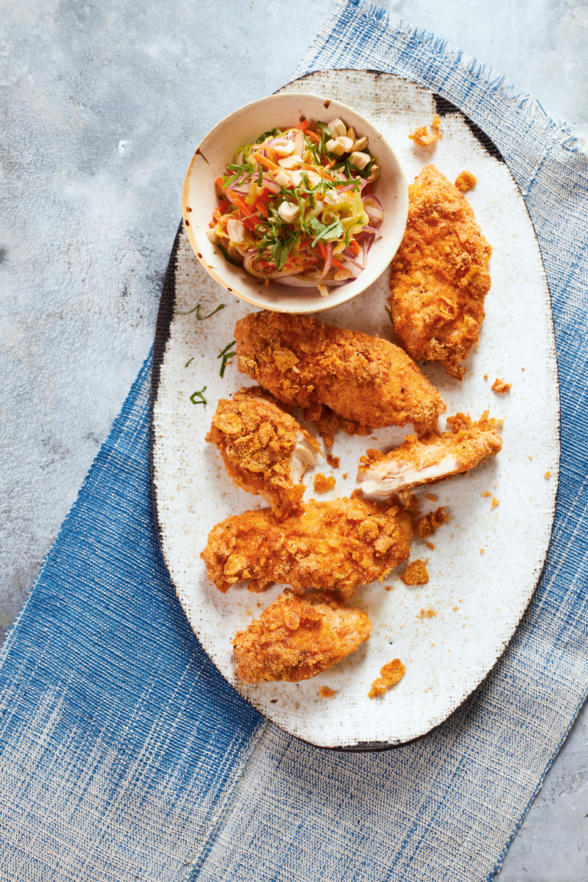 If you try these out, tase @lizmoody and me @pamelasalzman so we can see your creation!
Shop the tools for this recipe by clicking on the images below:

Cornflake "Fried" Chicken with Sauerkraut Citrus Coleslaw
Author:
Pamela, adapted from "Healthier Together by Liz Moody"
Serves:
2 (but no one in my family eats a half pound of chicken, so this would serve 3-4 in my house)
Ingredients
For the chicken:
1 cup unsweetened almond milk
2 Tablespoons apple cider vinegar
¾ teaspoon sea salt, divided
1 pound boneless, skinless chicken breasts, cut lengthwise into 4 strips
¾ cup cornflakes
¾ cup blanched almond flour
¾ teaspoon paprika
¾ teaspoon freshly ground black pepper
For the coleslaw:
1 cup raw, fermented sauerkraut
1 cup shredded carrot
½ jalapeño, seeded and minced
½ medium red onion, sliced
Grated zest and juice of 1 orange
2 Tablespoons unrefined, cold-pressed extra-virgin olive oil
¼ teaspoon sea salt
2 teaspoons raw honey
Instructions
In a medium bowl, mix together the almond milk, apple cider vinegar, and ¼ teaspoon of salt. Add the chicken, ensuring it is submerged. Cover with plastic and chill in the fridge for at least 1 hour and up to overnight. I left this out at room temp while I made the slaw and set the table.
Make the coleslaw: Using a clean tea towel or a nut milk bag, wring any excess juice from the sauerkraut (reserve the juice and store it in the fridge in a jar; it makes a great gut-healing, probiotic shot). In a large bowl, mix together the sauerkraut, carrots, jalapeño, onions, orange zest and juice, olive oil, salt, and honey until well combined. Place in the fridge to let the flavors meld while you finish the chicken.
Preheat the oven to 350 degrees. (I cooked this at a higher temp. I went on Convection at 375.) Line a baking sheet with unbleached parchment paper.
Add the cornflakes to a large bowl. Use a wooden spoon or your hands to break up the flakes into smaller pieces, then mix in the almond flour, paprika, black pepper, and remaining ½ teaspoon salt. Remove the chicken from the milk marinade, allowing any excess to drip off. Add it to the cornflake-flour mixture and turn to coat, pressing it to adhere. Arrange the chicken strips on the prepared baking sheet, spacing them apart. Bake for 30 to 45 minutes, until browned on the bottom and cooked through (cut the largest one in half to check).
Stir the coleslaw just before serving to redistribute the juices. Divide the chicken and coleslaw between 2 plates. Drizzle the chicken with hot honey, if desired and serve immediately.
Notes
Hot Honey makes 1 cup
1 cup honey
2 hot chilies (Fresno, habanero, or Thai), chopped

Combine the honey and chilies in a small pot. Bring to a simmer over medium-low heat, then reduce the heat to very low and cook for 1 hour to infuse. Remove the pan from the heat and taste; add more honey or chilies as needed. Let cool for 30 minutes, then strain through a fine-mesh sieve or cheesecloth into a glass jar. Store in the fridge for up to a month.