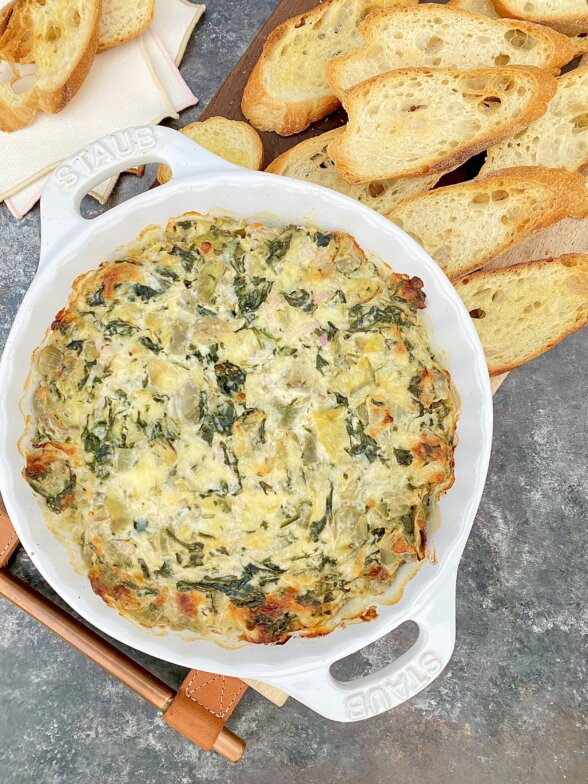 I hope you all had a lovely Christmas!   Even though you haven't heard from me in a few days, I have been cooking up a storm nonetheless!  We arrived in NY to visit my family and between Christmas Eve for 79 people to breakfast-lunch-dinner for our clan of 15 every day, I've been busy in the kitchen.  What has been fun is the team effort.  My sisters, my mom and I have been planning and preparing together which really is the only way when you're trying to figure out what to make that most everyone will like.  My husband is actually pitching in as I type this and making baked ziti with my mother for tonight's dinner.  It is seriously hilarious listening to him explain his "method" to my Italian mother.  Also nice to have the night off so I have a few minutes to write something for you lovely readers!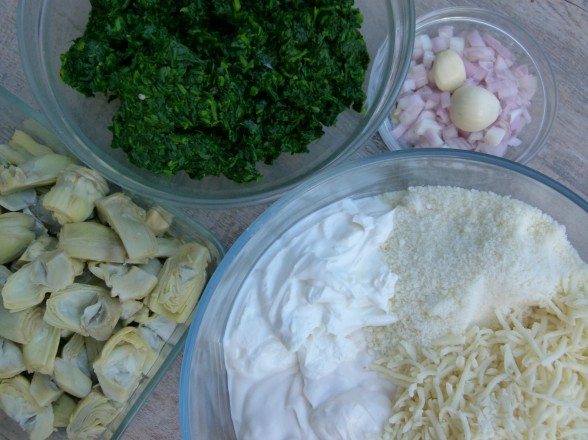 I always find at this time of year many of my friends and students are looking for a winner hors d'oeuvre for all the entertaining and football-watching they do.  I have quite a few on the site already and you can check out the segments I did for our local news the last two years, but I would love to share this popular (although I wouldn't say the most healthful) dip that is always very popular.  Hot spinach artichoke dip is something my husband and my kids love to share in a restaurant.  They somehow rationalize all the sour cream and cheese with the presence of spinach in there.  This is a lighter version, but still warm, creamy and tastes just like the one you've had at your favorite restaurant.  My kids like to scoop this onto crostini, pita chips or even tortilla chips.  Although I've eaten the dip with sweet bell pepper strips  and blanched cauliflower, I think they probably had the better idea.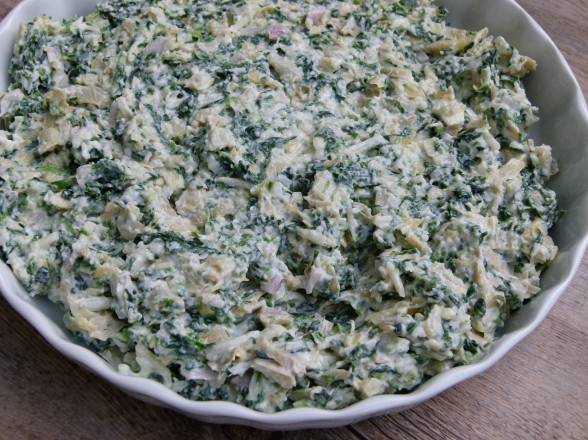 I know you busy you all are and what you really want to know is how you can do this ahead of time so you you're as relaxed as Ina when her guests arrive.  Oh how I'd love to be invited over for cocktails and cards with Ina!  But I digress.  You will blend this whole concoction together in no time — no sauteeing or blanching — and keep it covered in the fridge until the next day when you want to serve it.  Then uncover it and bake it for about 25 minutes until hot and melted and bubbly.  I usually time this to be ready about 15 minutes after I've told my guests to arrive since no one these days shows up exactly on time, including yours truly.  This dip is really best served hot and because there's cheese in it, the longer it sits out, the more it firms up.  So it's best if you don't have this out too early.  I also recommend if you're going to make a few for a longer cocktail party or football game to stagger them about an hour apart so you can serve a nice hot one a few times.  Very recently I discovered a new and incredible way to eat leftovers of this dip — blended with beaten eggs and baked as a frittata, which is this photo right below.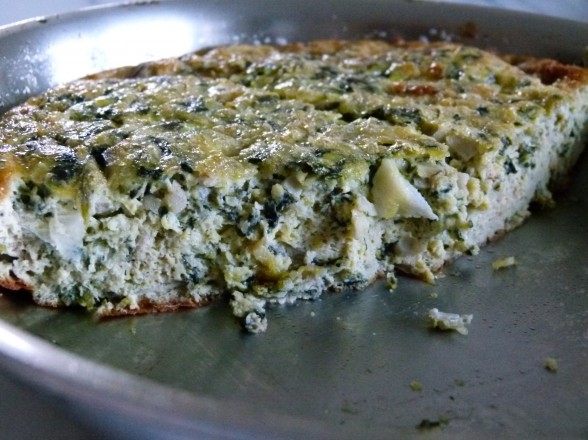 Now you can have your fabulous hors d'oeuvre for New Year's Eve and the beginnings of an amazing New Year's Day breakfast.  Does it get any better than this???

Hot Spinach and Artichoke Dip
Serves:
makes about 3¾ cups or enough for about 8 people
Ingredients
10 ounces artichoke hearts frozen, defrosted or packed in water, drained
¼ cup chopped shallots
1 clove garlic
10 ounces frozen chopped spinach, thawed and squeezed dry (I do this in a thin clean kitchen towel) or 10 ounces fresh spinach, steamed in a little water until wilted and excess water squeezed out
½ cup Greek yogurt
½ cup Vegenaise or mayonnaise (I use soy-free Vegenaise.)
⅔ cup grated Pecorino or Parmigiano Reggiano cheese (I use Pecorino.)
4 ounces mozzarella cheese, shredded
salt and pepper to taste
Instructions
Preheat oven to 375 degrees.
In a food processor, coarsely chop the artichoke hearts with the shallots and garlic.
Combine all the ingredients in a medium bowl.
Place in a 9 or 10-inch oven-proof dish and bake for 20-25 minutes, until hot and cheese is melted. Serve immediately.
Notes
Notes: this obviously has a lot of dairy, but it *may* be possible to make this dairy-free with vegan mozzarella (Violife has a good one) and vegan Parmesan and vegan yogurt (Forager cashew yogurt or Kite Hill coconut yogurt may work.)

You can assemble this in the baking dish the night before, remove from the refrigerator before you preheat the oven so it's not ice cold, and then bake.