We are big football fans in this house and we actually root for a few teams.  I'll share a little secret if you promise that it won't affect our relationship.  Ok, good.  I am a lifelong NY Giants fan and my husband is a diehard Pittsburgh Steelers fan.  So you might guess that we both had a pretty fun season since both our teams made it to the playoffs.  But no matter how far your team goes, unless there's a Super Bowl ring at the end of that journey, it always ends in disappointment. I am not trying to be negative, but it's not "an honor to be nominated," if you know what I mean.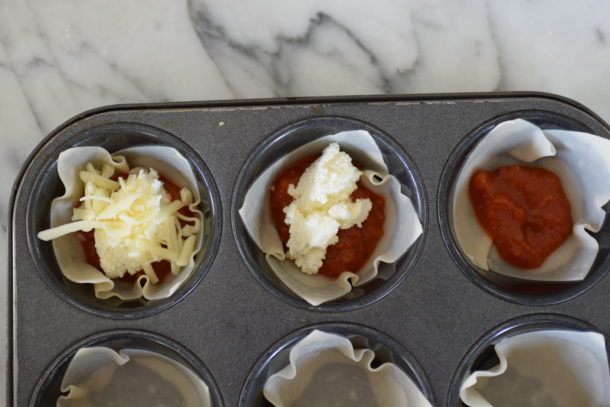 So we're both pretty bummed out that our teams have been ousted, but life goes on and the Super Bowl is happening without the Giants and the Steelers.  By next Sunday, however, we should be out of our funk and in the mood to host a few friends to watch the big game.  Truth be told, if the Steelers had made it to the Super Bowl, there would be no invitations to come to my house.  My husband can only watch important games without any distractions (which include other human beings) because he needs to FOCUS!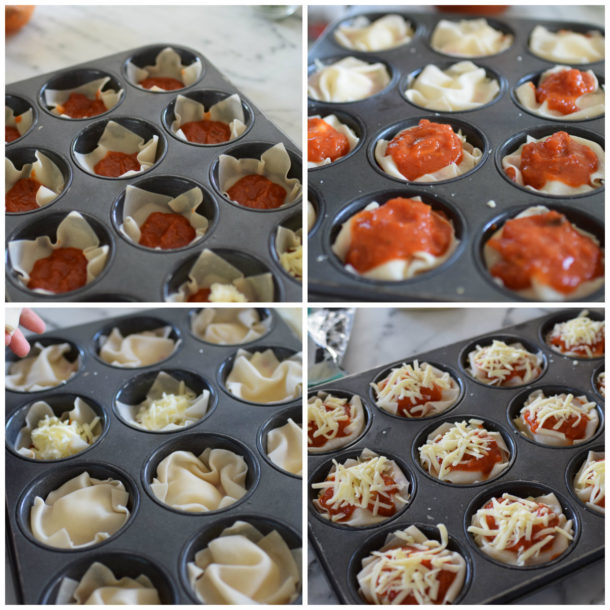 And I need to focus too, on what to EAT.  I mean, we cannot sit in front of a television for four hours without proper fortification.  And the last thing I need is to sit for four hours with 3 bowls of chips, wings, and pizza in front of me.  No, thanks!  Personally, I love a big platter of crudites with some yummy, healthy dips, some sweet potato nachos and a big pot of veggie chili on the stove. But I have something FABULOUS for you today and your friends and kids will go bonkers for them.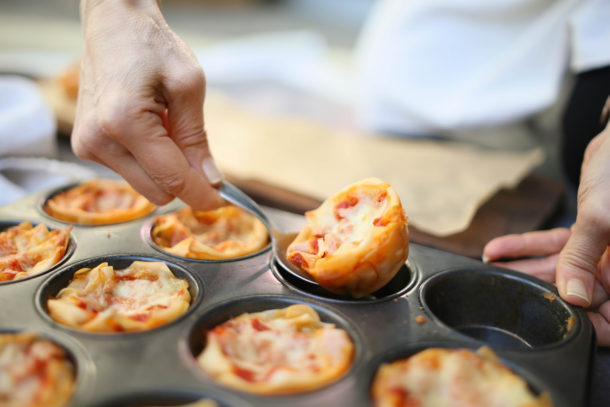 Look at these little mini lasagne, which I will refer to as Lasagne Cupcakes.  I have made them multiple times for friends and family and they are always a huge hit.  They are basically individual lasagne cooked in a muffin tin.  Use this technique to make a mini version of your favorite lasagne or go basic like I am showing here.  I originally taught these in my December classes last year as a party food, since any time I made them for my friends, people would pick them up and eat them out of hand.  So fun!  So don't you think these would be great for a game day spread?  Yep.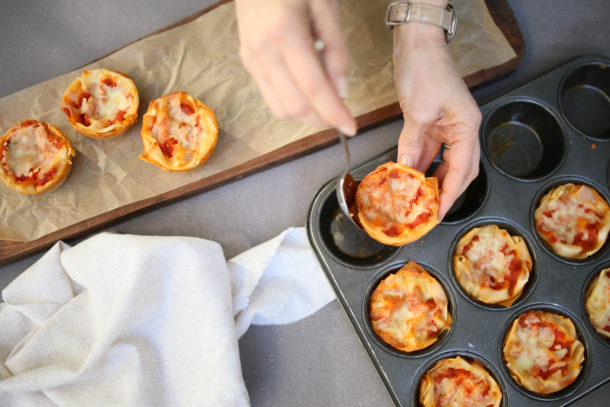 You can assemble them the night before and then bake them the next day.  They only take 18 minutes!  I was also thinking these could be a great last-minute dinner for the kiddos since they can be assembled really fast.  The secret ingredient is…WONTON WRAPPERS!  Because wonton wrappers are basically fresh pasta, right?  They already come cut the perfect size, so you don't have to do anything to them.  I found wonton wrappers in the refrigerator section of the supermarket near the tofu and tempeh.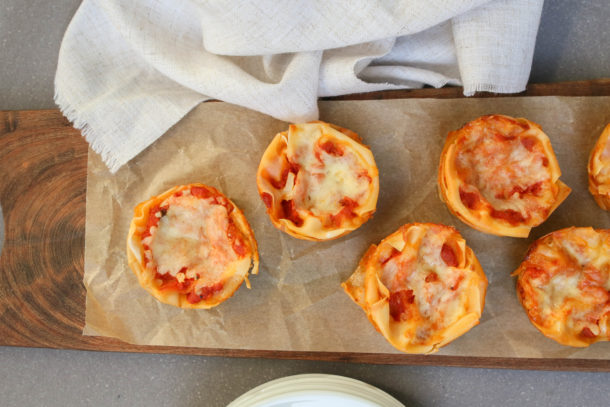 You can add browned ground turkey or roasted vegetables to any of the layers to change the flavor profile.  I also think you could use a round slice of roasted zucchini or a small eggplant instead of the middle layer of lasagne.  If you are gluten-free or dairy-free, don't fret.  I used Kite Hill almond milk ricotta and dropped the other diary and they turned out great!  I also know that Tinkyada makes a gluten-free lasagne noodle that you can boil, so you can adapt this recipe to be gluten-free with an extra step.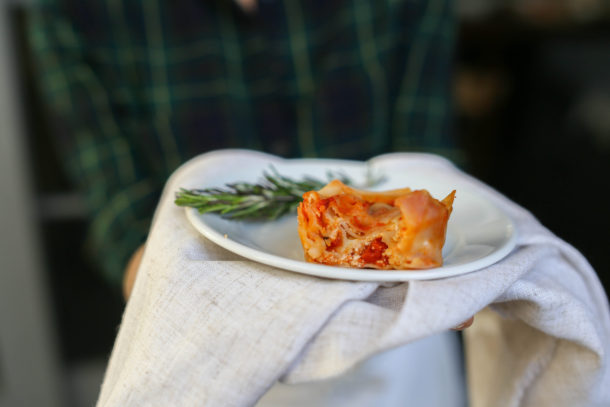 I also think these lasagne cupcakes are great at room temperature.  So if you're worried about leaving these on a buffet for more than a few minutes, don't!  Everyone will love them and you'll score points for making such a delicious snack or meal!

Lasagne Cupcakes
Ingredients
Unrefined, cold-pressed extra-virgin olive oil for greasing muffin tin
½ 15-ounce container of ricotta*
Handful of grated Pecorino-Romano or Parmesan cheese
36 wonton wrappers (about 3"square) (see DF variation below)
About 1 cup of marinara sauce
About ½ pound shredded mozzarella
Other options to add in the middle layers: cooked ground beef or turkey, roasted baby eggplant or zucchini slices, sautéed spinach or kale, sautéed mushrooms (whatever you add must be pre-cooked)
Instructions
Preheat oven to 350 degrees. Grease the cups of a 12-cup muffin tin.
In a medium bowl, combine the ricotta and a handful of grated Pecorino/Parmesan. Set aside.
Fit one wonton wrapper in the bottom of each cup.
To each cup add 1 spoonful of sauce, 1 spoonful of the ricotta mixture, and a pinch of mozzarella. Top with another wonton wrapper, tucking in the tips.
Repeat with remaining filling ingredients and top with a third wonton wrapper.
Top the third wonton wrapper of each cupcake with a spoonful of sauce and a pinch of mozzarella.
Bake until cupcakes are bubbly and cheese is melted and browned, about 18 to 20 minutes. Run a knife around the edges to loosen cupcakes from the muffin tin.
Notes
*To make these diary-free, use Kite Hill almond milk-based ricotta and skip the Parmesan and mozzarella.
To make these gluten-free, purchase Tinkyada GF lasagne noodles and boiled according to the package directions. Cut each noodle to fit the muffin tin and layer as this recipe instructs.