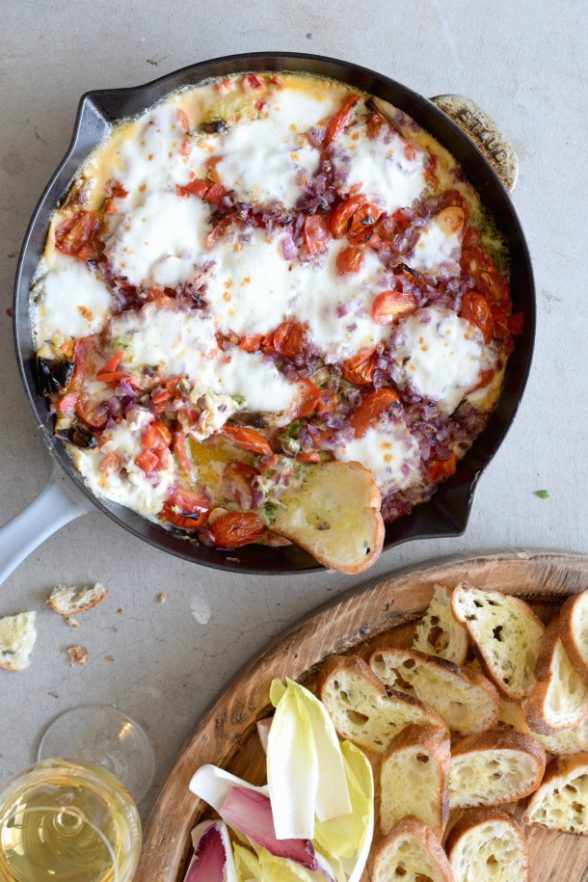 I hope you had a very Merry Christmas!  I had intended write this last week and schedule it to go live last night, but I went into full vacation mode last week in Utah.  And then Christmas in NY happened and I got swept up in it all.  This is actually a good thing because I inherited from my father the inability to relax.  And I highly discourage anyone from being this way.  One of my exercises in life is to find more balance in my life to be a better everything – mother, wife, teacher, friend.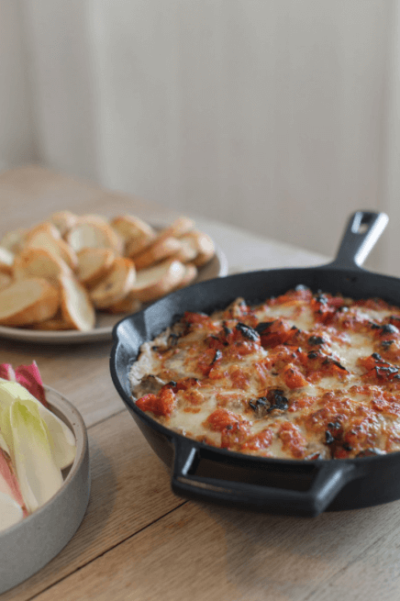 That said, I am going to keep this short and sweet today!  I taught this warm Italian-inspired 7-layer dip in my classes a year ago in a party foods class and everyone went nuts for it.  I then made it for Christmas Day to go with drinks while we opened gifts and not a morsel was left.  What wouldn't you love about a creamy base with tons of flavor and textures in every bite?  Basil, tomatoes, artichokes, caramelized onions, a and a little melty cheese (which is optional – I have successfully made this without.)  Put a basket next to this dip with crackers, slices of fresh baguette or endive leaves and let your guests help themselves.
I thought this would be the perfect time to post this if you are having a holiday party or friends over to watch a game or both!  Shoot me any questions you have about substitutions, but like all my recipes, this one is customizable and very flexible.  Plus you make it all from scratch or buy each component.
I'm spending time with my family in NY for the rest of the week, enjoying every minute, feeling gratitude and trying to not eat too much pasta ;).  I am also thinking about my goals for 2018 and how I can be the best teacher and help you live your best life.  Thank you for being here and for joining me on this journey.  Here's to cooking up more goodness together in the days and years to come!  XO
Shop the tools I used for this recipe by clicking on the images below:

Vegetarian Italian 7-Layer Dip
Ingredients
White Bean Dip:
1 head of garlic, unpeeled to roast or 1 large clove raw garlic, peeled
2 cups cooked white beans, such as cannellini or Great Northern, drained and rinsed, if canned
¼ cup cold-pressed, unrefined extra-virgin olive oil
2 Tablespoons freshly squeezed lemon juice
1 teaspoon minced fresh rosemary
Several dashes hot sauce
½ teaspoon sea salt
a few grinds finely ground black pepper
Layers:
1 12-ounce bag frozen artichokes, defrosted and patted dry
3 Tablespoons unrefined, cold-pressed extra-virgin olive oil + more for drizzling
Sea salt and freshly ground black pepper to taste
½ cup prepared pesto (I have a basil-parsley pesto recipe and a kale pesto recipe on my site)
1 small or ½ large red onion, chopped
2 roasted red peppers, diced or 8 ounces jarred roasted peppers, drained and diced
1 pint cherry tomatoes, halved*
2 large garlic cloves, thinly sliced
pinch crushed red pepper flakes
8 ounces fresh mozzarella, sliced (optional)**
Accompaniments: endive leaves, crackers, toasted baguette slices
Instructions
Make the dip: Preheat oven to 350 degrees. Slice off the top fifth of the head of unpeeled garlic. Add a drop of olive oil. Replace the top. Wrap with parchment paper and then aluminum foil. Bake for 1 hour. Discard foil and parchment.
Take the top off of the garlic and squeeze the softened garlic out of the skins into the bowl of a food processor fitted with the metal blade. Add remaining ingredients and process until smooth and creamy. Can be made a day ahead and kept covered and refrigerated.
Raise oven temperature to 400 degrees. Line a large baking sheet with unbleached parchment paper. Place the defrosted artichoke hearts on the prepared baking sheet and drizzle with olive oil. Toss to coat and sprinkle with salt and pepper. Roast until golden and crisp on the edges, about 20 minutes. Set aside to cool. Chop coarsely.
Meanwhile, heat 1 Tablespoon olive oil in a large skillet over medium heat. Add the chopped onion and sauté until tender, about 6-8 minutes. Lower the heat to medium-low and continue to sauté the onions, stirring occasionally, until the onions are lightly caramelized, another 10-15 minutes.
Transfer the onions to a bowl and wipe out the skillet. Place it back over medium and add 2 Tablespoons olive oil. Add the garlic and crushed red pepper flakes and sauté until fragrant and the garlic is just starting to turn golden, about 30-60 seconds. Add the cherry tomatoes plus a big pinch of salt and pepper and sauté until the cherry tomatoes have slightly lost their shape, about 5-7 minutes. Set Aside.
Preheat the broiler.
Layer the dip. Spread the white bean dip on the bottom of an 8 x 8-inch baking dish or 9-inch pie plate. A cast iron skillet works, too. Then top with the pesto, then the roasted artichokes, then the roasted red peppers, then the onions, and then the tomatoes. Arrange the mozzarella, if using, on top and broil 6 inches from the heating element until the cheese is melted and browned, about 2-3 minutes. If you don't use the mozzarella, you can still broil the dip a little to help warm it through and meld the flavors. Serve with toasted baguette slices and/or endive leaves.
Notes
*You can also use 1 cup sundried tomatoes or oven roasted tomatoes (see pamelasalzman.com for instructions)

**Other dairy-free options include sautéed mushrooms, sautéed chopped spinach or other greens, sliced olives

To use all store-bought ingredients, look for a comparable dip, prepared pesto, Divina jarred roasted tomatoes, and marinated jarred artichokes.