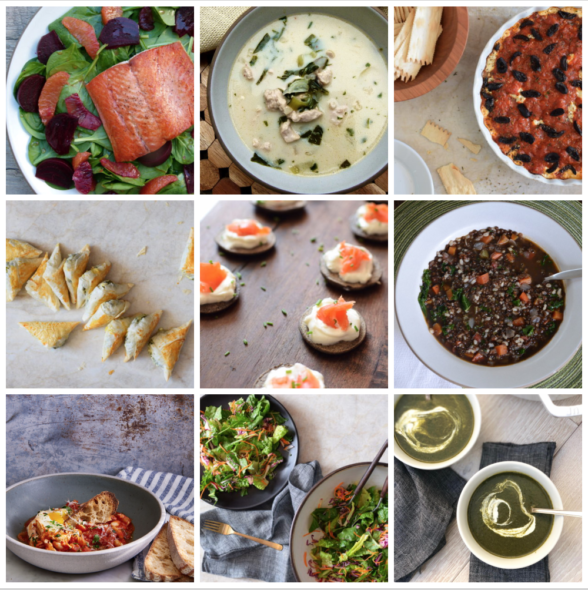 I hope you all had a Merry Christmas!  I just want you all to know how much I appreciate each and every one of you and this community as a whole.  This year has been incredibly challenging on so many levels and I can honestly say, you have been a bright light in my life.  Thank you for bringing your positive energy to me and bringing me into your kitchens and into your lives.  I love you all!
If you would like to gift yourself the gift of more knowledge and health, please join me and other like-minded people in my Plant Based Bootcamp which I am repeating in January!  I am offering my website readers $100 off the course with the discount code PB100.  At least click the link to check it out.  You will not regret it!!
My LA friends, I will be live on Tuesday around 9:40 am PST on KTLA sharing fun New Years ideas if you're hunkered down with your family!  Here's your dinner planner for the week:
Meatless Monday: Mexican millet casserole from KM (quinoa and rice work here, too!). If you have leftovers, add enough vegetable or chicken stock to make a soup.  Top with avocado, sliced green onions or even tortilla chips and you have a new meal!
Tuesday: Wild Salmon with Blood Orange, Beet and Spinach Salad, served with roasted sweet potato wedges. If you have fresh beet greens attached to the beets, wash them and treat them like Swiss chard.  I usually saute them in olive oil or coconut oil.
Wednesday: Thai coconut chicken soup (we are totally satisfied with a big bowl of soup for dinner, but if my son or my husband needs a little something more, I'll make a salad or some avocado toast or heat up some veggie potstickers from Trader Joe's.)
Thursday (New Year's Eve): Just staying at home the 5 of us with a puzzle and some games.  We'll make some fun foods like Lasagna Cupcakes, Spinach and Artichoke Dip, Brussels Sprouts Sliders, and Slow Cooker Chicken Tacos on chips or lettuce cups.If you are doing a more festive party, I love these appetizer ideas – Polenta Crostini with Spinach and Capers, Buckwheat Blinis with Smoked Salmon and Lemon Creme Fraiche, Mini Spanakopita, Zesty Potato Skewers, Mini Risotto Cakes, Endive with Grapes, Hazelnuts and Roquefort, Hen of the Woods Mushroom Toasts,  Provencal Goat Cheese Gratin, White Bean Dip with Roasted Garlic, Butternut Squash, Beet and Apple Skewers, or a Cheeseboard (method here).
What about dessert?? My son asked for individual molten chocolate cakes, which is something easy to do for a small group.  My daughter, Anna, wants a Skillet Chocolate Chip Cookie. And my older daughter, Emma, requested Vegan Gingerbread Cake with whipped cream.  If they help, I will make all three!
Friday (New Year's Day): We always made lentils on New Year's Day for good luck. I usually continue this tradition with a big pot of lentil soup, but the Lentil Shepherd's Pie (which we now make every year on Christmas) is outstanding.
Saturday brunch: Eggs in purgatory with white beans p. 44 from Quicker than Quick.
Sunday: Big green detox salad with Bieler's Broth or Super Greens soup
I normally type up "here's what you can do if it helps you," but there are a lot of recipe ideas here.  In general, I often make stock, legumes, salad dressings and wash salad greens ahead.  If you have questions, about what you can make ahead, just ask!
My new cookbook, Quicker Than Quick, is here!  I have LOVED seeing all your creations of my recipes on Instagram. If you make any of my recipes, please tag me @pamelasalzman #pamelasalzman so I can check them out!  If you have 1 minute, would you mind leaving a review on amazon?  I would be so grateful, thank you!
Take a peek at my first cookbook "Kitchen Matters"!