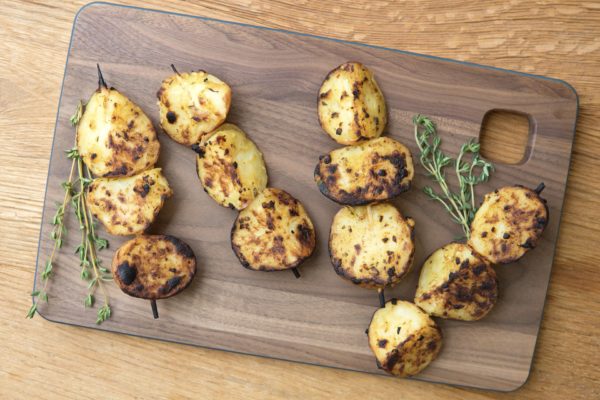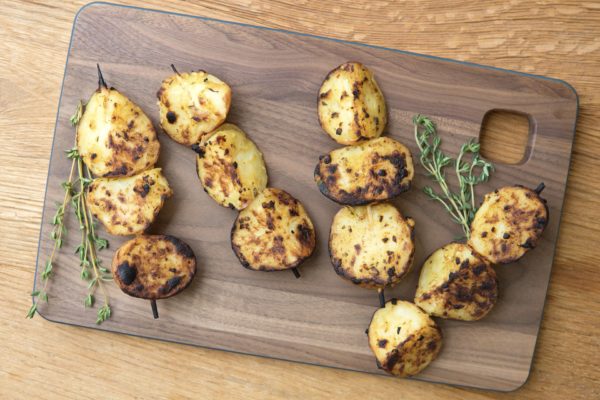 I am obsessing over these zingy little skewers!  I have been teaching them all month in my classes and I always look forward to the end of every lesson when I can snag a stick of hot potatoes.  Someone asked me once, "what is it about food on a stick that people love?"  I think they're just fun and easy and skewers feel like a party is happening.  The potato party is made by the tasty Dijon-based marinade that coats each little spud.  Potatoes on their own can be a tad bland, but add Dijon, garlic, crushed red pepper and lemon juice and you've tons of flavor.  I know you're going to love these.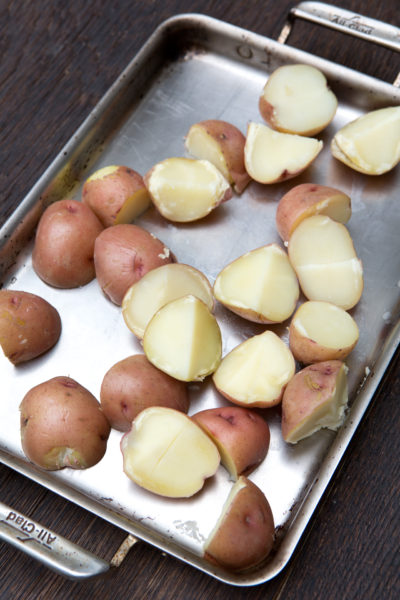 Potatoes get a bad rap because of French fries and sour cream-loaded baked spuds, but potatoes are actually a perfectly nutritious plant food and a very good source of vitamin B6 and a good source of potassium, copper, vitamin C, manganese, phosphorus, niacin, dietary fiber, and pantothenic acid.  Potatoes also contain a variety of phytonutrients that have antioxidant activity.  Among these important health-promoting compounds are carotenoids, flavonoids, and caffeic acid, as well as unique tuber storage proteins, such as patatin, which exhibit activity against free radicals, according to the World's Healthiest Foods website.  An analysis by the USDA's Agricultural Research Service found that the levels of phenolic compounds (which provide antioxidant protection and other health benefits) in red potatoes rivals the levels found in some vegetables that are traditionally regarded as nutrition powerhouses, including broccoli, spinach and Brussels sprouts.  What??  Yep!  But they do have a relatively high glycemic load, so don't eat 10 pounds of them in one sitting, ok?

Small red potatoes – also called new potatoes – are well-suited for this recipe because they have a firmer texture after boiling than the more common Russets or baking potatoes. Leave the skin on to benefit from maximum nutrients, since most are located in and just under the skin.  And do scrub potatoes well.  If you don't have a vegetable brush, the rough side of a sponge works well.  This recipe is very easy, but it can be screwed up by not cooking the potatoes properly.  If you undercook them, they won't cook more under the broiler, so they'll stay hard.  If you overcook the potatoes, they'll be difficult to skewer.  Set your timer for less time than the recipe indicates and check doneness a little early by inserting the tip of a paring knife into the center.  It should go in without resistance, but the potato shouldn't be falling apart.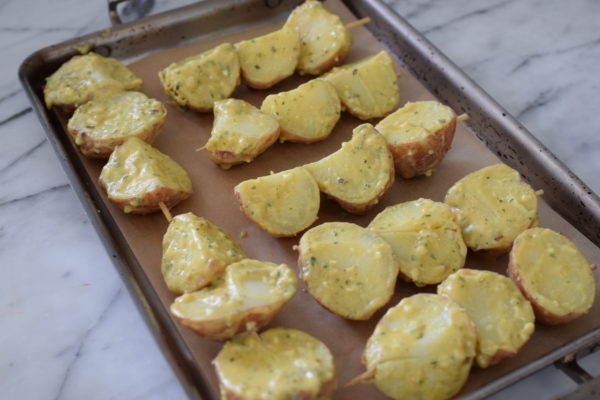 Everyone has really enjoyed these, even my kids.  Mr. Picky actually loves mustard and likes potatoes and you know what is said about food on a stick, so these were a winner.  I've been serving them with salmon burgers in class, and lots of different fish dishes at home, especially simply slow-roasted salmon.  Any roasted chicken recipe would go beautifully with these potatoes, as well as lamb.  But just because potatoes are considered a "vegetable," they are a starchy vegetable so make sure you balance out your meal with a non-starchy vegetable, like asparagus or green beans.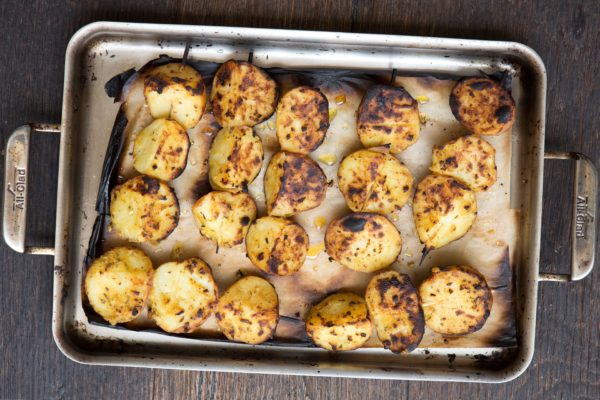 Prep these ahead by boiling, coating with the mustard mixture and skewer the potatoes up to 4 hours ahead and they are the perfect party side dish.  With the unofficial start of summer next week, you just might be celebrating this weekend.  I'm going to help you out with some fab recipes.  I've teamed up with several fellow bloggers to bring you 50 recipe ideas for a sensational summer gathering.  See all the recipes for our Great Blogger BBQ below!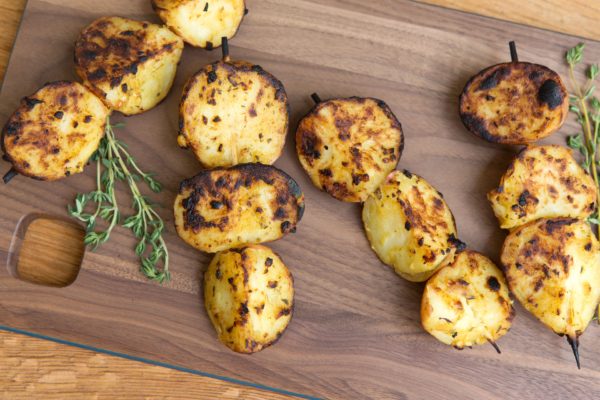 Appetizers
Korean BBQ Tofu Sliders with Kimchi Slaw by Hello Little Home
Corn, Black Bean, and Feta Dip by Lizzy is Dizzy
Crab, Bacon & Guacamole Crostinis by That Square Plate
Cocktails and Drinks
Blackberry Gin Slush by The Speckled Palate
Homemade Lemonade by Winstead Wandering
Blood Orange Mocktail by Body Rebooted
Fleur Collins Cocktail by Hungry Girl por Vida
Fourth of July Sparkler by Mixplorology
Black Stripe Cold Rum Cocktail by Honey and Birch
Fresh Watermelon Mojito by Twin Stripe
Mint Hibiscus Lemonade by The Little Epicurean
Entrées
Salt Plate Shrimp by The Mexitalian
Jamaican Jerk Chicken Burgers by Simple and Savory
Roasted Vegetable Grilled Pizza with Garlic Herb Oil by Ciao Chow Bambina
Memphis Style Pulled Pork by Two Places at Once
Balsamic & Honey Chicken Skewers with Strawberry-Kiwi Salsa by No Spoon Necessary
Amazing Basic Spice Rub for Grilling by An Oregon Cottage
Mediterranean Chicken Kebabs by PasadenaDaisy
Smoked Porchetta Pork Loin by Tasty Ever After
Pressure Cooker Pulled Pork by Appeasing a Food Geek
Peach Barbecue Sauce by The Beach House Kitchen
Tuna Stuffed Sweet Peppers by SugarLoveSpices
Herb Marinated Steak Gyros Plates with Tomato-Onion Salad and Green Tahini Sauce by Feed Me Phoebe
Marinated Skirt Steak with Sweet Corn and Cherry Salad by Domesticate ME!
Sweet & Sour Chicken Kebabs by Tastefully Frugal
Side Dishes
Caprese Pasta Salad by Club Narwhal
Cranberry Almond Broccoli Salad by Two Sisters Kitchens
Coconut Milk Mac & Cheese by A Little Gathering
Cherry Quinoa Salad by Food Lovin Family
Cheddar, Corn and Bacon Potato Salad by Family Food on the Table
Lemon Rocket Pasta Salad by Lauren Caris Cooks
Green Goddess Potato Salad by Love & Flour
Red White & Blue Watergate Salad by A Joyfully Mad Kitchen
Zesty Potato Skewers by Pamela Salzman (that's me!)
Quinoa Tabouli by A Fork's Tale
Desserts
Banana Pudding Ice Cream Cake by Feast + West
Strawberry Beer Floats by bethcakes
Cherry Cheesecake Dessert by The Little Blonde Baker
Light Berry Angel Food Cake by The Creative Bite
Lemon Cream Tarts with Berries by Girl Heart Food
Fresh Strawberry Muffins by Spiced
Lemon Pie Sundae by Flavours & Frosting
Strawberry Lemon Shortcakes by Dash of Herbs
Grasshopper Pie by 2 Cookin' Mamas
Berry Mango Smoothie Pops by HÄLSA Nutrition
Mixed Berry Vanilla Bean Cake by Cake 'n Knife
No Churn Cookies and Cream Strawberry Ice Cream by The Secret Ingredient Is
Coconut Blueberry & Vodka Ice Pops by Nik Snacks
Strawberry Key Lime Margarita Greek Yogurt Ice Pops by Beer Girl Cooks
Cherry & Rhubarb Tart by Crepes of Wrath

Zesty Potato Skewers
Ingredients
1 ½ pounds small red-skinned new potatoes (about 1 to 1 ½ inches in diameter), scrubbed and halved; larger potatoes can be quartered
1 Tablespoon kosher salt
3 Tablespoons unrefined, cold-pressed, extra virgin olive oil
3 Tablespoons Dijon mustard
juice of half a lemon
3 garlic cloves, minced
1 Tablespoon fresh thyme leaves, chopped
pinch of crushed red pepper flakes
½ teaspoon sea salt
freshly ground black pepper to taste
Instructions
Place the potatoes in a large pot and fill pot three-fourths full with water. Bring to a boil and add the kosher salt. Boil gently until potatoes are just tender and can be pierced easily with a fork, about 10 minutes.
Drain well in a colander and let cool 10 minutes.
Meanwhile, in a large bowl, whisk the olive oil, Dijon mustard, lemon juice, garlic, thyme, red pepper flakes, salt and pepper together, until well incorporated. Once the potatoes are cooled, add them to the dressing and toss to coat.
Preheat the broiler and line a baking sheet with unbleached parchment paper (only use parchment paper if it will all be covered with skewers otherwise it may burn) or aluminum foil.
Thread 4-5 potato pieces onto 8-10 inch skewers, cut side up. Or make 6-inch skewers with 3 pieces on each. Place on prepared baking sheet.*
Place the potatoes in the oven, 6 inches from the heat source, and broil until browned and bubbly, turning halfway through the cooking time, about 6-8 minutes total.
Notes
*Skewers can be assembled 4 hours ahead. Cover and let stand at room temperature until ready to broil.