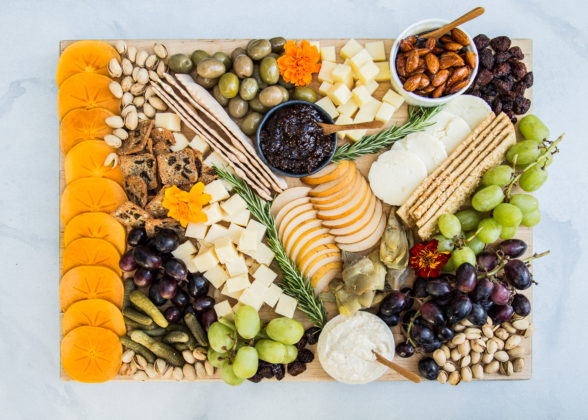 I always put out a few light bites with cocktails on Thanksgiving one hour before we sit down to the big meal. The challenge is finding things that won't make people full, but are just enough to tide us over to dinner time, especially if we skipped lunch. Plus, if you're having an alcoholic drink, it's a good idea to consumer some food at the same time.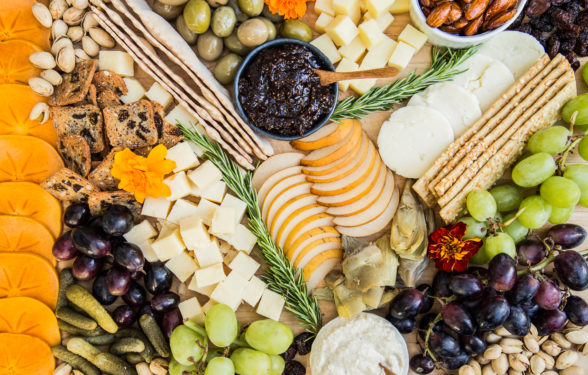 Last year I put together a small cheese board to go along with the crunchy cauliflower that my husband REF– USES to let me take off the menu. I also make a zucchini cheese tart which has become tradition and I can't take that off the menu either. But a cheeseboard is so easy to put together and can provide something for everyone. Your local market (like GROW in Manhattan Beach where I live), Whole Foods, Trader Joe's and Thrive Market all have a wide variety of great cheeses and tasty bites.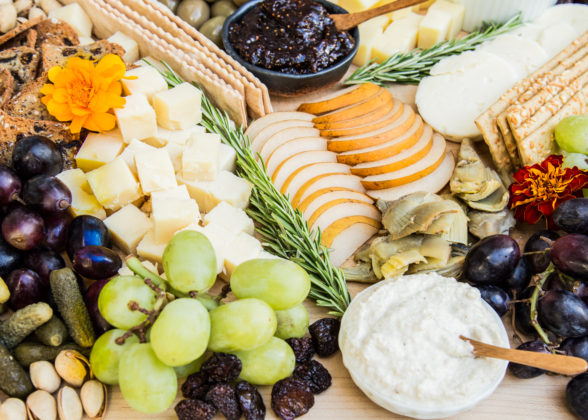 Since my husband doesn't eat pork and I only like a little prosciutto once in a blue moon, I skip the charcuterie and stick with cheeses (dairy and non-dairy), fresh and dried fruit, vegetables, crackers and bread, dips and spreads, nuts, olives and other pickled things. In this board shown here, I choose to use persimmons (on the left), salted pistachios, fig and olive crisps (Trader Joe's), grapes, cornichons and olives, Organic Pastures raw cheddar, Divina sour cherry spread (I buy on thrivemarket.com), honey almonds, roasted artichoke hearts (click here for a recipe that shows you how to roast them), garlic paste (purchased in France), Asian pear, edible flowers, Rustic Bakery crackers, and some fresh rosemary sprigs.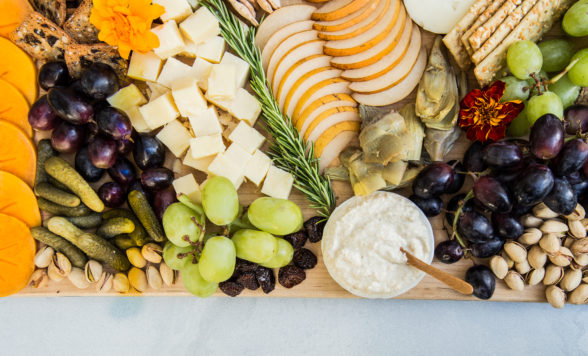 I find a lot of inspiration from Instagram and Pinterest, especially from caterers (like my friend Annie Campbell, or Heirloom LA, or Lady and Larder, to name a few) who do a lot of cheeseboards. Just find one you like and copy it! Here are some of my other favorite go to board items for the fall (e.g. keeping things seasonal):
truffle cheese from Trader Joe's — everyone freaks out over this. You won't have leftovers.
Manchego — very mild sheep's milk cheese, a crowd-pleaser
honey goat cheese – Whole Foods or Trader Joe's
Nuts — pistachios, roasted and salted almonds, truffle Marcona almonds or rosemary Marcona almonds from Trader Joe's, sweet and spicy pecans from Trader Joe's
Dried fruit — unsulphured dried figs, dates, tart cherries
Fresh fruit — sliced pear, persimmon, a cut pomegranate for decoration, grapes, figs
Veggies — raw endive leaves, raw or roasted fennel, roasted delicata squash rounds, roasted or boiled fingerling potatoes, roasted artichoke hearts (defrost frozen and roast), roasted sweet potato wedges
Dips and spreads — creamy white bean dip, butternut squash hummus, muhummara, Divina sour cherry spread, olive oil with balsamic vinegar and flaky sea salt
Olives — Castelveltrano, Lucques (don't forget to put out a small dish for pits)
Crackers or bread — Simple Mills makes an almond flour cracker that is so delish, and Trader Joe's has a great selection of crackers like the fig and olive as well as Sardinian parchment crackers, I also like Rustic Bakery crackers, and whole grain sourdough bread
Other fun additions: truffle popcorn, bread sticks, Divina jarred roasted tomatoes, dark chocolate, small bite size avocado toast, edible flowers (I find these in boxes with the fresh herbs at Whole Foods), bunches of fresh herbs like rosemary, thyme and sage
All of this except the avocado toast can be prepared in advance. I always pull cheese out of the refrigerator an hour ahead. All vegetables can be cut fresh or roasted the day before.
As for boards, the one above is a Boos board cutting board, but there are thousands of beautiful boards out there. Bon appetit!
My Thanksgiving ebook is now available! This PDF contains all my Thanksgiving recipes, tips and tricks, in one document! You will have everything you need to plan and execute your best Thanksgiving ever. Click here to access the Thanksgiving ebook.