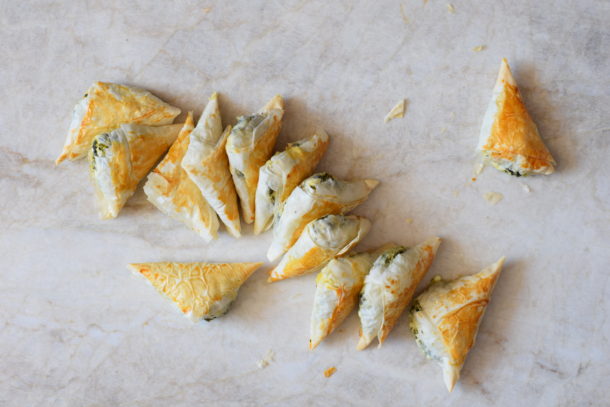 Just in time for party season, I am sharing a recipe and a video (see below) for a popular and delicious hors d'oeuvre, mini spanakopitas.  These are terrific whether in a casserole form (that recipe is here) or as a hand-held pie.  You can make dozens today and freeze them for a future party.  Once you get the idea of how to work with phyllo dough, you can change the recipe and do all sorts of fun and exciting things with it.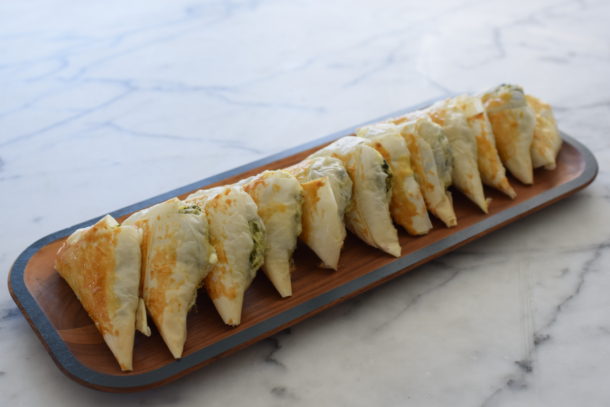 I am going to be upfront and tell you that this is not one of my cleanest recipes.  But since I fully expect that you will not consume all 60 pies yourself, I don't think a little dairy will be a big deal unless of course, you can't have dairy.  In which case, this is not your day.  Kind of tough to make spanakopita without butter, feta and cottage cheese.  I have plenty of healthified recipes coming down the pike, so fret not.  Now go watch the video below!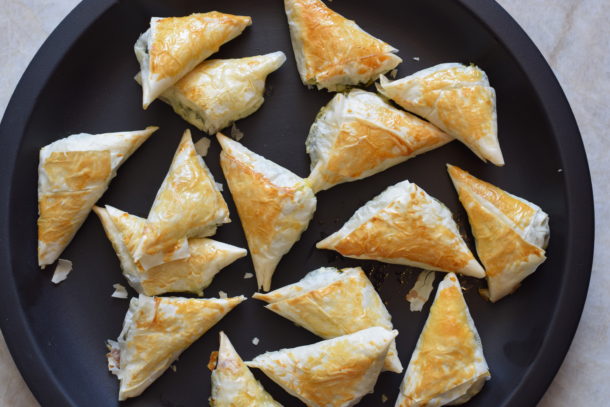 Mini Spanakopita Pies
Ingredients
2 sticks unsalted butter, divided
1 bunch scallions or 1 medium onion, chopped
1 bunch fresh dill, chopped (do not use dried)
3 large eggs
2 pounds frozen chopped spinach, thawed, squeezed with a thin kitchen towel or nut milk bag to remove excess water
1 pound goat or sheep milk feta cheese, crumbled
2 cups cottage cheese
a handful of grated Pecorino or Parmesan cheese
1 package phyllo dough*, thawed overnight in the refrigerator
Instructions
Preheat oven to 350 degrees.
Melt 6 Tablespoons butter in a sauté pan and add scallions and dill. Saute until onions are tender.
Beat the eggs in a large bowl. Add the spinach, sautéed scallions and dill, feta, cottage cheese and grated cheese. Combine well.
Melt remaining butter.
Unroll the phyllo dough and, working quickly, spread out on the counter. Take one sheet and place on a cutting board. Brush liberally all over with melted butter. Place another sheet on top and brush with melted butter. Cover the rest of the phyllo with a towel to prevent from drying out.
Cut the buttered phyllo into 3-inch wide strips. You'll probably cut 6 strips.
Place a tablespoon of the spinach mixture at the base of one of the phyllo strips, leaving a little border on the bottom. Fold up like a flag: Take the bottom right corner and across to the left on a diagonal. Then take the bottom left corner and fold straight up. Now take the bottom left corner and fold across to the right. Take the bottom right corner and fold straight up to the right. Keep going until completely folded into a triangle.
Place on a parchment lined baking sheet, brush top with melted butter, and repeat with remaining phyllo dough and filling. Bake until puffed and golden, about 20-25 minutes.
Notes
*This recipe was tested using a package with 20 13 x 18-inch sheets. If you cut the recipe, you can refreeze the sheets that you thawed, but did not use. Rewrap them well.