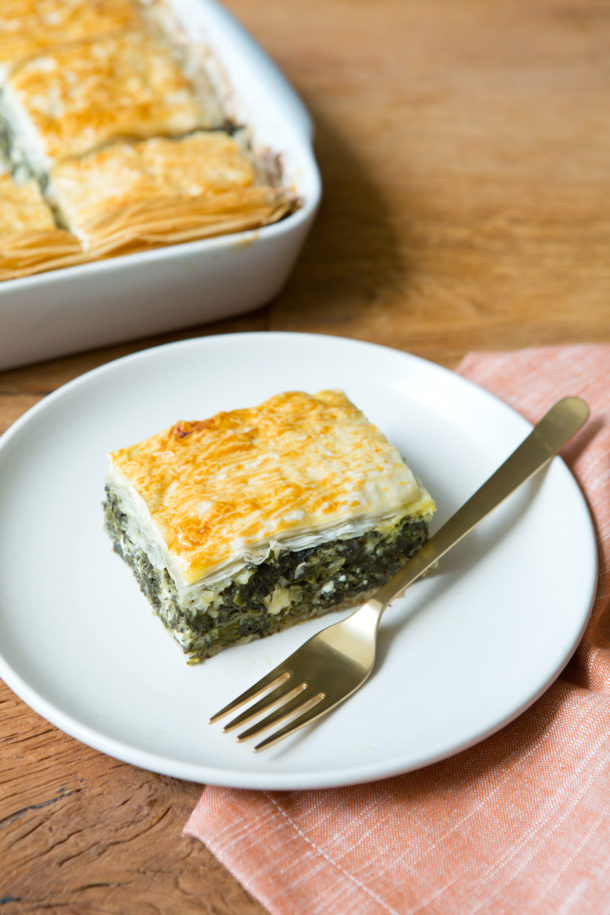 Full disclosure — this is not a healthified version of spanakopita, the delicious and classic Greek spinach pie.  This is the real deal, with no dairy spared.  I know you come here for lightened up versions of classic recipes or dishes with a big nutrient boost, but so many people have begged me for this recipe and I promised to oblige.  I make spanakopita once or twice a year, always for the break fast on Yom Kippur.  I always make two large casseroles and they are always a highlight of my buffet.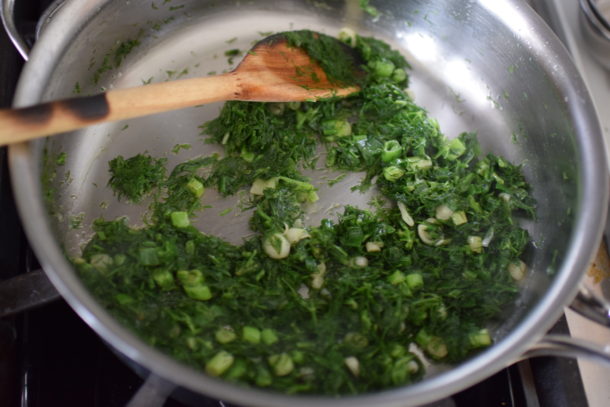 I make a lot of lovely salads and veggie frittatas for the breakfast, but the spanakopita is the real deal — lots of butter, feta, and cottage cheese.  It's really, really delicious.  Libby, the Greek mom of one of my dearest friends from college shared this recipe with me about 20 years ago.  Over the course of 20 years, I normally tweak a recipe a little every year, but I have not changed this one even a little. I tried once using less butter and another time using whole wheat phyllo dough. Eh. I'm not sure why I had to try.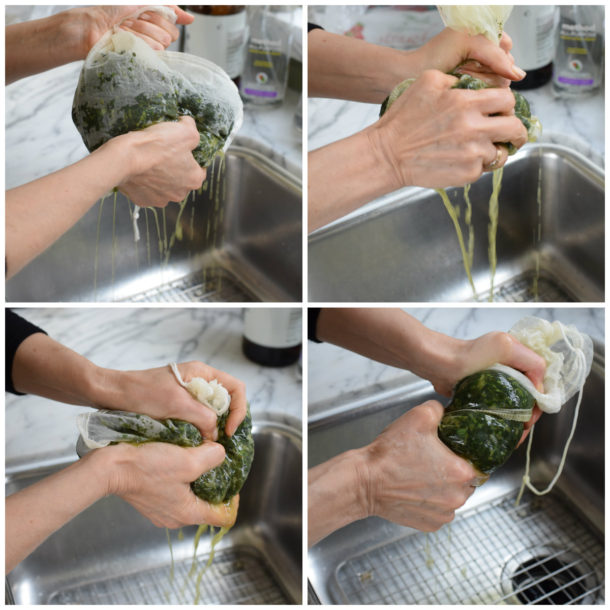 I did create a recipe for a quinoa and spinach salad with feta and dill which I titled on the side, "Spanakopita without the Guilt." That salad I eat many times a year.  Real spanakopita I do not.  And I certainly don't need to make anyone feel guilty about eating a little dairy, especially after having fasted the last 24 hours!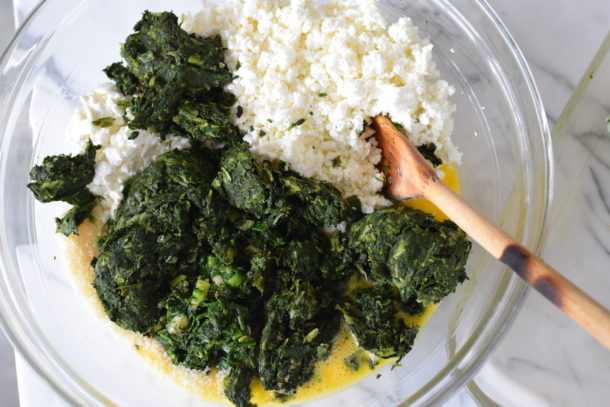 There is some work involved here, but you can prep ahead if you want.  I usually make the spinach mixture for the casserole in the morning and then assemble it early that afternoon and bake it in time to serve it around 7:00 pm that evening.  But you can also make the entire casserole today and freeze it before baking.  Thaw it out the night before and bake it right before serving.  Spanakopita makes a delicious brunch, lunch or dinner dish and leftovers are wonderful reheated in the toaster oven the next day.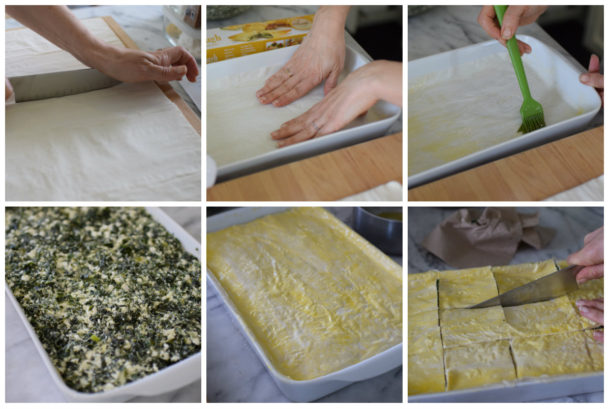 Yom Kippur is in a week and I'm just starting to tweak my menu from last year.  I usually change the frittata or vary the salads and desserts a tad.  I'd love to hear what you are making.  Although this spanakopita recipe is staying on the menu as is.  Again!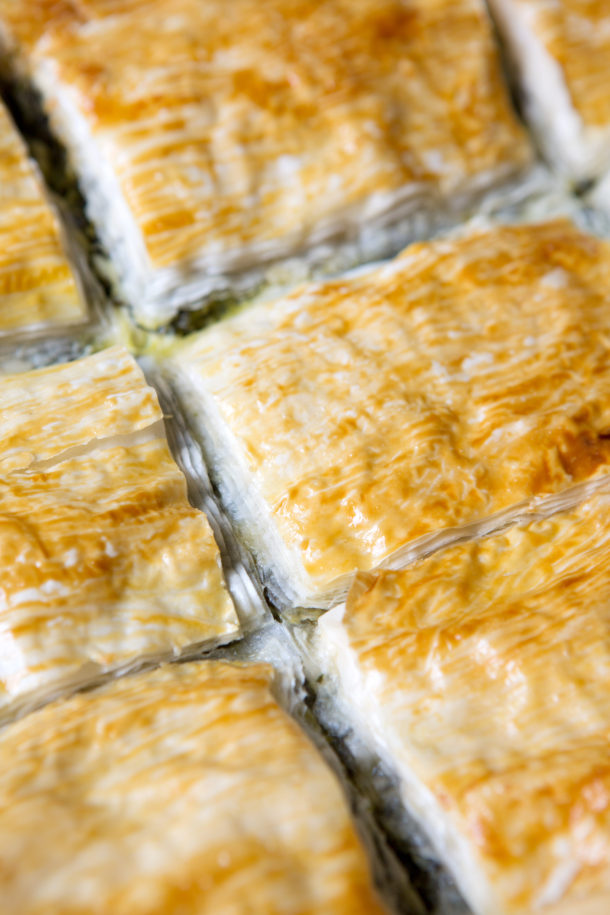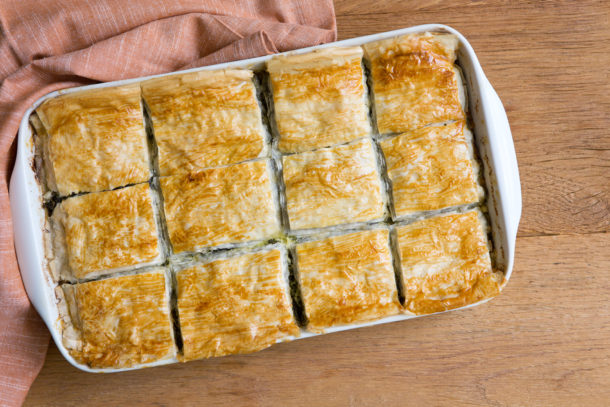 View this post on Instagram

 

 
Spanakopita Recipe
Ingredients
1 package filo dough, thawed overnight in the refrigerator*
3 10-ounce packages frozen chopped spinach, thawed (or use 2 16-ounce packages)
1 bunch fresh scallions or 1 medium onion, chopped
1 bunch fresh dill, chopped
2 sticks unsalted butter
1 pound goat or sheep milk feta cheese, crumbled
2 cups cottage cheese
Handful of grated parmesan cheese
3 large eggs + 1 extra yolk
Instructions
Melt 6 Tbs. butter in a sauté pan and add scallions and dill. Saute until transparent.
Squeeze excess water from the spinach. You can use a dish towel to wring out the moisture.
Beat the 3 whole eggs in a large mixing bowl and add the spinach, sautéed scallions and dill, feta, cottage cheese, and grated cheese. Mix well together.
Melt remaining butter. Brush the bottom of a 13x9 baking dish with melted butter. Place 10 sheets of filo dough one sheet at a time into the baking dish, brushing each sheet with melted butter. Put filling into baking dish. Add 10 more sheets of filo dough, buttering each one. Beat the egg yolk and brush the top sheet of filo with the egg. Cut into squares before baking (12 or so).
Bake at 350 degrees for about 1 hour or until golden brown.
Notes
*If the package has 20 13 x 20-inch sheets, just cut the stack in half to make 20 13 x 10-inch sheets and save the other stack for another time.