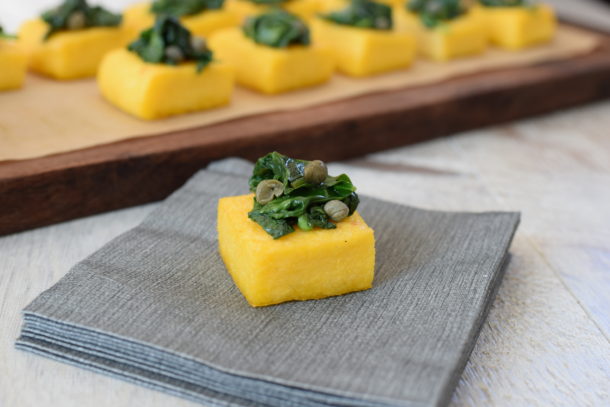 It's party season and I am always looking for fun, healthy eats to serve.  My favorite hors d'oeuvres are those that a just mini versions of foods I love, like these mini chicken tostadas, or these broccoli-potatoes, or my fave Brussels sprout sliders.  But sometimes making lots of bite-size foods can be time-consuming, especially if they have to be made at the last minute.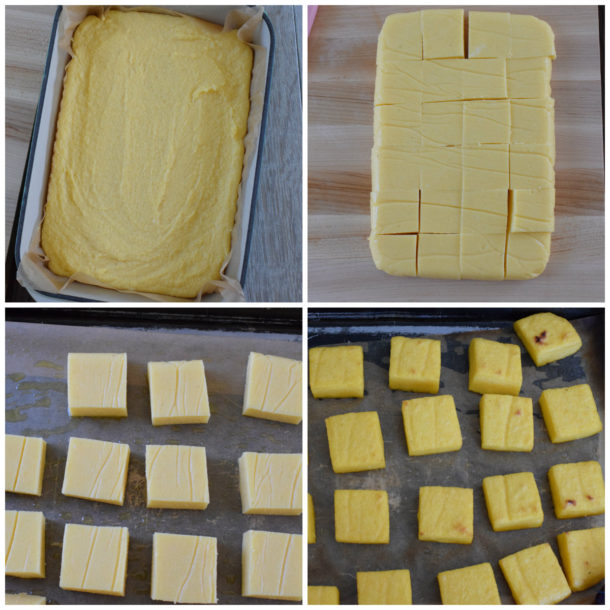 These polenta squares are not time-consuming nor are they difficult to make.  They are absolutely delicious and feel like a hearty bite of goodness.  They are substantial without being heavy or greasy.  A few squares and I feel like I stimulated my appetite, not squelched it.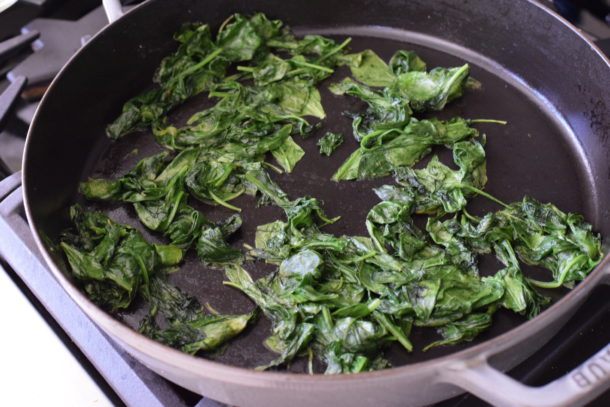 I am always partial to do-ahead recipes and this is a good one.  You can make the polenta a couple days ahead and keep it refrigerated.  Cut it into squares and toast them up in the oven just before you want to serve them.  Sauteing spinach takes a minute, and is only one of the many ways you can top these squares.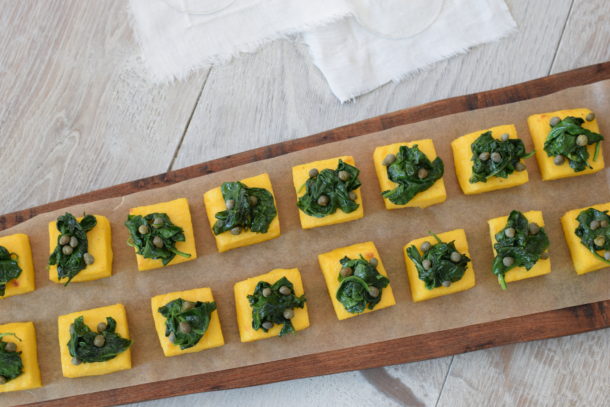 Sautéed or roasted mushrooms would be amazing, as would a slow-roasted tomato half or garlicky sautéed kale.   Not something I would personally go for, but shredded brisket like from this recipe would also be terrific.  The options are endless, and I think it would be fun to offer 2-3 options with your guests.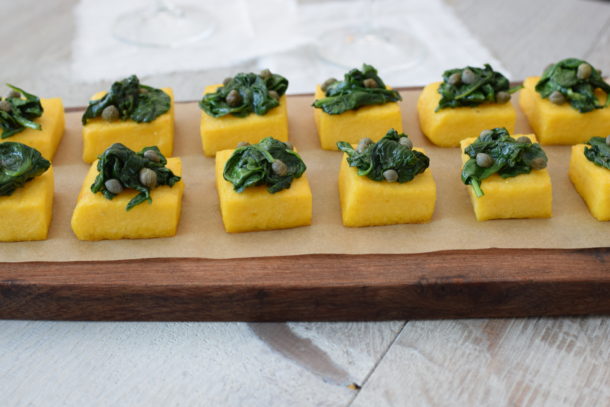 I am keeping it short today because it's my last few days of vacation and I'm sure you have better things to do than read a lengthy post on polenta squares.  Wishing you and yours a very happy and healthy new year!  xoxo

Polenta Crostini with Sautéed Spinach Recipe
Ingredients
Polenta:
4 cups water, milk or unsweetened, plain hemp milk (or a combo)
1 teaspoon sea salt
1 cup coarse ground polenta or corn grits
½ cup grated Parmiggiano-Reggiano or Pecorino-Romano cheese (optional)
Topping:
2 Tablespoons unrefined olive oil + more for brushing the squares
2 large cloves of garlic, peeled
10 ounces baby spinach leaves
sea salt and freshly ground pepper to taste
2 Tablespoons capers, drained
Instructions
In a medium saucepan, bring the water (or milk) and salt to a boil. Slowly whisk in the polenta. Turn the heat to low and simmer gently for about 10-15 minutes, stirring frequently. The polenta should be smooth and creamy and the grains softened. Stir in the grated cheese, if using.
Line a 11 x 8–inch baking dish with parchment paper (or a 13 x 9-inch for thinner squares.) Pour the polenta into the prepared pan and smooth the top. Cool, cover with parchment paper or plastic wrap and then refrigerate until firm, a few hours or up to overnight.
Preheat the oven to 425 degrees. Line a baking sheet with parchment paper and lightly brush with olive oil. Invert the polenta onto a cutting board and cut into 24 equal squares. Brush the tops of the polenta with olive oil and transfer to the prepared baking sheet. Bake 10-15 minutes or until golden. I also like to broil them for an additional couple of minutes. Watch them carefully if you do broil them!
Heat 2 Tablespoons olive oil in a large sauté pan until warm. Add the garlic and sauté until lightly browned. Remove garlic and discard. Add spinach with a sprinkle of salt and toss until wilted. Top the polenta squares with a little spinach and a few capers and serve.
Notes
I am sure you could also do this with store-bought polenta in the round tube. Just slice and bake as per the recipe.