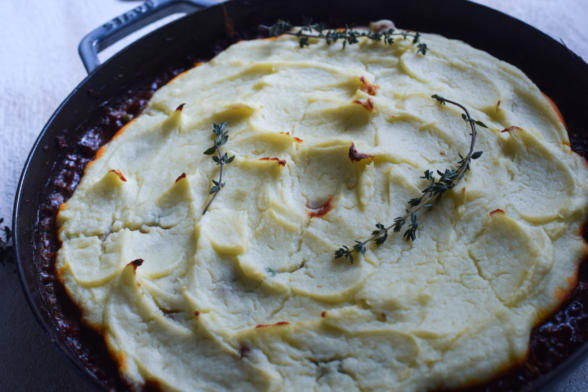 I hope you had a lovely Thanksgiving and that you enjoyed every moment with your loved ones.  The food took a backseat to the time I spent with my three kids and my husband, as well as family and friends.  Don't get me wrong, I love a delicious feast, but I was beyond grateful that we were all together.  I took the rest of the weekend "off" in the sense that I pulled away from social media for a few days and didn't really cook too much.  We repurposed leftovers the entire weekend, turning turkey and green bean casserole plus homemade turkey stock into a turkey-mushroom-green bean-barley soup.  I combined leftover stuffing and eggs for a strata of sorts. And I made a huge braised root vegetable salad with fresh greens and a light vinaigrette.  My daughters got creative with pumpkin pie, frozen bananas and almond milk for smoothies as well as cranberry sauce on yogurt. In my notes for next year's Thanksgiving, I will put in all caps that I make too many desserts!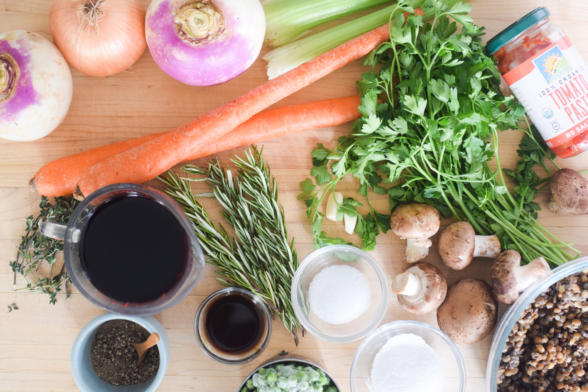 So this week we are back to eating normally.  The weather is a little cooler here, although not exactly cold.  But I am craving warm, comforting foods and I instantly remembered this vegan shepherd's pie that I taught last year.  I think this was one of the recipes in my first online cooking class.  Yes, my husband is still vegan, and yes, I am still not vegan.  But I do love plant-based meals, especially legumes like lentils.  Little known fact – lentils are Mr. Picky's favorite food.  I know.  How can he be labeled "picky" if he eats lentils?  He's really not that picky anymore, but he loves the title! 😉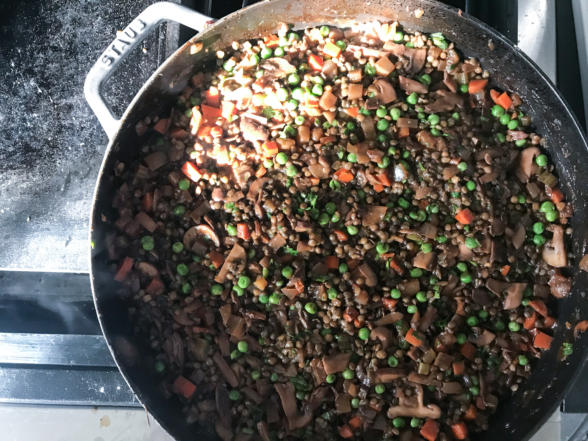 I originally came up with this recipe for my newly vegan husband who wasn't into eating "hearty" salads for dinner.  He was still a meat and potatoes guy who wanted a substantial meal at dinnertime.  So I took one of his favorite meat dishes, Shepherd's Pie, which is made with leftover bits of beef or lamb and topped with mashed potatoes, and subbed cooked lentils for the meat.  That's it!  I did make this dish even lighter by subbing cauliflower mashed potatoes for the traditional and I used Miyoko's Creamery vegan butter for regular butter.  I will admit, regular butter makes the mash a little more golden on top.  Overall, this is such a rich, flavorful dish, perfect for a chilly evening and hearty enough for a meat and potatoes person.  I think this would also make an outstanding vegetarian/vegan main course if you were having a dinner party.  You could assemble the whole thing a few hours in advance and bake it 20 minutes before serving. I even think this could be served for a lovely Christmas Day dinner with a hearty red wine.  Add a fresh salad, an apple and pear crisp for dessert and you're done.   I think I might be adding this to our Christmas menu!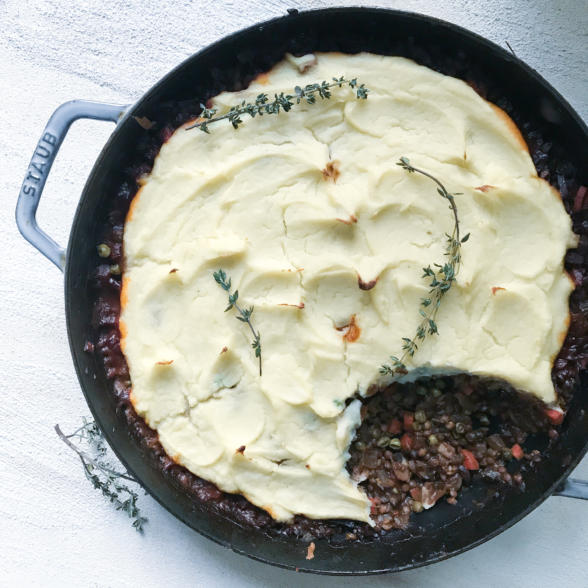 I know many of you will want to know the math on which skillets or baking dishes to use:
For 1 recipe, use a 13 x 9-inch or a 12-inch round skillet.  I used a Staub 13-inch round double handled fry pan (literally my favorite pan that I own), which just meant the filling was spread out more and not as deep.
For 1/2 recipe, use an 8 x 8-inch baking dish or a 9-inch round skillet or pie plate.
If you make this, you know I would be so excited to see it so please tag me on Instagram @pamelasalzman #pamelasalzman.
And check out my online cooking classes here.  They're the next best thing to taking a class in person with me!
Shop the tools I used for this recipe by clicking on the images below!

Vegan Lentil Shepherd's Pie
I both sautéed and baked it in a 13-inch Staub 2-handled fry pan.
Ingredients
FILLING
3 Tablespoons extra-virgin, cold-pressed olive oil
1 large onion, chopped
2 large carrots, chopped
2 stalks celery, chopped
2 turnips, peeled and chopped (or potatoes, parsnips or sunchokes)
1 pound mixed mushrooms (such as shiitake, cremini or white button), wiped with a damp paper towel, sliced (or buy them precleaned and presliced)
3 cloves garlic, minced
1 Tablespoon chopped fresh thyme
1 Tablespoon chopped fresh rosemary
2 teaspoons sea salt, divided
2 Tablespoons tomato paste
1 cup red wine (chianti, cabernet, pinot noir or whatever you have that is drinkable)
2 teaspoons vegan Worcestershire sauce (or non-vegan if desired)
2 Tablespoons flour (all-purpose is fine) or 1 Tablespoon arrowroot powder
3 cups vegetable broth or mushroom stock
freshly ground black pepper, to taste
1 pound cooked lentils (Trader Joe's sells a 17 oz pkg of steamed lentils in the refrigerated section)
1 cup frozen peas
2 Tablespoons fresh flat-leaf parsley, chopped
TOPPING
1 medium-large head of cauliflower, about 2 ¼ pounds, cut into florets (about 5 cups)
1 pound Yukon Gold potatoes, peeled if desired and cut into 1-inch pieces
kosher salt
2 Tablespoons unsalted vegan butter such as Miyoko's Kitchen or regular butter
¾ teaspoon of sea salt or to taste
Instructions
Preheat the oven to 375 degrees. To make the filling, heat the oil in a large skillet over medium heat. Add the onions, carrots, celery and turnips and sauté until the onions are tender and translucent, about 8-10 minutes. Add the mushrooms, garlic, herbs and 1 teaspoon of salt and cook until the mushrooms have softened, about 6-8 minutes.
Stir in the tomato paste, red wine and Worcestershire sauce, scraping the bottom of the skillet with a wooden spatula. Continue to cook until the wine is almost totally absorbed/reduced, about 10 minutes.
Sprinkle the flour on top of the vegetables and cook, stirring for about 2 minutes. Slowly add the stock and simmer until the stew thickens. Taste for seasoning and add more salt and black pepper if desired.
Stir in the cooked lentils, frozen peas and parsley and transfer to a 9 x 13 casserole dish.
Meanwhile, to make the topping, place cauliflower, potatoes and a big pinch of kosher salt in a large pot and add enough water to come just below the top of the vegetables.
Bring to a boil over high heat and then lower to a simmer. Cook until tender, about 15 minutes.
Drain cauliflower and potatoes and transfer to the bowl of a food processor fitted with the metal blade. Add butter and salt and process until smooth.
Spread the cauliflower mashed potatoes on top of the filling and use your spoon or spatula to spread over the top. Place on a rimmed baking sheet (to catch drippings) and bake for about 20 minutes, or until the top is lightly browned and the juices of the filling are bubbling.
Notes
Feel free to cut the whole recipe in half and bake in an 8 x 8-inch baking dish or a 9-inch diameter skillet or pie plate.