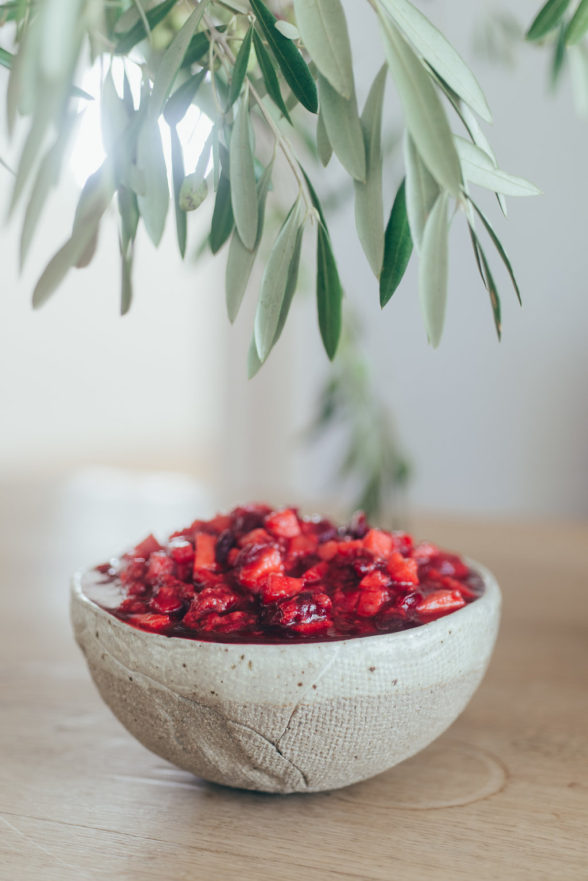 I use a cranberry sauce recipe for Thanksgiving that has been in my family longer than I have.  My aunt received the recipe over 40 years ago from a colleague in New Jersey, who received it from someone who lived in her apartment building in New York City.  I have loved this cranberry sauce for as long as I can remember.  It makes no sense to me why I ever tried other recipes since this one is everything a cranberry sauce should be — uncomplicated, tart, slightly sweet, chunky and fresh.  My kids eat it in a bowl with a spoon, on top of oatmeal, pancakes, or French toast, or swirled into plain yogurt.  And of course, it's divine on turkey or a turkey sandwich.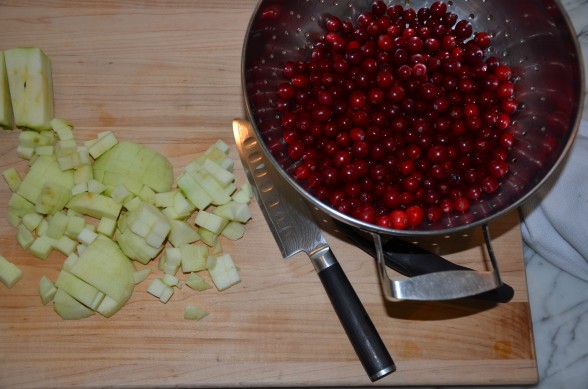 The original recipe shows its age a bit since it calls for 1 pound of fresh cranberries, because Ocean Spray used to make their bags in 1-pound sizes.  Now they're 12 ounces.  The recipe also calls for frozen raspberries instead of fresh because I don't think you could possibly get fresh raspberries in November 40 years ago.  I have made my own small changes, but it still tastes just as delicious.  I couldn't help trying to cut back on the sugar a bit by substituting apple juice for water and reducing the quantity of sugar.  And this year I used sucanat in place of granulated sugar and no one could tell the difference.  My aunt's recipe originally called for "chopped pecans to taste" which I have never put in simply because when I first started making the cranberry sauce, pecans were out of my budget.  So I've left them out all these years and I can't say I miss them.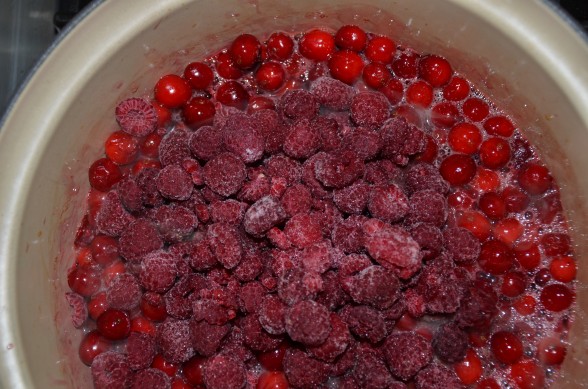 One thing that has never changed is that I make the cranberry sauce every year the Sunday before Thanksgiving because my aunt does, too.  We call each other on Sunday morning.  In fact, I just got off the phone with her.  "Are you chopping apples?"  "I sure am!"  I make enough for our Thanksgiving dinner with a little for leftovers (two times the recipe.)  But my aunt makes vats of it and then drives around town delivering jars of cranberry sauce to all of her lucky friends.  Our conversation cracked me up this year as she informed me she found BPA-free plastic containers for her sauce and this year she went organic with all the fruit.  I think she's been reading my blog.  Although when I mentioned the sucanat to her, she said "don't push it."
Happy Thanksgiving to you all!
 

 

 

View this post on Instagram

 

 
Cranberry Sauce with Apples and Raspberries
Serves:
makes about 5 cups
Ingredients
½ cup granulated sugar, coconut sugar, maple sugar, or sucanat (you can add more if you like it sweeter)
1 cup unsweetened apple juice
1 pound fresh cranberries, washed and picked through for bruised ones
1 10-ounce bag of unsweetened frozen raspberries or 10 ounces fresh raspberries
2 apples* (any variety is fine), peeled and diced (same size as a cranberry)
chopped pecans to taste (optional)
Instructions
In a large saucepan, combine the sugar or sucanat and apple juice and bring to a boil. Add cranberries, cover and boil until berries pop, about 5-8 minutes.
Add raspberries and stir.
Add apples and cook 1 minute.
Add chopped nuts if desired.
Cool to room temperature and refrigerate.
Notes
*This will thicken as it cools and the apples will turn red. The more tart the apples, the more pectin and the thicker the sauce will get.

Good idea to make this the Sunday before Thanksgiving!