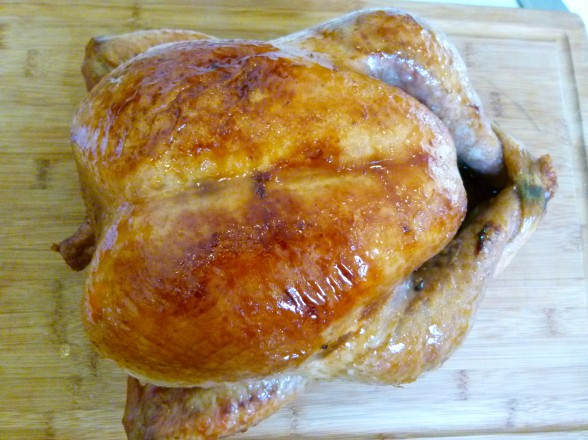 My husband and I offered to host Thanksgiving at our new home a few months after we were married in 1995.  We were young and naive, but we were excited to play house with all our new china and crystal.  To prepare for the big day, my husband bought the firewood and I did absolutely everything else.  (You can see who was the naive one.)  I'll never forget when he suggested I call the local Koo Koo Roo to order a cooked turkey for Thanksgiving dinner, "you know, just so we're sure it's good."  I was slightly insulted at the suggestion, but I knew where he was coming from.  I had never cooked an entire turkey before and I was a bit intimidated.  For most people, the turkey is the centerpiece of the Thanksgiving meal.  If I screwed it up, I thought, the holiday would be a disaster.  So my plan was simple —  don't screw up the turkey.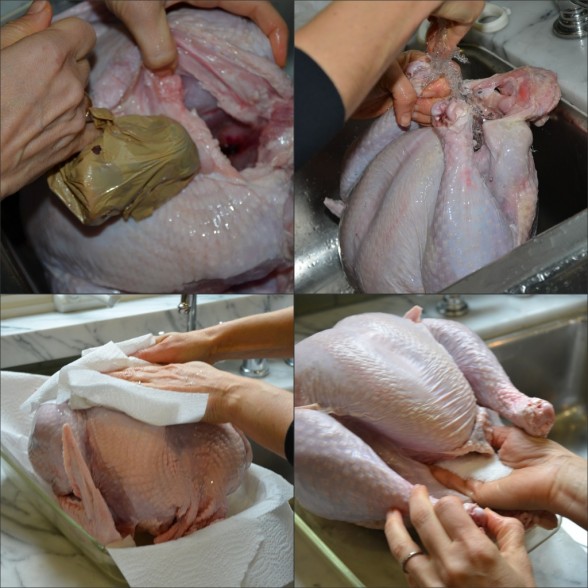 I called people I trusted — my mother, my mother-in-law and my aunt.  You know what they say about asking people's advice.  I got three different opinions on how to cook a turkey which taught me that there's no one right way to do this.  However in the years that followed I learned that there is more than one way to mess it up.  I've had my share of mishaps, which only reinforced to me that no matter what goes wrong, you've just got to roll with it because there's usually a solution.  Like in 1996 when I carved into the turkey and it was rather raw undercooked in the center.  So we just cut it into slices and pan-sauteed them with a little stock.  Everyone complimented me on how moist the turkey was!  Funny enough, my worst disaster came last year when I was really feeling like a pro, having cooked so many Thanksgiving dinners for my family and taught so many of the same classes.  I had my two beautiful turkeys in the garage refrigerator and in the process of transferring 2 pans of stuffing the night before, I was distracted and inadvertently left the garage refrigerator door open.  All night.  When I came down the stairs in the morning and noticed one pan of stuffing still on the countertop, I knew what I did.  My garage is usually about 80 degrees and so were the turkeys.  I sat down and wondered if I had just ruined Thanksgiving.  That's what you get for being so smug, I thought.  Instead I sent my husband to Whole Foods at 7:00 am where he was able to buy two 17-pound already brined turkeys.  Thanksgiving was saved, although a little saltier than I would have liked.  But you also know what they say about beggars.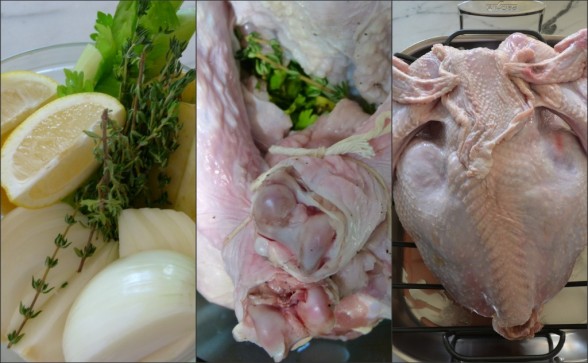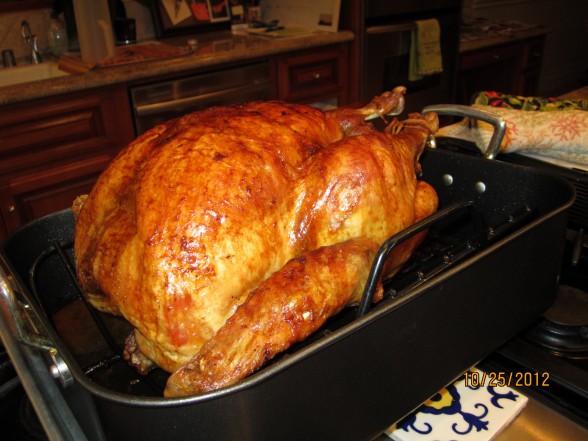 Here's what I've learned about turning out a fabulous turkey:
Before seasoning, check

both

the neck and main cavities to remove extra turkey parts like the neck and giblets.
Season it well and as early (like 2-3 days before) as possible for the best flavor and a very moist turkey;  I use about 1 Tablespoon kosher salt per 5 pounds of turkey.  See below for where to distribute the salt.
Pull the turkey out of the refrigerator a minimum of 1 hour and maximum of 2 hours before roasting.  Your bird will cook more evenly, especially in the center.
The heat in most ovens comes from the top, so roast your turkey on the lowest oven rack to protect the breast meat from drying out.
If you decide to baste, do so very quickly so the oven door isn't opened for more than 30 seconds.
Use an instant read thermometer to determine if your turkey is properly cooked.  Do not rely on a timer!
Start testing earlier than you think you should.  Every oven is different and I'm noticing that the free-range birds are cooking more quickly than not free-range.
| | |
| --- | --- |
| Turkey Weight | Approximate Roasting Time |
| 10 to 12 lb. | 2 1/2 to 3 hours |
| 12 to 14 lb. | 2 3/4 to 3 1/4 hours |
| 14 to 16 lb. | 3 to 3 3/4 hours |
| 16 to 18 lb. | 3 1/4 to 4 hours |
| 18 to 20 lb. | 3 1/2 to 4 1/4 hours |
| 20+ lb. | 3 3/4 to 4 1/2 hours |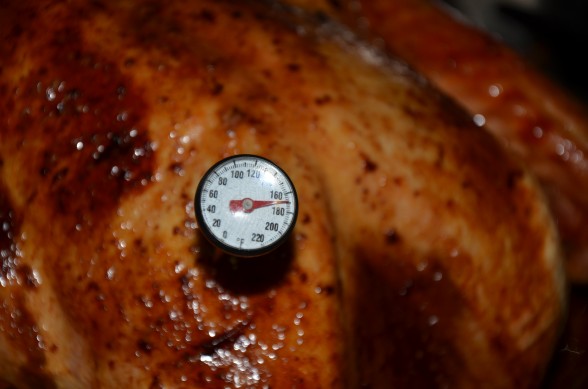 Ironically, Koo Koo Roo went out of business years ago, but my kitchen is still open and bustling on Thanksgiving and my husband thinks I make the best turkey in town.
Traditional Roast Turkey with Gravy
Ingredients
12-14 pound fresh turkey, giblet bag and neck removed, rinsed, patted dry and seasoned with 3 Tablespoons* kosher salt as soon as you bring it home from the market (2-3 days in advance is best)
*2 Tablespoons in the cavity, 2 teaspoons on breast and 2 teaspoons on thighs and legs. Whatever is left on your hands, rub on the breast meat underneath the skin.
freshly ground black pepper
1 onion, quartered
1 celery stalk, cut into thirds
small bunch of parsley sprigs, thyme sprigs and/or sage leaves
1 lemon, quartered
1 apple, quartered or cores from 2 apples
6 Tablespoons unsalted butter, melted
1-2 cups stock or water
Gravy
¼ cup white wine
5 Tablespoons all-purpose flour
3 cups chicken or turkey stock, preferably homemade
sea salt and freshly ground black pepper to taste
Instructions
The day of roasting, take turkey out of refrigerator and wipe dry with paper towels. Bring to room temperature, about 60-90 minutes.
Preheat oven to 425 degrees. Position a rack in the lowest rung of the oven. Oil a V-shaped rack in a roasting pan.
Sprinkle a little freshly ground black pepper in the cavity and then add in the onion, celery, herbs, lemon and apple. Truss the turkey by tying the legs together. Brush the skin all over with some of the butter.
Place the turkey on the rack in the pan, breast-side down. Bend the wing tips behind the back. Roast for 40 minutes, basting with butter after 20 minutes. Reduce the heat to 325 degrees, turn breast side up (I usually wear clean rubber gloves to do this) and add 1 cup stock or water to the roasting pan. Continue to roast, basting with the remaining butter until used up and then with the pan juices every 20-30 minutes. Add additional stock to the roasting pan if you notice there are no pan juices with which to baste the turkey.
Roast until golden and cooked through. After about 2 ½ hours, start testing for doneness by inserting an instant-read thermometer in the thickest part of the breast away from the bone; it should register 165-170 degrees. You may also test the thigh – it should read 180 degrees. The turkey should roast a total of about 3 hours or 13-15 minutes per pound, but it can range from 2 ½ to 3 ½ hours.
Transfer to a cutting board or warmed platter and cover loosely with aluminum foil until ready to carve, at least 20 minutes (I prefer longer.) Use the pan juices to make gravy.
To prepare the gravy: Pour all the pan juices, including the fat into a gravy separator. Allow the fat to separate from the juices.
Heat the roasting over medium heat on the stove and add the pan juices plus the apple brandy. Bring to a boil and lower heat to a simmer for 2-3 minutes, stirring with a wooden spoon to dislodge any brown bits that stick to the bottom of the pan. Strain into a bowl or you can use the gravy separator again.
In a saucepan over medium heat, warm the reserved fat from the gravy separator until it is bubbly. You should have at least 3-4 Tablespoons. If you don't, add some olive oil or butter. Add the flour and whisk rapidly to cook the flour, about 2-3 minutes.
Whisk in the strained pan juices and 3 cups of stock to the saucepan until smooth. Bring to simmer and cook until thickened, about 5 minutes. Season to taste with salt and pepper. Keep warm on lowest heat. Add additional stock as needed to achieve desired consistency.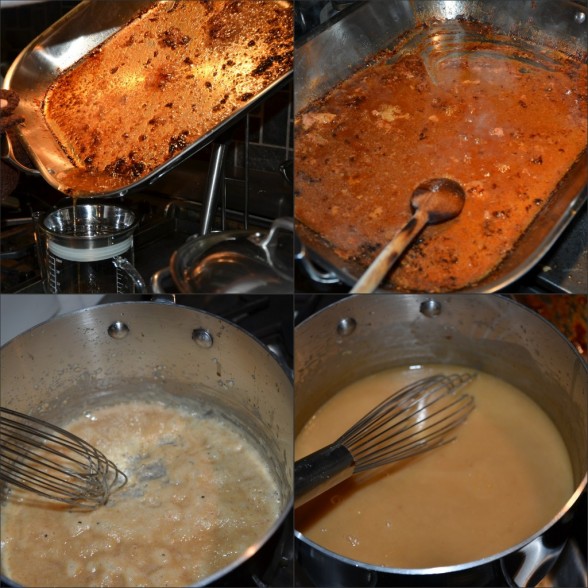 Follow the same principles in carving a whole roasted chicken.  Cut into the joints, in between the connecting bones and it will be a breeze.  I carve in this order:
Wings
Drumsticks
Thighs
Breasts, which I take completely off the turkey and slice crosswise against the grain.
Don't forget to save the carcass and bones for stock!