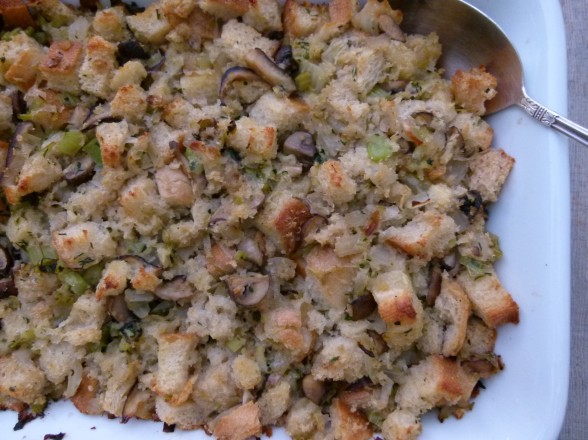 When I married my husband over 17 years ago (gasp!), I was more than excited to start hosting some of the holidays at our new home.  But I soon realized that my husband's traditions were slightly different from the ones I grew up with, especially on Thanksgiving.  What?  No first course of pasta with marinara sauce?  Strange, I thought, but I could adapt!  My mother-in-law kindly shared with me the way things were done on the West Coast.  She liked to serve everyone a salad to start and plate the main dinner for each person in the kitchen.  Turkey and gravy, mashed potatoes and stuffing were all givens, and their stuffing of choice was Pepperidge Farm.  No problem!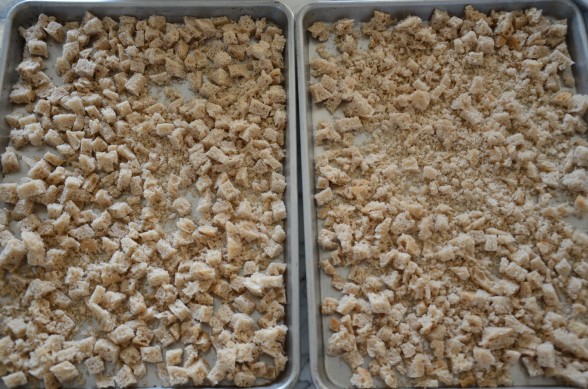 My husband and I have hosted every Thanksgiving since 1996 and enjoy the comfort that develops when you do something over and over again.   I have since incorporated my own traditions like buffet – easier and much less waste – and soup to start.  About 6 years ago I decided to examine the ingredients on the seemingly innocuous bag of Pepperidge Farm stuffing.  Holy crap.  I couldn't believe the garbage that went into breadcrumbs!  One thing I knew for certain was that Pepperidge Farm was uninvited to Thanksgiving…forever!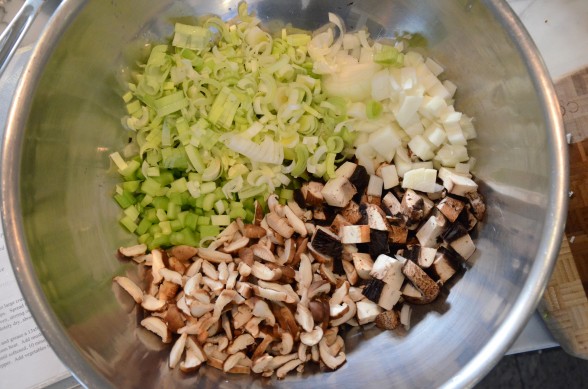 Actually, if it were up to me, I would drop stuffing from the menu altogether.  I really don't get it.  With ALL the delicious food on the Thanksgiving table, many of the dishes starchy, we're going to eat gussied up bread, a food we already overeat on every other day of the year??  I was trying to explain to my husband that mashed potatoes, sweet potatoes and butternut squash are all starches, as is the obligatory cornbread.  We should balance out the meal with additional vegetables, like Brussels sprouts!  "You're taking this health food thing a little too far.  The stuffing stays!"
Although I like to think of myself as the dictator of my kitchen empire, the director of Thanksgiving, I'm really a democratic leader.  I figured my only option was to create a delicious, higher quality stuffing that looked like Pepperidge Farm and tasted enough like it, but even better.  So here's my take on a good classic stuffing that's not too gourmet, in fact tastes very close to our old preservative-laden standby.    I usually make two for our dinner, one with mushrooms to suit me and one without for my hubby.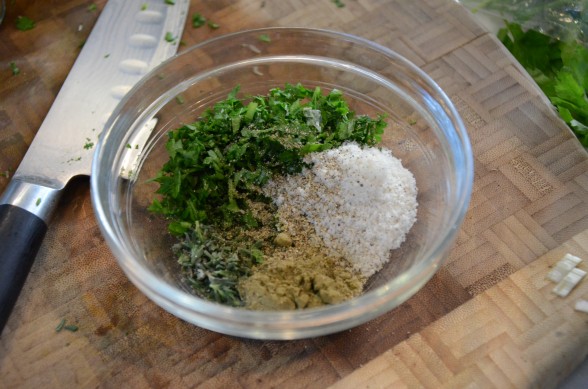 I've tried this stuffing with whole grain breads like whole wheat or spelt, but truthfully it tastes a little "wheat-y."  There was a fantastic bread I used to buy from Whole Foods called Miche, which was a sourdough bread made of a blend of whole wheat and white flours.  That was about as whole grain as my family could take on Thanksgiving.  Truth be told,  I prefer to go down in our family history as the benevolent one who said, " let them eat stuffing!"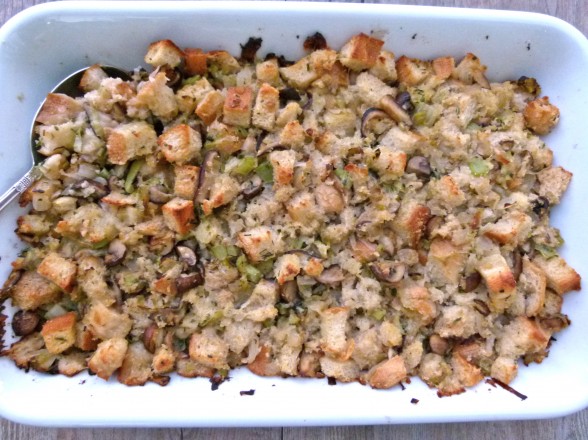 Mushroom and Leek Stuffing
Serves:
8-10 (although I make 2 for 24 people on Thanksgiving and it is plenty)
Ingredients
1 ½ pounds rustic whole wheat or white bread, hard crust removed
6 Tablespoons unrefined, cold-pressed extra-virgin olive oil
½ pound shiitake mushrooms, wiped clean, stems removed and discarded, caps sliced
½ pound cremini mushrooms, wiped clean, quartered
2 stalks celery, chopped
1 large onion, chopped
2 leeks, cleaned and sliced
3 garlic cloves, minced
1 ½ teaspoons fresh thyme, chopped
1 teaspoon dried sage or poultry seasoning or 2 teaspoons fresh sage, chopped
2 Tablespoons flat-leaf parsley, chopped
2 teaspoons sea salt or 3 teaspoons if using unsalted stock
½ teaspoon black pepper
3-4 cups chicken, turkey or vegetable stock (depending on if you like it wet or dry)
2 Tablespoons unsalted butter, cut into small dice (optional)
Instructions
Preheat oven to 350 degrees.
Place bread in a food processor and process into large crumbs or cut into ½-inch dice. (I like to do a combination.) You should have 10 cups. Spread bread over 2 large shallow baking pans and bake in upper and lower thirds of oven, stirring occasionally and switching position of pans halfway through baking, until completely dry, about 25 minutes. Transfer bread to a large bowl.
Increase oven temperature to 450 degrees and grease a 13x9-inch baking dish.
Heat olive oil in a large skillet over medium heat. Add mushrooms, celery, onion, leeks, and garlic, and sauté, stirring occasionally until softened, 10 minutes.
Stir in thyme, sage, parsley, salt and pepper. Add vegetables to bread, tossing to combine.
Pour chicken broth over the bread mixture, tossing to coat evenly.
Spread stuffing in a baking dish, dot with butter and cover tightly with foil. Bake in upper third of oven until heated through, about 20 minutes. Remove foil and bake stuffing until top is browned, 10 – 15 minutes more. Stuffing can also be baked in a well-greased 12-cup muffin tin.
Notes
Bread crumbs can be prepared several days in advance.
Vegetables can be chopped the day before.
Entire casserole can be prepared up to the point of baking the day before and refrigerated or frozen and then thawed and baked according to the directions.