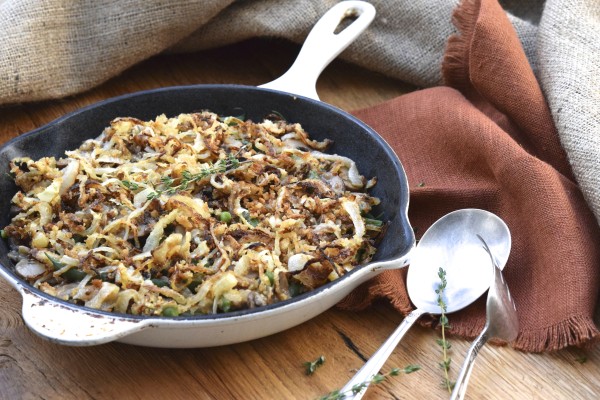 I was talking to a few ladies in my class this week about the Thanksgiving meals we remember from our childhoods and how they have evolved, if at all.  We celebrated with my mother's family some years and with my father's family other years.  Even though my mother's family is Italian-American, their Thanksgiving dinners were pretty straightforward, even including sweet potatoes with marshmallows.  My father grew up in Italy and therefore Thanksgiving was truly a foreign concept.  Suffice it to say, that side of the family served ravioli as a first course.  No, not pumpkin ravioli with brown butter and sage.  Cheese ravioli with marinara sauce!  Cracks me up to think about that now.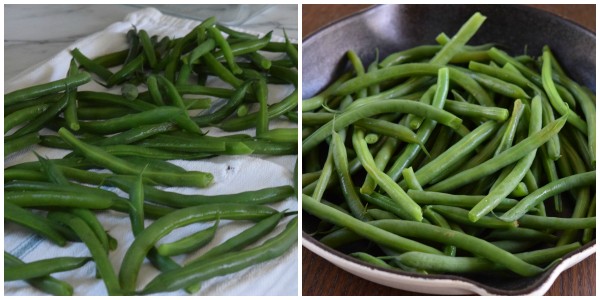 Then the discussion transitioned to new recipes which have made it onto our Thanksgiving menus in the last few years.  That's a tough one, no?  I'll tell you right now, I teach 5 new recipes every November and very few make it to my personal Thanksgiving table.  Not because they aren't fantastic, but because how many recipes can you really have on one menu?  At some point, enough is enough and my menu has been at capacity for a few years now.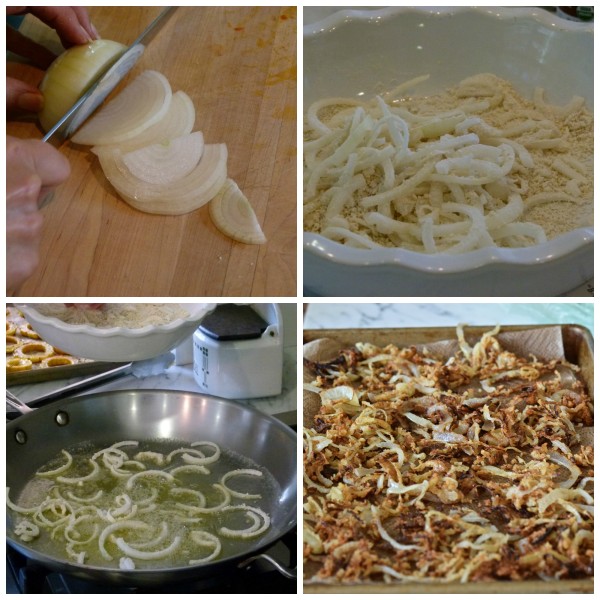 But, allow me to introduce a favorite newcomer to my Thanksgiving spread…..green bean casserole!  But not just any green bean casserole. I am not talking about canned green beans, coated with cream of mushroom soup and canned fried onions.  Thanksgiving deserves more respect than cans, people.  Sure, we can use heavy cream and loads of butter instead, but we don't have to.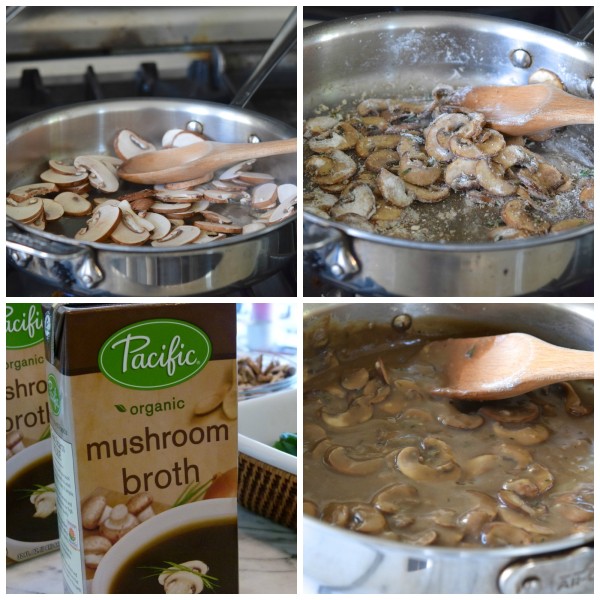 This green bean casserole is fresher, lighter and even tastier than all of those.  I use mushroom stock with a little (and I mean little) flour and butter to thicken it up.  Super good flavor and super easy to make.  Plus homemade crispy onions that everyone will be sneaking bites of during the day.  Trust me — 100 times better than canned.  Voila!  The best green bean casserole ever.  I have served this the last two years and I have never had a single green bean left.  If you like getting stuff done ahead, here's your plan:
Blanche the green beans the day before
wipe mushrooms clean and slice the day before
make the onions the morning of
make mushroom mixture and assemble casserole up to 2 hours ahead
bake when the turkey is resting out of the oven.

See you back here next week with some more fabulous Thanksgiving recipes and tips!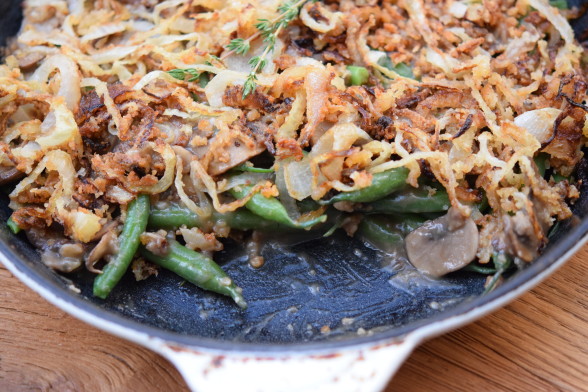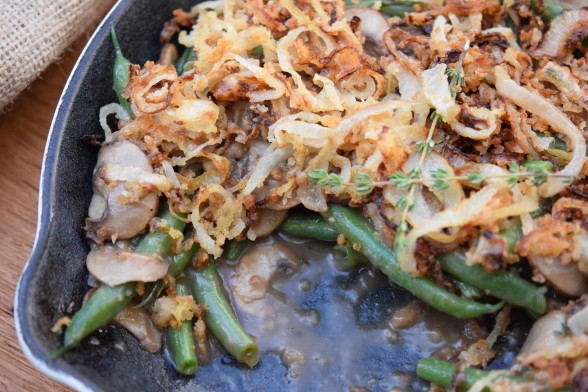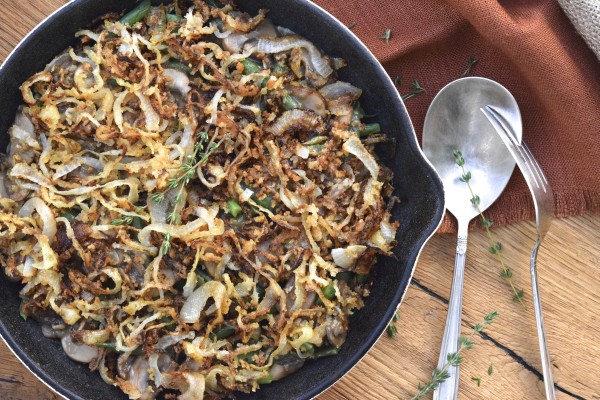 Healthy Green Bean Casserole Recipe
Ingredients
Crispy Onion Topping:
1 medium onion, halved and thinly sliced and pieces separated
¼ cup all-purpose flour or rice flour
2 Tablespoons panko breadcrumbs
1 teaspoon sea salt, plus additional for sprinkling
Unsalted butter
Unrefined, cold-pressed olive oil
Casserole:
1 pound of green beans, trimmed
2 Tablespoons kosher salt
2 Tablespoons unsalted butter
6 ounces cremini mushrooms, wiped clean and sliced
2 Tablespoons all-purpose flour, or flour of your choice
1 teaspoon fresh thyme leaves
1 ½ cups mushroom stock (or chicken stock) + possibly a little more in case the gravy needs thinning
1 Tablespoon Worcestershire sauce
½ teaspoon salt
freshly ground black pepper, to taste
Instructions
Make the onion topping: Combine the onions, flour, panko and salt in a large mixing bowl or paper bag and toss to combine.
Warm 1 ½ Tablespoons of butter and 1 ½ Tablespoons of oil in a large skillet over medium heat. Drop one piece of onion in the pan to make sure it sizzles. Add as many onion pieces as can fit in the pan in one layer. You may need to do this in batches.
Turn the onions when they become golden on the bottom. Cook until crispy and golden on the other side. Transfer onions to a plate lined with a paper towel. If you have to cook a second batch, you may need to wipe out the pan and start with fresh butter and oil.
Prepare the green beans and casserole:
Blanche green beans: prepare a bowl of ice water for the green beans. Bring a large pot of water to a boil and add the kosher salt. Add the beans and set a timer for 3 minutes. Drain and immediately submerge in the ice water bath. Drain after 5 minutes or so, pat dry, and place green beans in a 9" square or round baking dish.
Melt the butter in a medium skillet, add mushrooms, season with salt and pepper to taste, and sauté over medium until mushrooms have lost their shape and released most of their liquid (about 5 minutes).
Stir the flour and thyme into the mixture and cook for another 1-2 minutes.
Add the mushroom stock, Worcestershire sauce, and salt and pepper. Bring to a simmer and cook until the sauce has thickened, stirring occasionally, about 6-8 minutes. Taste for seasoning.
Pour evenly over green beans, top with the crispy onions and bake at 350 degrees until bubbling on the sides and the beans are warmed through, about 15-20 minutes. Serve immediately.