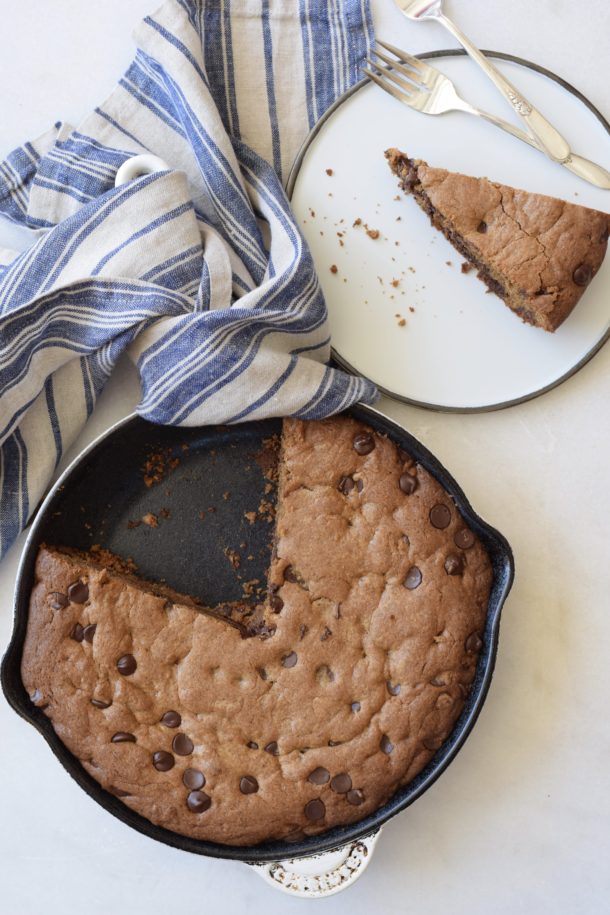 Let me warn you in advance that this skillet cookie has "dangerous" written all over it.  Yes, it contains whole wheat flour (or whatever GF flour blend you want, for that matter.) Sure it's dairy-free. No refined sugar, either. But I taught this recipe at least 20 times during the month of February and into March and I could never resist a piece after each class.  Moreover, the scene was always the same every time: normally composed and refined women, instead inhaling and quite frankly moaning while breaking off hunks of this oversized cookie standing over the skillet.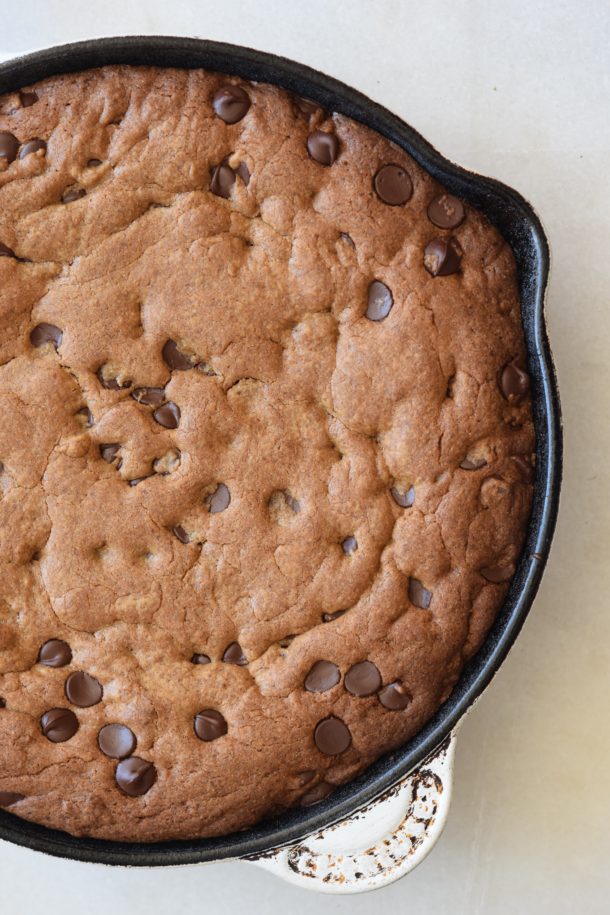 So why am I sharing such a recipe?  Because Mother's Day is coming up, as is Memorial Day, and there is no better time to make a gigantic cookie than when you are feeding a crowd.  The strategy is such that everyone will demolish this deliciousness and leave you with no leftovers.  Believe me, no one can be trusted to be alone with skillet cookie leftovers.  I mean, everyone likes chocolate chip cookies.  So logic would follow that since one slice of this is like 6 chocolate chip cookies stacked on top of each other into one dense, chocolate-studded treat, it is impossible not to love.  And if you serve this warm — forget about it!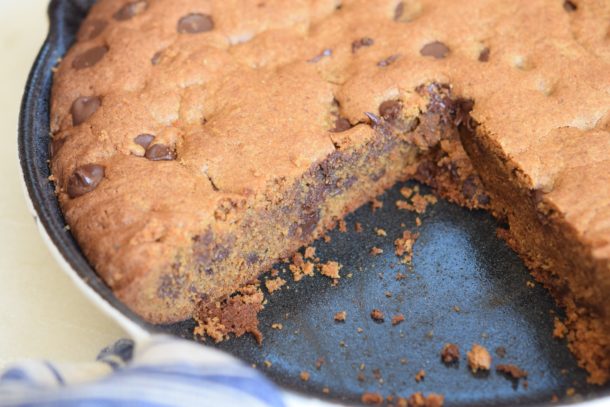 I made at least 50 of these skillet cookies over the last few months — with whole wheat flour and with gluten-free flours, with avocado oil, olive oil, and coconut oil, in a cast-iron skillet and in a pie plate, with all types of chocolate chips and chocolate chunks.  For me, the winning combo was any flour, avocado oil, in a cast iron skillet with extra-large dark chocolate chunks.  For some reason, this cake with avocado oil tasted like a graham cracker and therefore the whole thing tasted like a big s'more.  Not a bad thing, mind you.  Coconut oil left a slight coconut flavor (which I found most pleasing) and olive oil imparted an olive oil flavor only if the cake was warm.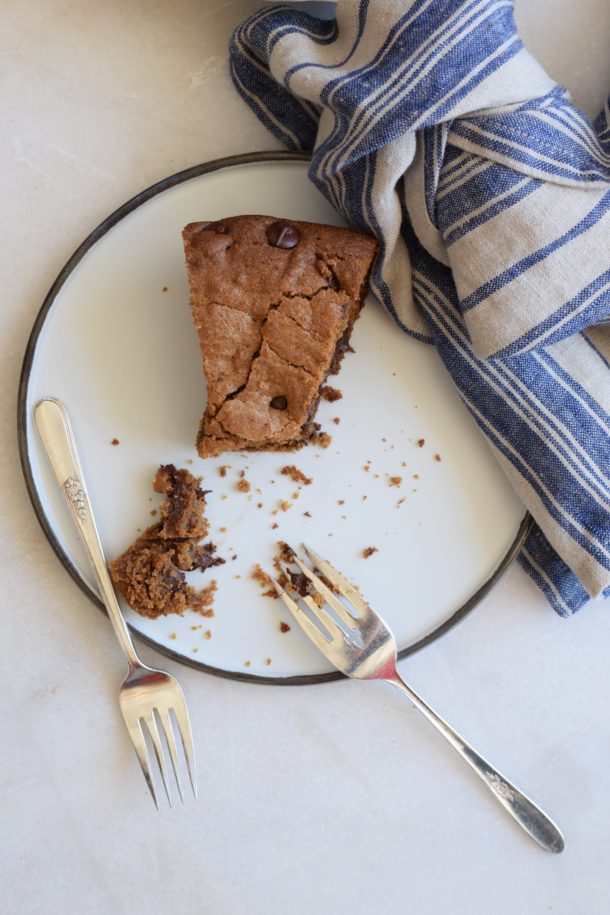 Where's the nutrition info?  We're skipping that lesson today, folks. This is not "good" for you, merely less bad for you than a standard chocolate chip cookie batter.  But it might just be one of the best things I have ever eaten!  If you make it, have a reasonable slice and enjoy it.  Don't feel guilty about it.  That defeats the purpose.  You can have your cake and eat it, too.  But you just have to share.  Click here to watch my Youtube video!

Whole-Grain Chocolate Chip Cookie Skillet Cake
Ingredients
1 ½ cups coconut sugar, muscovado sugar or light brown sugar
1 ¼ cup unrefined avocado oil, olive oil, or melted coconut oil + more for greasing the skillet
2 large eggs + 1 large egg yolk
1 ½ teaspoons pure vanilla extract
1 ½ cups whole wheat pastry flour or flour of choice, such as spelt or GF flour of choice such as King Arthur multi-purpose GF flour*
1 cup oat flour (you can take a cup of rolled oats and process them in the food processor to make your own oat flour) look for GF oats/oat flour if necessary
1 teaspoon baking soda
¾ teaspoon aluminum-free baking powder
1 teaspoon fine sea salt
1 ¾ cups semi-sweet or dark chocolate chips or chopped chocolate (don't use small chocolate chips. The bigger the better.)
Instructions
Preheat oven to 350 degrees. Grease a 10-inch cast iron skillet with avocado oil. You can also use a 10-inch pie plate or a 9 x 9-inch baking pan.
Place the sugar and avocado oil in a large mixing bowl and whisk until combined. Whisk in eggs and vanilla.
In a medium bowl whisk together the flours, baking powder, baking soda and sea salt. Slowly add to the oil/sugar mixture and blend until everything is combined.
Stir in the chocolate.
Spread the mixture into the prepared skillet and bake until golden brown, about 30-40 minutes. (33 minutes is perfect in my oven.) The edges should be dry and the center should be somewhat soft, but it will settle once it cools. You want it to be just slightly underdone. If you are not eating the cake in the next hour or you will wait until it is completely cooled, you definitely want to undercook it. Allow it to cool at least 20 minutes so that it will slice properly. If you want to eat it right away, it may not slice well.
Notes
*If using gluten-free flour, also add 1 teaspoon xanthan gum.