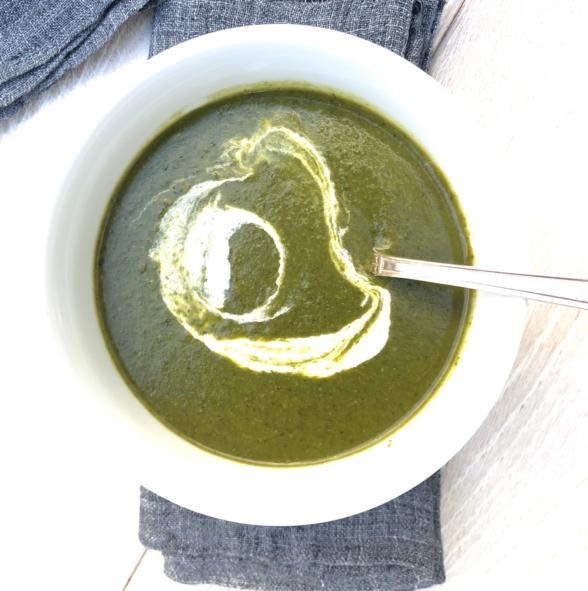 I am not much for New Year's resolutions anymore, because I try my best to keep learning and improving all year.  It's a little like my (not consistent) meditation practice.  I aim to stay present the whole time; and when I drift (which I always do), I acknowledge it and pull myself back in.  What I have learned over my many decades here is that life is about love – loving ourselves and others – and learning.  How can I continue to better myself to serve others and elevate my soul?

If this is too much woo woo for today, and you're just here for a healthy recipe because your new year's resolution is to eat better or eat more plants or lose weight, I'm here for you.  One of the practices I learned from my many Prolon fasts is eating soup as a meal.  Just soup and especially for dinner. (I believe my Prolon discount code still works pamela25 .)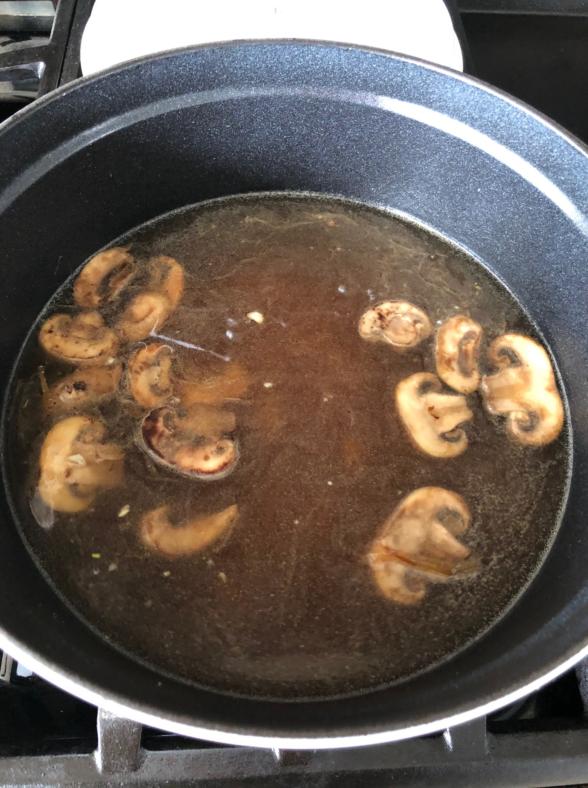 I think the word supper is derived from soup as that was the way many people used to end their day.  I have mentioned in several posts and classes that we are very much part of nature and need to abide by its cycles.  Without getting too deep today, I'll just say that I do believe in the practice of eating more in the earlier part of the day than the later part of the day. Specifically, our digestive fire is strongest when the sun is strongest, ie around noon.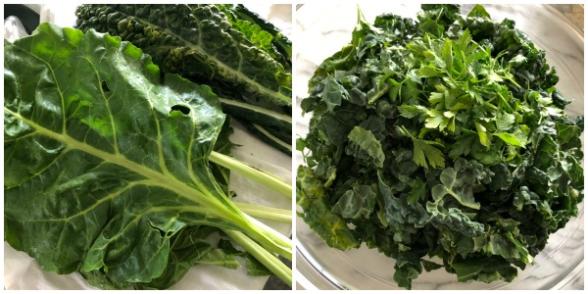 I have an easier time maintaining my weight when I eat my biggest meal at lunch and eating a bowl of soup for dinner.  My digestive system and my sleep also benefit.  What about the rest of my family?  My husband agrees with me that soup for dinner agrees with him.  As far as my kids, I can add a little extra something like a thick piece of avocado toast or a pizza quesadilla.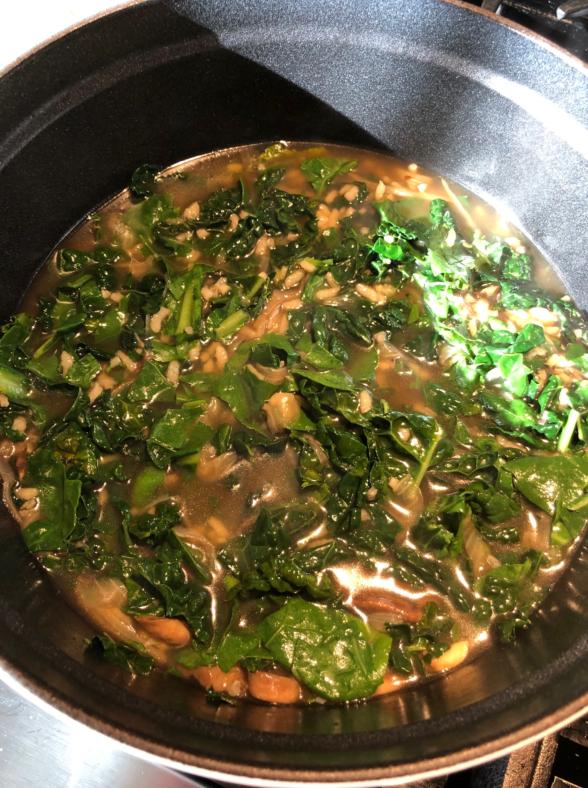 This soup is very satisfying with layers of flavor and a thick consistency.  It is all about the greens which I will remind are some of the most nutrient-dense, anti-inflammatory foods out there and for very few calories.  I am always trying to incorporate more greens in our diet, whether they are added to salads or grains, stir fries or soups, even smoothies.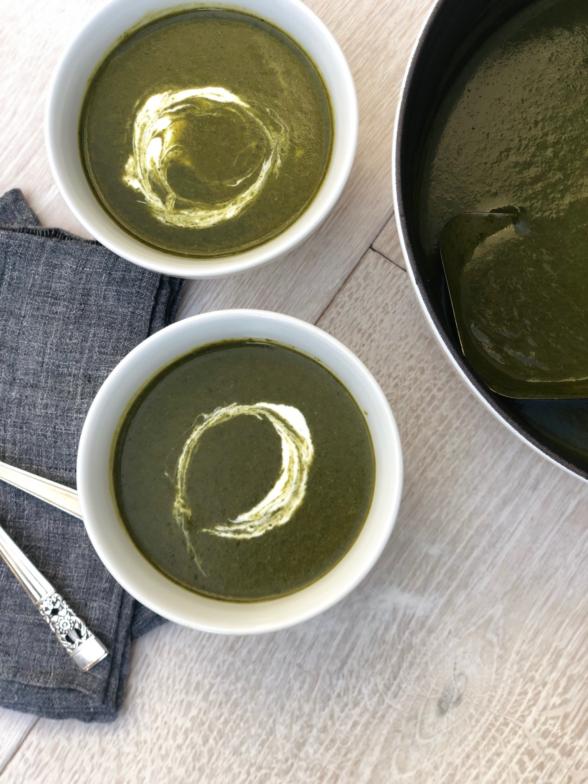 This recipe is adapted from Vegan for Everybody by America's Test Kitchen.  It's one of my favorite vegan cookbooks whether you're vegan or not.  (This is not sponsored by the way.  I just like the book.) The recipe is not as quick as you might think/hope/like due to the step of deeply browning the onions for a delicious layer of flavor.  But it's a really simple recipe.  They call for a small amount of arborio rice to thicken the soup, but I wonder if cooked white beans would get the job done as well.  I have a feeling they would.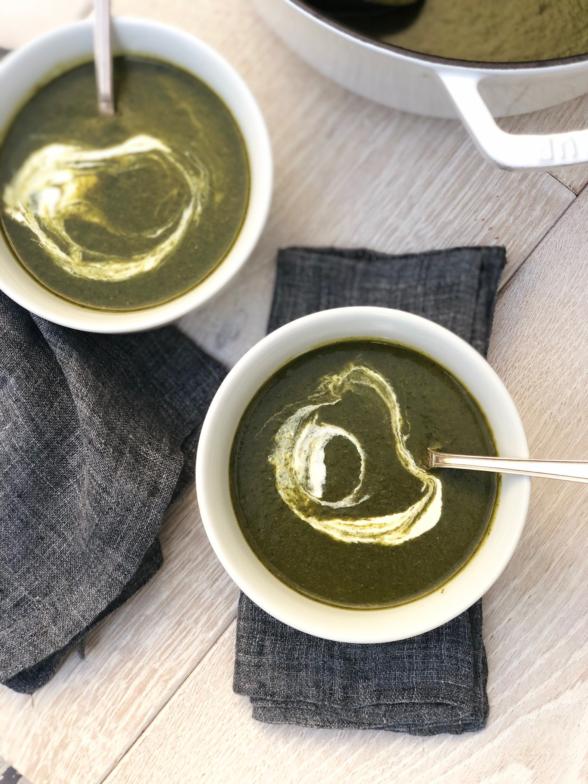 I wish you all a new year and a new decade blessed with good health, joy and more meaningful connections.  I am so grateful for this community you have helped me build here and I look forward to all of us learning and sharing even more with each other in the future.  For now, I hope you enjoy this delicious and healthful soup and perhaps you will create a new practice of eating soup for a meal.  XOXO
Shop the tools for this recipe by clicking on the images below:

Super Greens Soup with Lemon-Tarragon Cream
Author:
adapted from "Vegan for Everybody" by America's Test Kitchen
Ingredients
3 cups plus 1 Tablespoon water
6 Tablespoons vegan sour cream or thick vegan yogurt like a coconut yogurt*
2 Tablespoons plus ½ teaspoon extra-virgin olive oil
½ teaspoon minced fresh tarragon
¼ teaspoon finely grated lemon zest plus ½ teaspoon juice
Sea salt and pepper to taste
1 onion, chopped
¾ teaspoon brown sugar
3 ounces white mushrooms, wiped clean with a damp paper towel and sliced thin
2 garlic cloves, minced
Pinch of cayenne pepper
3 cups vegetable broth
⅓ cup white rice or Arborio rice
12 ounces Swiss chard (about 1 bunch), stemmed and chopped coarse
9 ounces kale, stemmed and chopped coarse
¼ cup fresh parsley leaves
2 ounces (2 cups) baby spinach or arugula
Instructions
Combine 1 Tablespoon water, dairy-free sour cream, ½ teaspoon oil, tarragon, and lemon zest and juice in bowl. Season with salt to taste, cover, and refrigerate until ready to serve.
Heat remaining 2 Tablespoons oil in Dutch oven over medium high heat until shimmering. Stir in onion, sugar, and 1 teaspoon salt and cook until onion releases some moisture, about 5 minutes. Reduce heat to low and cook, stirring often and scraping up any browned bits, until onion is deeply browned and slightly sticky, about 30 minutes. (If onion is sizzling or scorching, reduce heat. If onion is not browning after 20 minutes, increase heat.)
Stir in mushrooms and cook until they have released their moisture, about 5 minutes. Stir in garlic and cayenne and cook until fragrant, about 30 seconds. Stir in remaining 3 cups water, broth, and rice, scraping up any browned bits. Increase heat to high and bring to a boil. Reduce heat to low, cover, and simmer for 15 minutes.
Stir in chard, kale, and parsley, 1 handful at a time, until wilted and submerged in liquid. Return to simmer, cover, and cook until greens are tender, about 10 minutes. Off heat, stir in spinach or arugula until wilted. Working in batches, process soup in blender until smooth, about 1 minute, or blend with an immersion blender. Return pureed soup to clean pot and season with salt and pepper to taste. Serve, drizzling individual bowls with lemon-tarragon cream.
Notes
If you're not 100% vegan/WFPB, then use plain, whole Greek yogurt or a good quality sour cream. Or skip the Tarragon Cream entirely and eat the soup plain. It's absolutely delicious without!