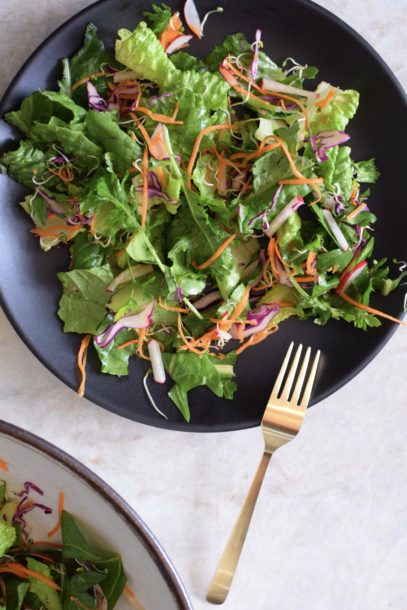 Whereas I do not detox or Whole 30 or fast or juice myself silly beginning on January 1, I do put the breaks on the runaway train of bread, alcohol, sugar and general excess before it gets too far.  I definitely indulge a bit over the holidays and I am now at an age where I feel it afterwards.  And it's not good!  One of my favorite quotes I ever posted on my Instagram page is below.  No big deal, but I am always eager to back to the kind of eating that makes me feel great.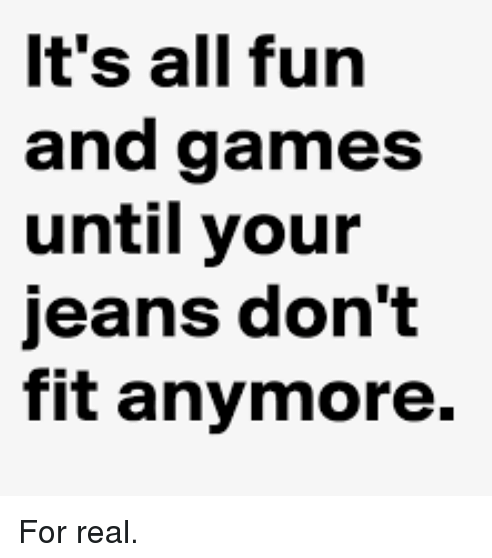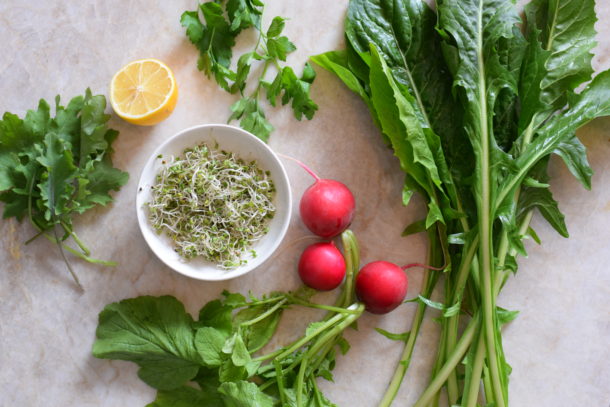 I originally created this big salad for my friends who started Pressed Juicery and their book, Juice:  Recipes for Juicing, Cleansing, and Living Well.  But it has also turned out to the be the salad or meal I crave when I need some nutrients and an overall reset.  It's fresh, vitamin- and mineral-rich and packs a detoxifying punch.  I will admit, it's not a salad that is very kid-friendly due to the number of bitter ingredients and overall lack of sweetness, but that's kind of the point.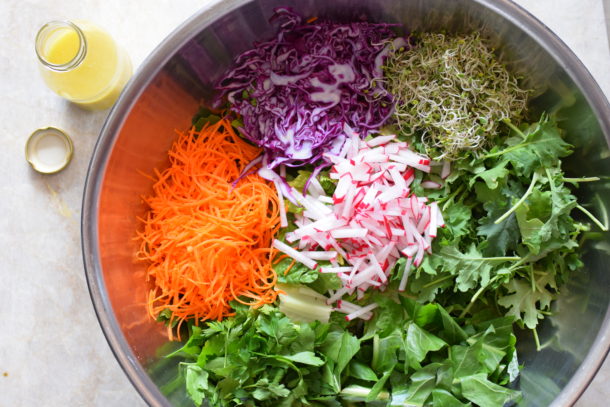 Dandelion greens, which I see regularly at Whole Foods and my farmers market, help detoxify and cleanse the liver, kidneys, and digestive system,  They are loaded with nutrients.  Radishes, a very under appreciated vegetable, are also detoxifying, a diuretic, and contain sulforaphane, an anti-cancer compound. Radishes are related to cabbage and kale, which also contain sulforaphane as well as loads of other nutrients.  Sprouts contain an exceptional amount of enzymes which aid the various metabolic processes and chemical reactions within the body, especially digestion. Parsley is also one of the most cleansing and purifying herbs.  I love throwing parsley leaves into many salads for a fresh, clean flavor. And this dressing with fresh lemon juice and raw garlic is both supportive to the liver as well as antibacterial and immune-boosting.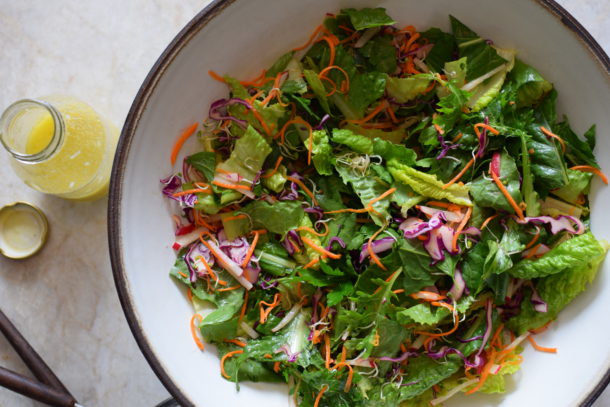 If you wanted to make this salad more of a meal, I would add cooked lentils or poached wild salmon.  You can make the dressing a few days ahead and store it in the refrigerator.  And you can mix the whole salad and keep that in the fridge without dressing for a few days, as well. Sometimes I chop up all the ingredients very finely for a "chopped salad."  It would be great to take to work or to have as a quick dinner to make sure don't give in to something less than nutritious.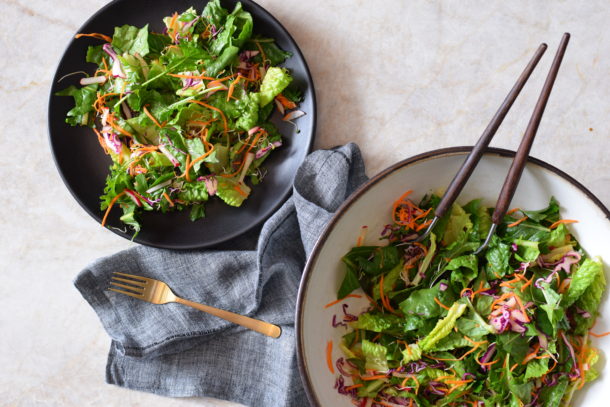 Whatever you do, please don't beat yourself up if you overdid it during the holidays.  Whatever.  You probably derived a lot of pleasure from that indulgence.  I know I did!  My thought process now is that I prefer to feel light and energetic and to fit in my jeans again, so back to a way of eating that supports that.  It's easy during this time of year to stay on that path of overeating, but all it takes is a few days of some clean food to help you reset and redirect you to the path where you feel best.

Big Green Detox Salad Recipe
Ingredients
Dressing:
1 medium garlic clove, minced or 1 small shallot, finely diced
¾ teaspoon fine grain sea salt
a few turns of freshly ground black pepper
1 teaspoon Dijon mustard
2½ – 3 Tablespoons freshly squeezed lemon juice
½ cup unrefined, cold-pressed extra-virgin olive oil
1 head romaine or red leaf lettuce, torn into bite-size pieces
handful of baby kale leaves or baby Swiss chard leaves
handful of chopped dandelion greens
handful fresh parsley leaves
1 cup shredded red cabbage
1 cup shredded carrot
4 radishes, julienned
1 handful sprouts (such as broccoli, radish, clover)
Instructions
Prepare the dressing: Either whisk dressing ingredients together in a small bowl or place all the ingredients in a glass jar with a lid and shake until emulsified.
Place all salad components in a large serving bowl. Pour dressing all over salad and toss to combine.