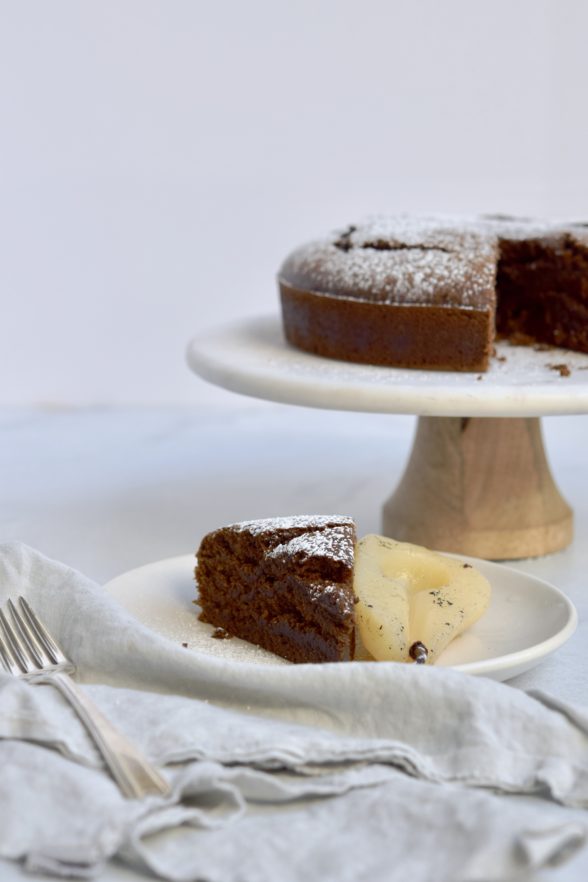 Nothing says "holiday" to me like the smell of gingerbread baking in the oven.  I am crazy about that combination of molasses and fragrant spices that are quintessential to gingerbread.  I have made lots of different baked goods with this characteristic flavor — gingerbread pancakes, waffles, cookies, biscotti, and of course, the classic gingerbread cake, my most favorite of all.  I even make a pan of gingerbread for Thanksgiving as my official signal that the holidays have begun.  But my feeling is if you're going to make gingerbread, you really need to go for it.  I use a heavy hand with the spices, especially, you guessed it, GINGER.  This recipe, I have to admit, is DELICIOUS.  It's exactly what I want it to be — high-quality ingredients like whole wheat pastry flour, coconut oil, maple syrup and molasses that come together to make a moist, dense, intensely flavorful cake.  Daughter #1 said to me recently, "who knew gingerbread could be this good?"  Love her.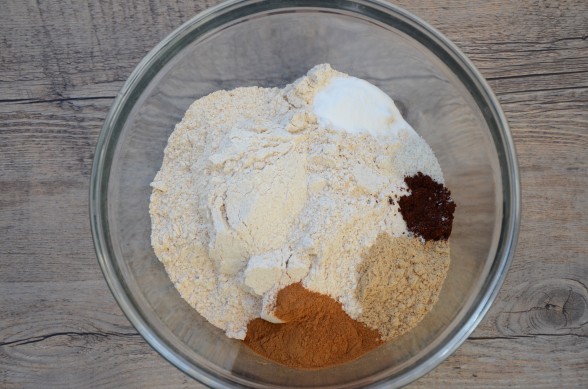 Actually, my whole family loooves this cake, even Mr. Picky whom I have caught more than once in the last month in the pantry with the door closed sneaking extra gingerbread.  The cake always gets eaten rather quickly at our house.  In fact, I should really adapt the recipe to fit a much larger pan.  The only time my kids didn't like this was when I used blackstrap molasses.  I wanted to see if they could taste the difference which they did and said, "no, thank you!"  Molasses is the by-product of refining sugar and is sold in grades according to how much it as been boiled.  "Blackstrap" molasses is the result of the last boiling and thus has the most intense flavor and the highest mineral content.  I figured this was a good thing, but molasses is rather bitter and blackstrap molasses is way too bitter for my kids.  So I gave up a little extra iron and potassium for "regular" unsulphured molasses that would taste good to them.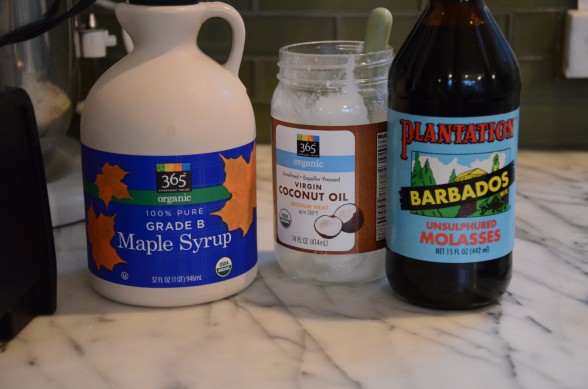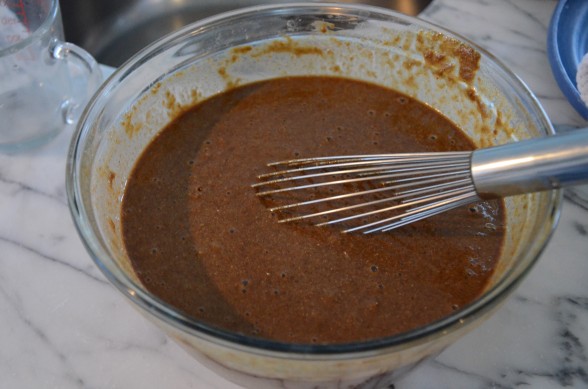 During the holidays, I'm in the business of making people happy, which in turn makes me happy.  And this gingerbread does both.  Enjoy!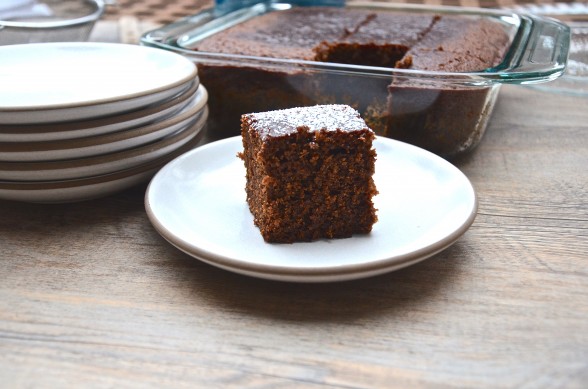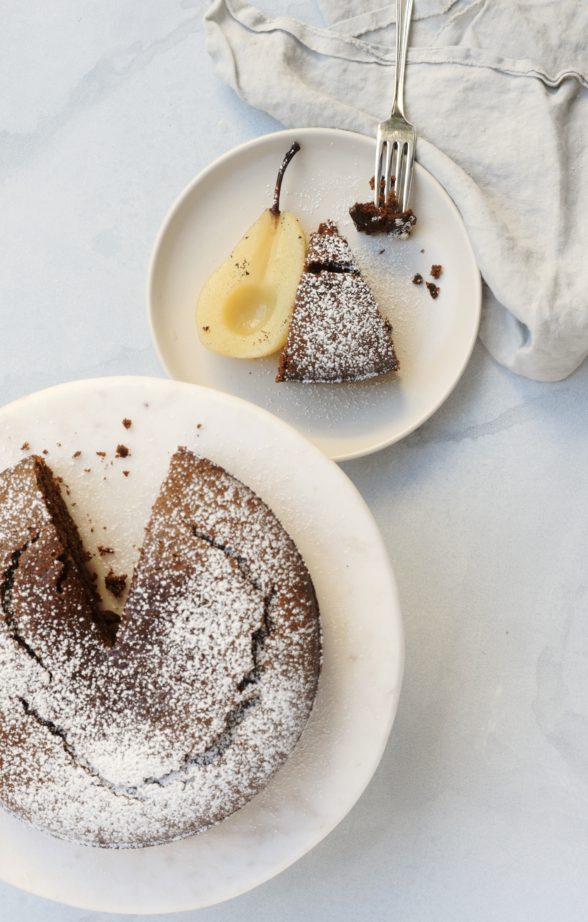 Vegan Gingerbread
Serves:
makes 18 muffins or 1 8x8-inch pan
Ingredients
¾ cup unsulphured molasses (not blackstrap)
¾ cup 100% pure maple syrup (Grade B is fine)
½ cup unsweetened applesauce
½ cup melted unrefined coconut oil or unsalted butter
2 ½ cups whole wheat pastry flour or white whole wheat flour*
1 ½ teaspoons baking soda
½ teaspoon fine grain sea salt
3 teaspoons (1 Tablespoon) ground ginger
3 teaspoons (1 Tablespoon) ground cinnamon
¾ teaspoon ground cloves
1 cup hot water
1 teaspoon powdered sugar for dusting (optional)
Instructions
Preheat the oven to 350 degrees. Line a muffin tin with paper liners or grease and flour an 8-inch square baking dish.
In a blender, combine the molasses, maple syrup, applesauce and coconut oil. Blend until smooth.
In a large bowl, sift together the flour, baking soda, sea salt and spices.
Pour the wet ingredients into the dry and mix until just combined. Stir in the hot water. Pour into the prepared pan.
Bake 20-25 minutes for muffins or 35-50 minutes (ovens vary wildly) for an 8-inch cake, until a cake tester inserted in the center comes out clean. Allow to cool before serving. Sift powdered sugar over cake, if desired.
Notes
*Gluten-free version, substitute the following for the 2 ½ cups of wheat flour:

1⅞ cups brown rice flour (measure 2 cups, then take out 2 Tablespoons)

7 Tablespoons potato starch (measure ½ cup, then take out 1 Tablespoon)

2 ½ Tablespoons tapioca flour

1 ¼ teaspoon xanthan gum