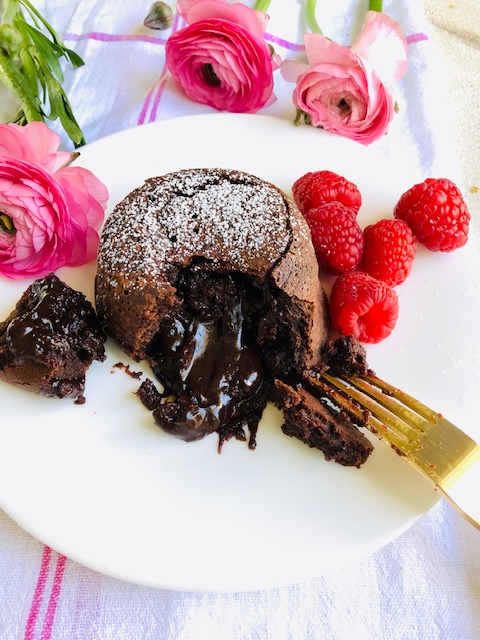 I always made my children and hubs a special dinner and dessert for Valentine's Day.  I loved how excited the kids were when they came home from school knowing that they would enjoy a "fancy" meal and something sweet afterwards.  We never had a regular tradition of dessert after dinner.  If my kids were hungry, I'd cut them up some fruit.  But no one wondered where the cake or ice cream was every night.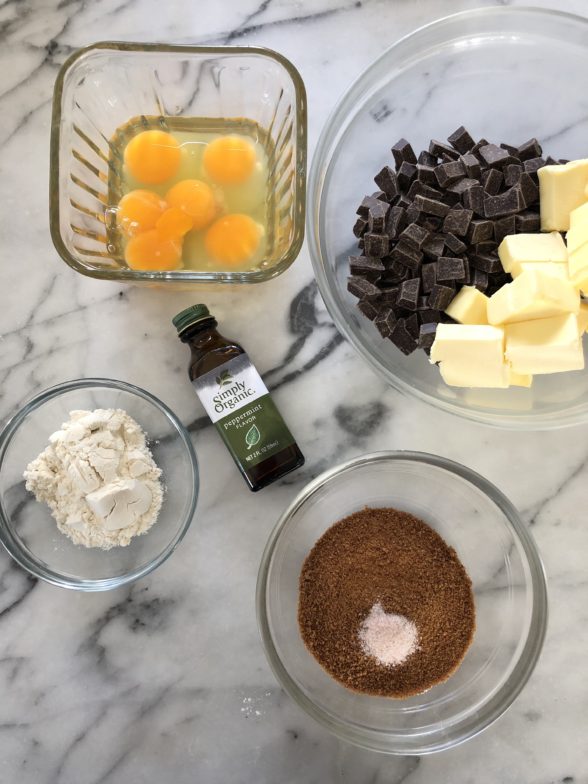 So Valentine's Day dessert was a big deal and it was always more special than just a bowl of ice cream.  Most of the time I made flourless chocolate cakes with raspberry sauce.  But there were years when I made an apple pie (of course I cut hearts from the top crust) or a berry crisp with homemade ice cream.  One year recently I made my chocolate bundt cake with chocolate ganache.  Oh my stars, divine!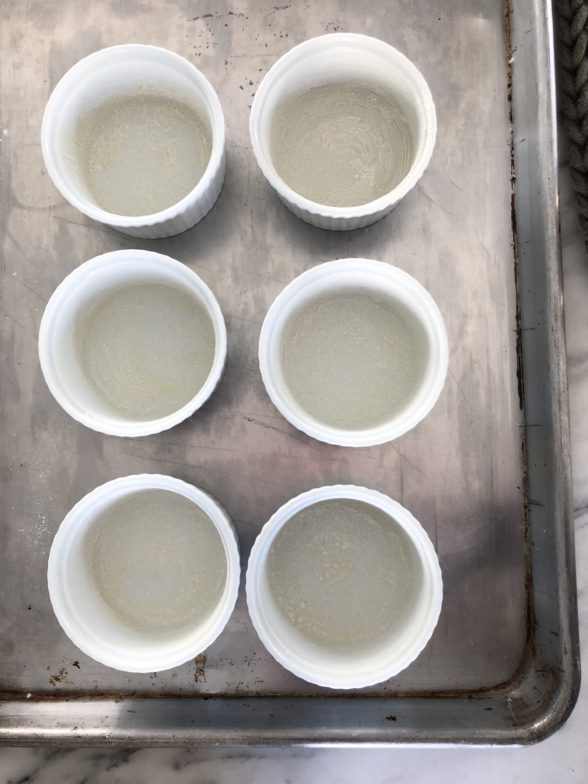 In one of my holiday classes over a year ago, I taught these molten chocolate cakes, also known as chocolate lava cakes because the inside of the cakes is soft and pools out onto the plate. My misconception about molten cakes is that they were really tricky to make.  I mean, how do you get the outside to be cake-like and the inside to be the consistency of pudding??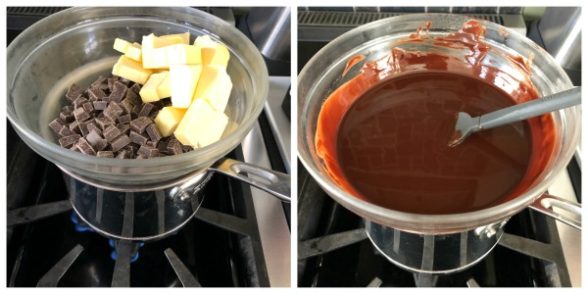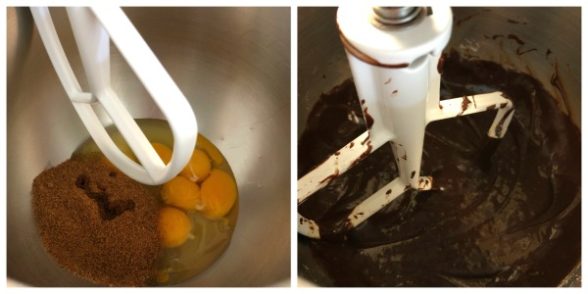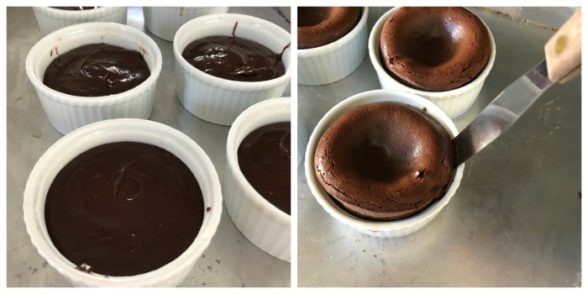 Guess what?? There is no magic required. These cakes are EASY!!!  And you can make the batter ahead!!  The key is making sure you don't over cook them.  Once the cake is set on the outside, they're done!  And honestly, if you mess up and cook them through (which I did on several test runs), they're still 100% delicious and super chocolate-y, almost like a brownie!  I have made the straight-up chocolate version and a peppermint version which is fun for the winter holidays.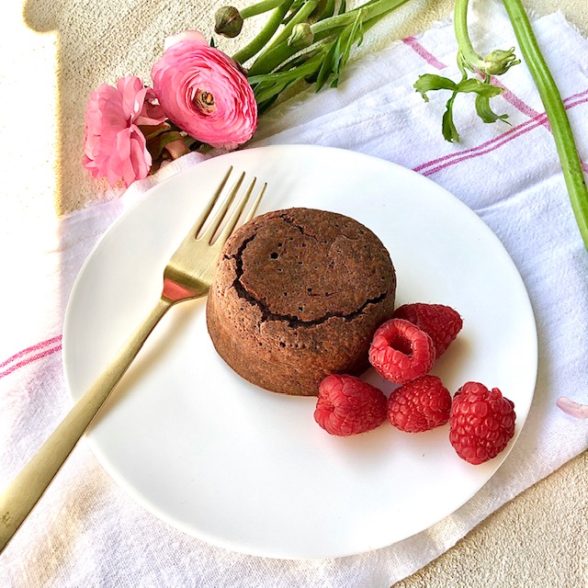 For those of you trying to avoid cane sugar, I have successfully made these with maple sugar and coconut sugar.  I have also made a grain-free/gluten-free version as well.  Check the recipe below for the details.  I know restaurants often serve molten chocolate cakes with whipped cream or ice cream to "break up" all the chocolate.  But I do think that puts an already rich dessert over the top.  I like dusting these cakes instead with powdered sugar and serving them with fresh berries or a fresh berry sauce on the side.  I also love the fact that each cake is a single serving.  That helps me avoid dipping back into the trough for more or slicing a little more from a larger cake.  Who's with me??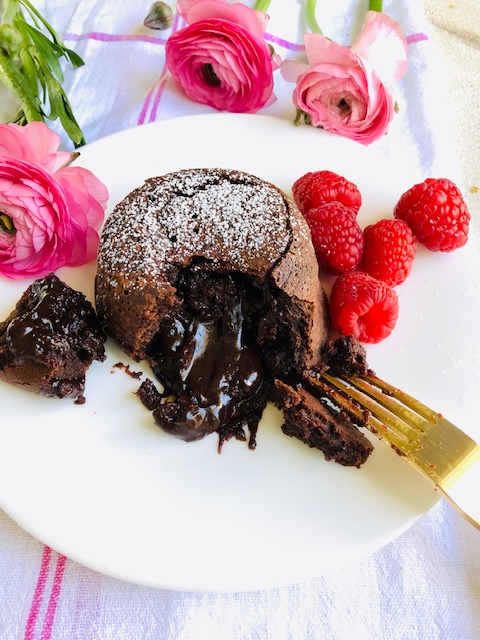 Whereas I wouldn't call this (or any dessert) health food, if you use high quality ingredients, you'll be much better off than with something made at a commercial bakery or restaurant.  Organic really matters with respect to sugar, butter and flour!!
If you make these lovely little cakes, take a picture and tag me so I can see them.  @pamelasalzman #pamelasalzman You'll just make my day and I'll repost the image!!  Happy Valentine's Day.  I love you all!! XOXO
You can shop the tools I used for this recipe by clicking on the images below:

Molten Chocolate Cakes Recipe
Author:
Pamela, adapted from Jean-Georges Vongerichten
Ingredients
12 Tablespoons (1 ½ sticks) unsalted butter + additional for greasing ramekins
9 ounces bittersweet or semisweet chocolate, chopped
3 large eggs
3 large egg yolks
6 Tablespoons cane sugar, coconut sugar or maple sugar
¼ teaspoon sea salt
1 teaspoon pure vanilla extract or ¼ teaspoon pure peppermint extract (for a mint flavor)
3 Tablespoons all-purpose flour OR 1 ½ Tablespoons fine blanched almond flour + 1 ½ Tablespoons tapioca flour/starch, plus additional for flouring ramekins
Instructions
Preheat oven to 450 degrees. Butter and lightly flour (with all purpose flour or tapioca flour) 6 6-ounce ramekins. Turn the ramekins upside down and tap to release excess flour. Arrange on a rimmed baking sheet.
In a double boiler or heatproof bowl set atop a saucepan of simmering water, melt the butter and chocolate and whisk until combined.
With a mixer, beat the eggs, egg yolks, sugar, salt and vanilla or peppermint extract at high speed until thickened and lighter in color.
Lower the speed down to medium, and slowly pour the chocolate mixture into the egg mixture. Then add the flour until just combined. At this point the batter can be prepared several hours in advance and refrigerated. Bring to room temperature before baking. Or leave at room temperature for up to two hours.
Transfer the batter into a cup with a lip and evenly pour the batter into the prepared ramekins. Bake for 12-13 minutes, or until the sides of the cakes are firm, but the centers are still soft.*
Allow the cakes to cool in the ramekins for 1 minute. Run a thin knife around the edge of each ramekin. Cover each with a dessert plate and carefully flip over and unmold. Serve immediately.
Notes
If you want to skip the mint extract you can also add 1-2 Tablespoons of a flavored liqueur or a different flavor boost. Frangelico, Cassis, Fromboise, Amaretto

*This will be different in different ovens and vary depending on what type of material your ramekins are made of. Cast iron seems to work more quickly. The point is - check them early.