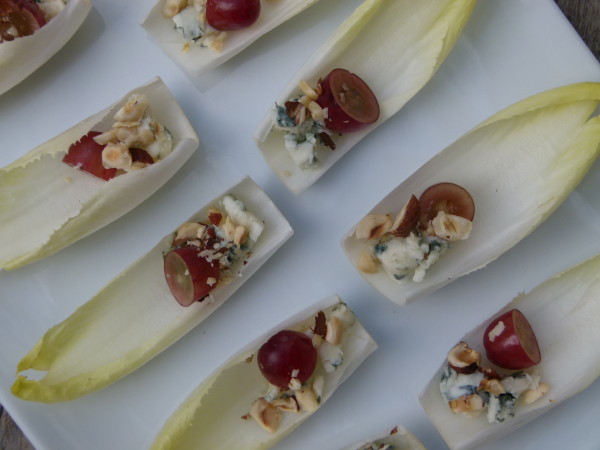 What's your feeling about hors d'oeuvres on Thanksgiving?  I know most people (like me) spend so much time cooking so much food for arguably the biggest meal of the year.  No one wants his or her guests to fill up before they've even had one bite of turkey.  I get that.  But I also like a little time to mingle and visit over a drink before sitting down.  I like to stretch this dinner out a bit.  It's a little disheartening to cook for hours and hours, even days, only to have your guests inhale the food in 20 minutes.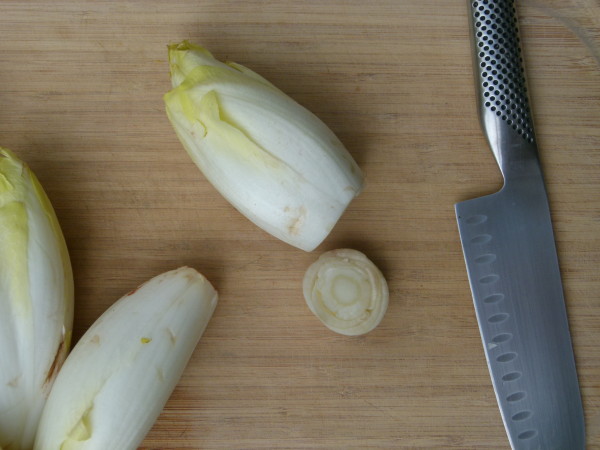 So I like to have a one hour cocktail hour before Thanksgiving dinner.  Nothing fancy, just some wine and sparkling water, possibly a fun mixed drink, but I do make a few nibbles.  I really don't want to offer a mini meal here, just a bite to whet the appetite and prevent any alcohol from going straight to anyone's head.  At the very least, a seasonal crudites platter with a dip or two is nice, as is a small cheeseboard.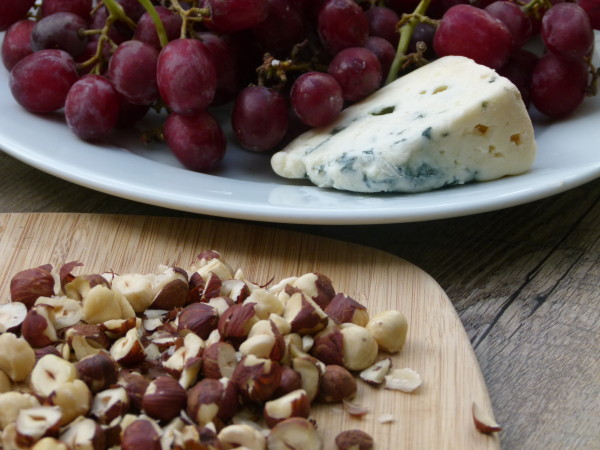 For 20 years I have made this zucchini-gruyere tart.  Delicious, delicious, delicious, but I'm over it.  Don't tell my husband, but I think it's off this year's menu in favor of what I think is the perfect light bite before Thanksgiving dinner.  Look at these endive leaves with just a lovely little flavor party of grape, hazelnut and roquefort (a blue cheese made from sheep's milk.)  It's like a perfect salad bite and these are beyond easy to make.  I love, love, love them!  Plus, you can substitute like crazy here — diced fig, pear or apple for the grape; almonds or pistachios for the hazelnuts; goat cheese, Pecorino or Manchego for the roquefort.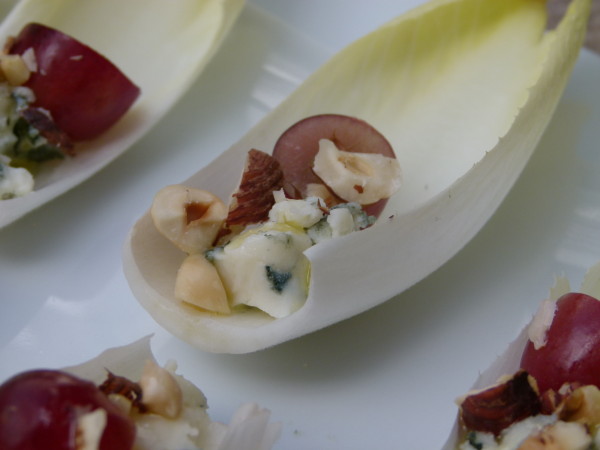 Wash your endive leaves the night before and keep them in a container or bag in the fridge.  Make your dressing several days in advance.  All that's left to do here is ASSEMBLE.  We love that word when we're talking Thanksgiving.
I adore these hors d'oeuvres for any dinner party, not just Thanksgiving.  I hate to say it, but December is right around the corner and that means holiday parties.  Gasp!  First things first, though.  Let's get those Thanksgiving menus figured out.  More tips and helpful hints coming this Thursday, which to remind, is 3 weeks from Thanksgiving!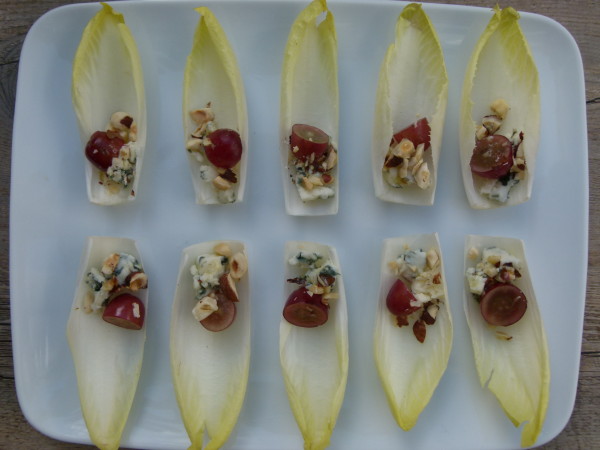 Endive Leaves with Grapes, Hazelnuts and Roquefort
Ingredients
3 firm, fresh heads of Belgian endive
Dressing (optional)
1 small shallot, minced (about 2 teaspoons)
¾ -1 teaspoon fine grain sea salt
freshly ground black pepper to taste
1 teaspoon Dijon mustard
2 teaspoons raw honey or 100% pure maple syrup
2 Tablespoons unpasteurized apple cider vinegar or red wine vinegar
2 Tablespoons unseasoned rice vinegar
¾ cup unrefined, cold-pressed extra-virgin olive oil
⅓ pound of crumbled blue cheese such as Roquefort
12 grapes, halved or quartered, depending on size
½ cup chopped hazelnuts, toasted and salted if desired or sliced almonds
Instructions
Cut ½ inch off the bottom (root end) of each head of endive.  Separate the leaves and keep under a damp paper towel in the refrigerator until ready to use, up to 4 hours.
Make the dressing if using.  Whisk all ingredients together in a small bowl or a glass jar with a lid.  This will make too much dressing for the hors d'oeuvre.  Save what you don't use for a salad.
Fill the white part of each endive leaf with a bite size crumble of blue cheese, a half of a grape and a pinch of chopped nuts.  Drizzle with a touch of dressing if desired.