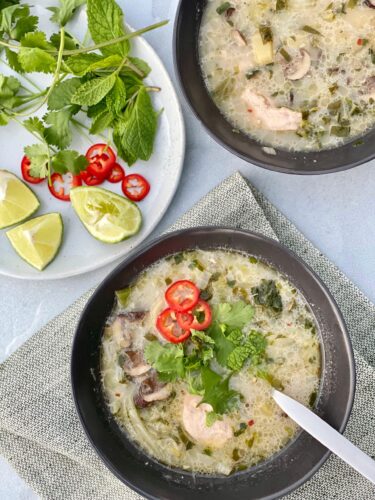 This was originally published in January 2014, but I have been making it again on the regular and thought the website needed updated photos! 
You know what is just the worst?  Getting sick.  Life is great until you feel horrible.  I think most of us run around like maniacs until we're so wiped out while our poor bodies are trying to tell us to slooooooow down and get some rest.  First it's a little whisper like feeling so tired.  But we don't listen.  Then we get a sore throat.  We don't listen.  Then our bodies have to whack us over the head with a crazy cold and body aches until we have no other choice but to stay in bed.  A friend of mine who came down with a bad cold said to me the other day,"If I just spent a little time in bed resting when I wasn't sick, maybe I would have stayed healthy!"  I think she's onto something.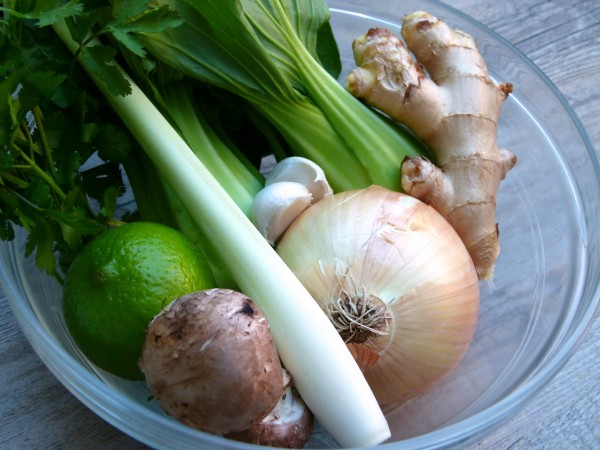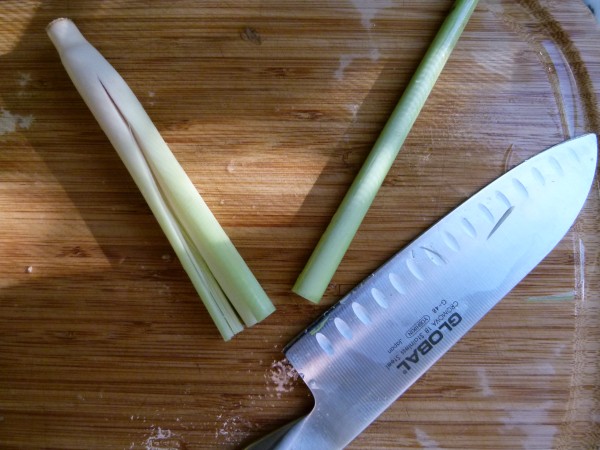 At the moment I'm not sick and maybe you aren't either (knock on wood), but I know lots of people who are.  And we all know what happens when people who are close to you get sick.  Well, have I got the soup for you!  First of all, I really believe the hype about homemade chicken stock.  I think it has magical immune-boosting compounds.  If you drink a cup of plain homemade chicken stock every day, I bet that would help you ward off a whole lot of stuff you don't want to get.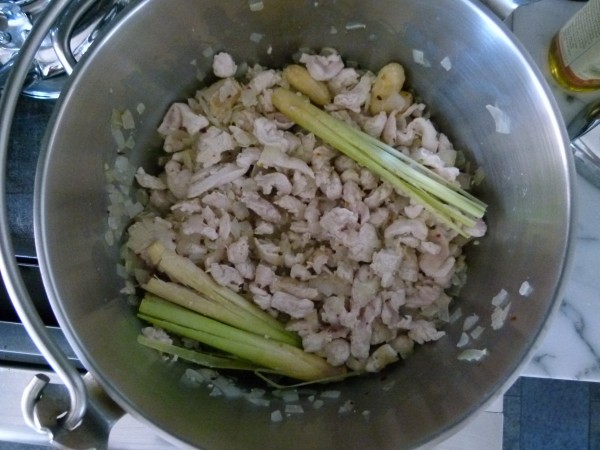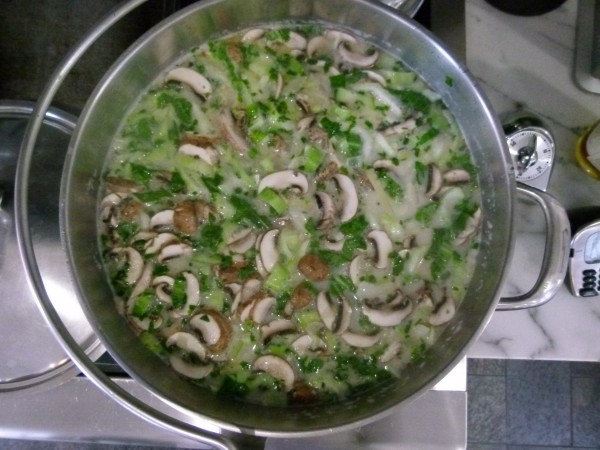 But this soup also has ginger, which I think is another miracle, anti-inflammatory immune-booster.  In the week before I got on a plane to New York, I had really run myself ragged.  The night before my flight I stayed up until 2:00 am packing and getting organized, then woke up early the next morning.  I felt really rundown, and then I sneezed a few times when I got on the plane.  And I have a theory that airplanes just make a sick condition sicker, so I felt doomed.  Doomed until I spotted the pile of pickled ginger on Mr. Picky's sushi plate.  I stole all his ginger and kept it in a cup of hot water, which I sipped during the flight.  Then after a few hours, I ate all the ginger.  Guess what?  By the time I disembarked, I felt 100%.  Ginger is AMAZING.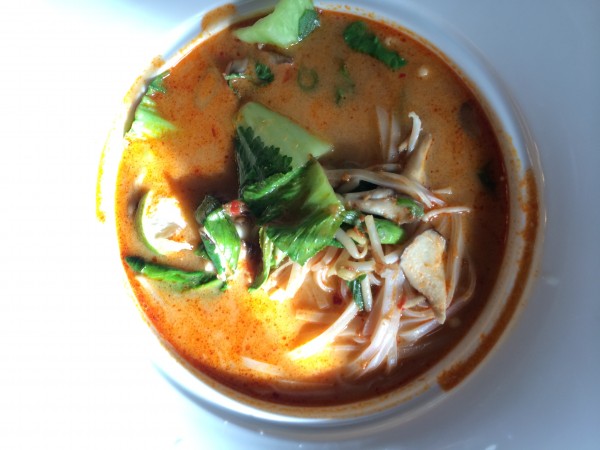 I am no expert in Thai cooking, but this silky, aromatic soup, also known as Tom Kha Gai, is better than anything I've had in a Thai restaurant.  It has a few ingredients that you might not have lying around (e.g. lemongrass and fish sauce), but it's surprising how many mainstream markets carry both of these.  I think lemongrass and fish sauce make this soup taste fantastic, but if you can't find either you can order fish sauce and dried lemongrass from Amazon.  Or just add a little extra lime juice in place of the lemongrass.  Think of this recipe as a roadmap where you can take different directions to get to your final destination.  You can add cooked rice noodles, bean sprouts, hot chili paste or sriracha, basil, mint and/or cilantro, like I did in the photo above.   You can grate the ginger instead of using big chunks so have a more prominent ginger flavor.  How ever you make it, this soup is fast, easy and so satisfying.  It'll fix you up even if you don't think you need fixing up!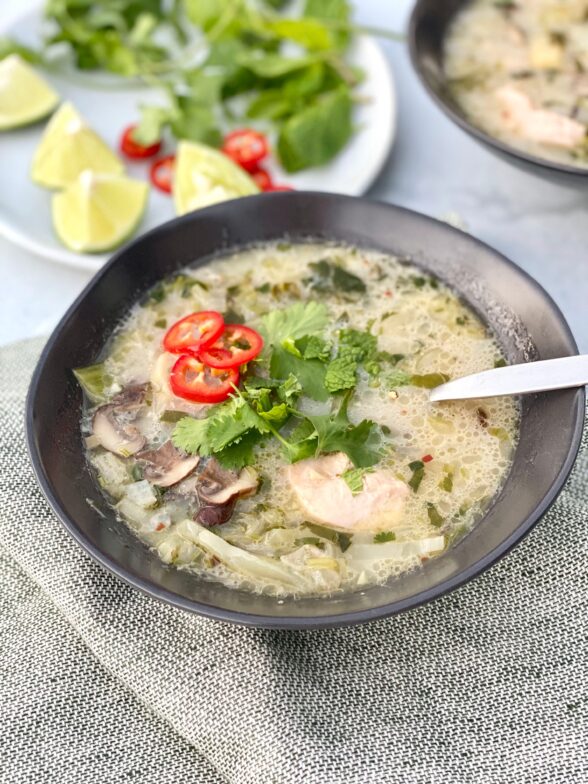 View this post on Instagram

 

 
If you give this recipe a try, snap a pic and tag @pamelasalzman so I can see your beautiful creations. I also really appreciate readers taking the time to leave a rating and review! Subscribe for free to my site for the latest recipes,  updates and things I'm loving lately.  If you enjoy this recipe, I taught it last year in my online class!  Give me an hour a month, and I'll make you a better, healthier cook!
Thai Coconut Chicken Soup
Ingredients
2 Tablespoons unrefined coconut oil
1 onion, chopped
2 garlic cloves, minced
1 3-inch piece of ginger, peeled and sliced into big chunks for easy removal*
¼ teaspoon crushed red pepper (optional) or sriracha or red chili paste to taste
1 teaspoon sea salt + more to taste
1 6-8" stalk lemon grass, white part only and split down the middle or smashed
½-1 pound boneless, skinless chicken breast, pounded and thinly sliced
1 14-ounce can coconut milk (I like Native Forest or Natural Value)
4 cups homemade chicken stock, light vegetable stock or water
3 Tablespoons fish sauce
juice from 1 lime
1 large baby bok choy, sliced thin
A handful of mushrooms (any type), sliced thin
¼ cup fresh cilantro, chopped (also a little mint and/or basil is nice, too)
Instructions
Heat oil in large saucepan over medium heat. Stir in onion and garlic and sauté until onion is translucent.
Add ginger, red pepper, salt and lemongrass. Cook until fragrant, about 2 minutes.
Add chicken to the pot and cook, stirring until chicken is white on the outside.
Stir in the coconut milk, stock, fish sauce and lime juice and simmer until the chicken is thoroughly cooked and the flavors are well blended, about 10 minutes.
Add bok choy, mushrooms and cilantro and simmer another 5 minutes. Taste for seasoning. Remove ginger and lemongrass stalk before serving.
Notes
*or grate a teaspoon or two or fresh ginger into the soup for more kick.
You can adjust many of the ingredients according to taste, especially the spiciness. Also, I vary the amount of chicken I use in this recipe according to what else I am serving in the meal.
This soup traditionally contains palm sugar, which is a higher quality unrefined sugar. If you would like to balance the sour and spicy with some sweet, add about 2 teaspoons.
I recently added chunks of halibut to this soup instead of chicken in Step 5 with the vegetables. Absolutely delish. Would be great with shrimp too - cook those for 3-4 minutes.