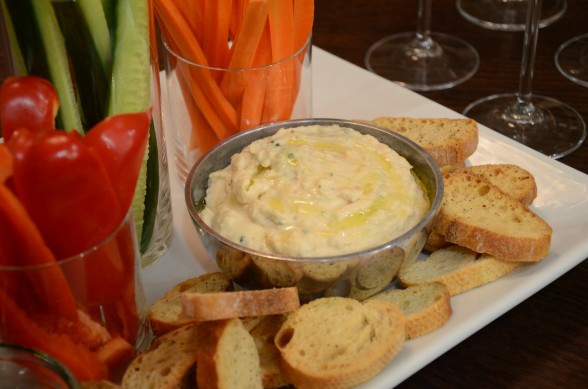 Do your kids ask you for things at the last possible second even though they have known about whatever it is they need for weeks?  My husband does this, too.  "If you knew last Friday that you would need to bring a wrapped gift for your party, why are you telling me as we're getting into the car on the WAY to the party??"  It really messes up the walk I talk about being organized.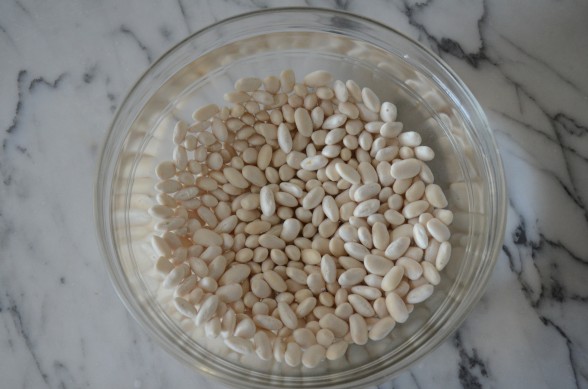 One of my daughters was going to a girl scout meeting which started at 6:00 pm, and guess what?  She announced at 5:25 that she needed to bring an hors d'oeuvre.  That 10 pre-teens would actually want to eat.  And "not like something so totally healthy either, Mom."  Like cool!  Like let's pretend we're on an episode of Chopped!  But seriously, even though I like the idea of being able to whip something yummy together with stuff from my pantry in 20 minutes, it's a little stressful.

Normally, my go-to would have been hummus, which I can make in 10 seconds and I know my daughter and her friends like it.  But of course, on this day I had no cooked chickpeas.  So you know what they say about necessity being the mother of invention.  I found some canned white beans in the pantry and added them to the food processor with a few other staples that generally taste good with white beans and we had ourselves a winner dip.  My daughter even said she liked it better than hummus.  At the time, I made it with a raw garlic clove and it was terrific, but another day when I wasn't under the gun I tried it with a whole head of roasted garlic and looooooved it more.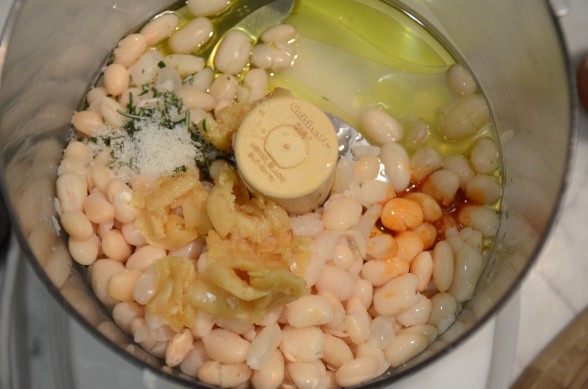 I just made the bean dip again recently to bring to a birthday dinner with some health-conscious ladies and served it with some crudites as shown in the picture.  I stole the idea from Martha Stewart of putting the cut veggies in modern drinking glasses.  It always makes for a pretty presentation.  I also included a small bowl of balsamic vinegar and olive oil with a pinch of sea salt — another stolen idea, this time from an Italian restaurant.  We have also used the dip as a sandwich spread with grilled vegetables.  Fabulous with eggplant, sweet bell peppers and zucchini!
Sure I could have gone to the market on the way to the meeting and picked up a tub of salsa and a bag of chips, but thankfully I didn't because then there would of been two of the same hors d'oeuvre at the meeting that night. (At least it's not just my kid.)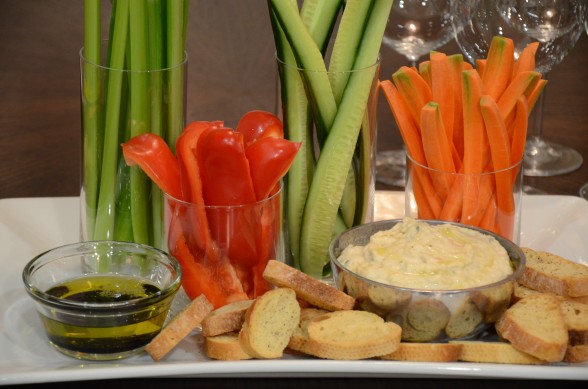 Creamy White Bean Dip with Roasted Garlic
Ingredients
1 head of garlic, unpeeled to roast or 1 large clove raw garlic, peeled
2 cups cooked white beans*, such as cannellini or Great Northern, drained and rinsed, if canned
¼ cup cold-pressed, unrefined extra-virgin olive oil
2 Tablespoons freshly squeezed lemon juice
1 teaspoon minced fresh rosemary
Several dashes hot sauce
½ teaspoon sea salt
a few grinds finely ground black pepper
Instructions
Roast the garlic: preheat oven to 350 degrees. Slice off the top fifth of the head of unpeeled garlic. Add a drop of olive oil. Replace the top. Wrap with parchment paper and then aluminum foil. Bake for 1 hour. Discard foil and parchment.
Take the top off of the garlic and squeeze the softened garlic out of the skins into the bowl of a food processor fitted with the metal blade. Add remaining ingredients and process until smooth and creamy. When I'm ready to serve it, I like to drizzle it with a touch of fruity olive oil. Can be made a day ahead and kept covered and refrigerated.
Notes
I like to serve this as a dip with crudités or blanched vegetables and/or with warm pita bread, chips or toasted slices of baguette. You can even assemble your own crostini with grilled baguette toasts and white bean spread topped with sautéed greens. It is also great as a sandwich spread.

To cook your beans from scratch, soak dried beans in lots of cold water for at least 6 hours or longer. Drain them. Put them in a pot with enough fresh water to cover by 4-6 inches. Bring to boil. Reduce to a simmer. Cook until tender, anywhere from 45 minutes to 1½ hours, depending on the age of the beans. I like to add a tablespoon of kosher salt to the beans and allow them to cool in their cooking liquid for 30-60 minutes, if possible, but it's not necessary. Drain and use immediately or store in the fridge for 3 days. Beans also freeze very well.